You may wonder, "is it possible to stop sharing location without them knowing?" Yes, it is possible, and if you want to know how, this article is the right place.
You will learn how to stop sharing your location discreetly and how to fake your location, so you don't even need to hide it. Interesting, right? Well, let's dive in.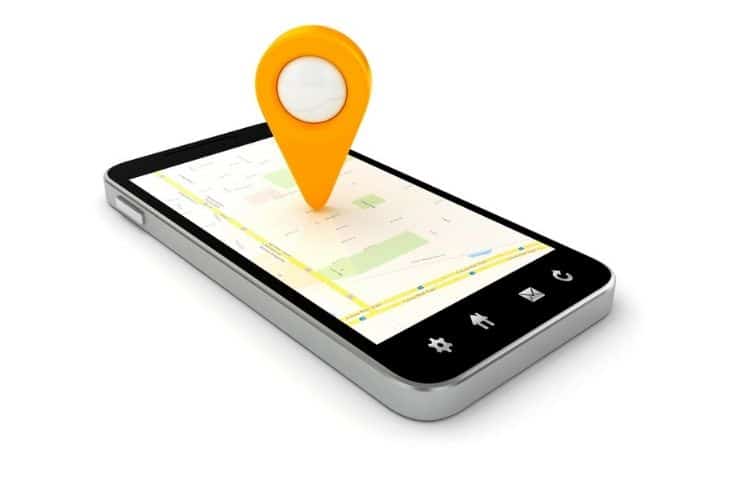 How to Disable Sharing Location on iPhone Without Notifying the Other Party
All the people you have shared your location with through Find My will be in a list. If you just don't want someone to know your location for a while, then you can stop sharing with him/her. And the other person will not be notified.
Steps:
Open the Find My app.
Navigate to the People section.
Tap on the person you intend to stop showing your location.
Scroll up and tap on Stop Sharing My Location.
Press Stop Sharing Location on the prompt to confirm your decision.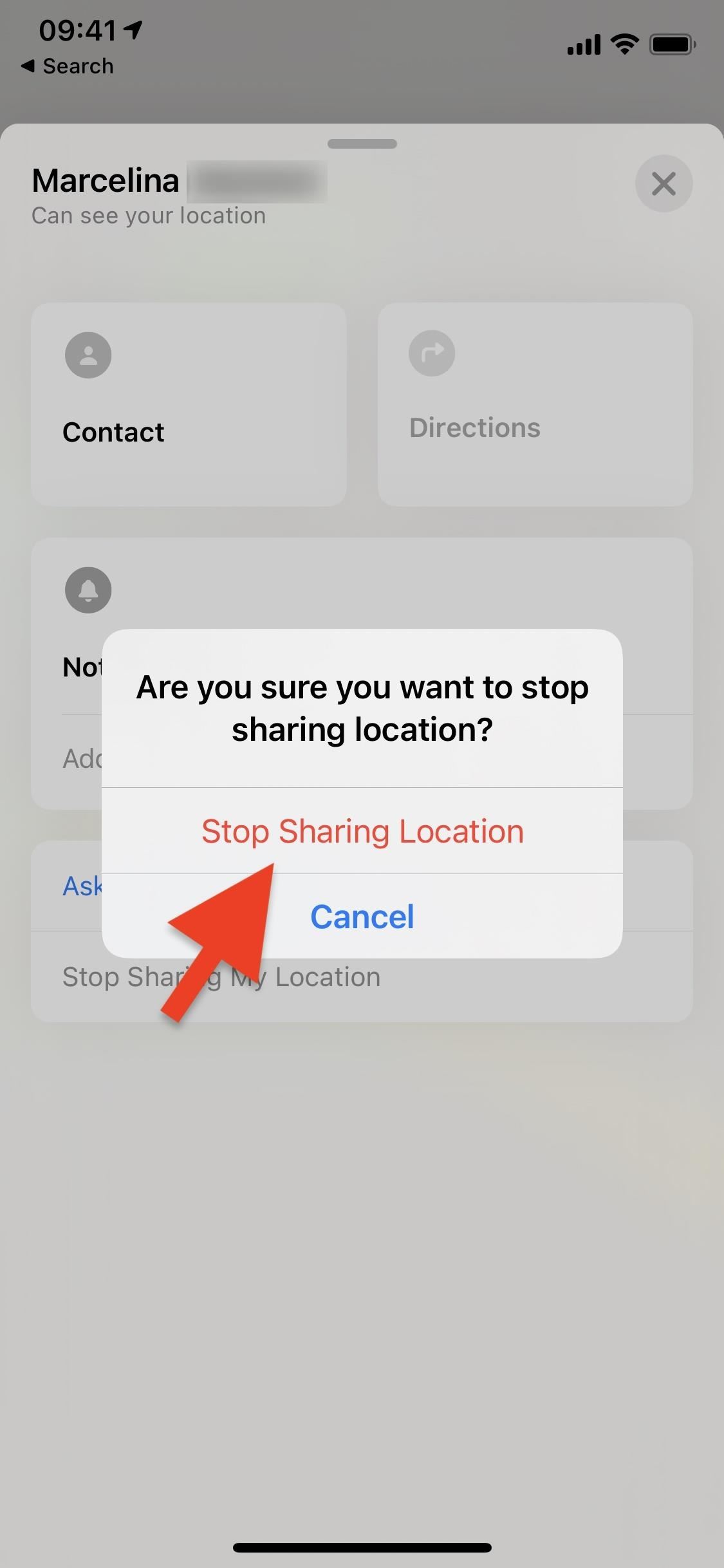 How to stop sharing your location with a specific person.
How to Stop Sharing Location With All Your Family Without Them Knowing
You can disable showing your location to your Family sharing list on Find My. If you want to stop sharing your whereabouts with everybody instead of a single person, there are several ways to do it.
Way 1: Turn Off Find My iPhone
One of the easiest ways to disable sharing your location on your iPhone is to turn off the Find My app. However, this approach is risky since you will not be able to track your iPhone if you lose it. You should consider this before turning off Find My.
Steps:
Go to Settings.
Tap [your name] > Find My > Find My iPhone.
Press the switch next to Find My iPhone to turn it off. It should turn gray when switched off.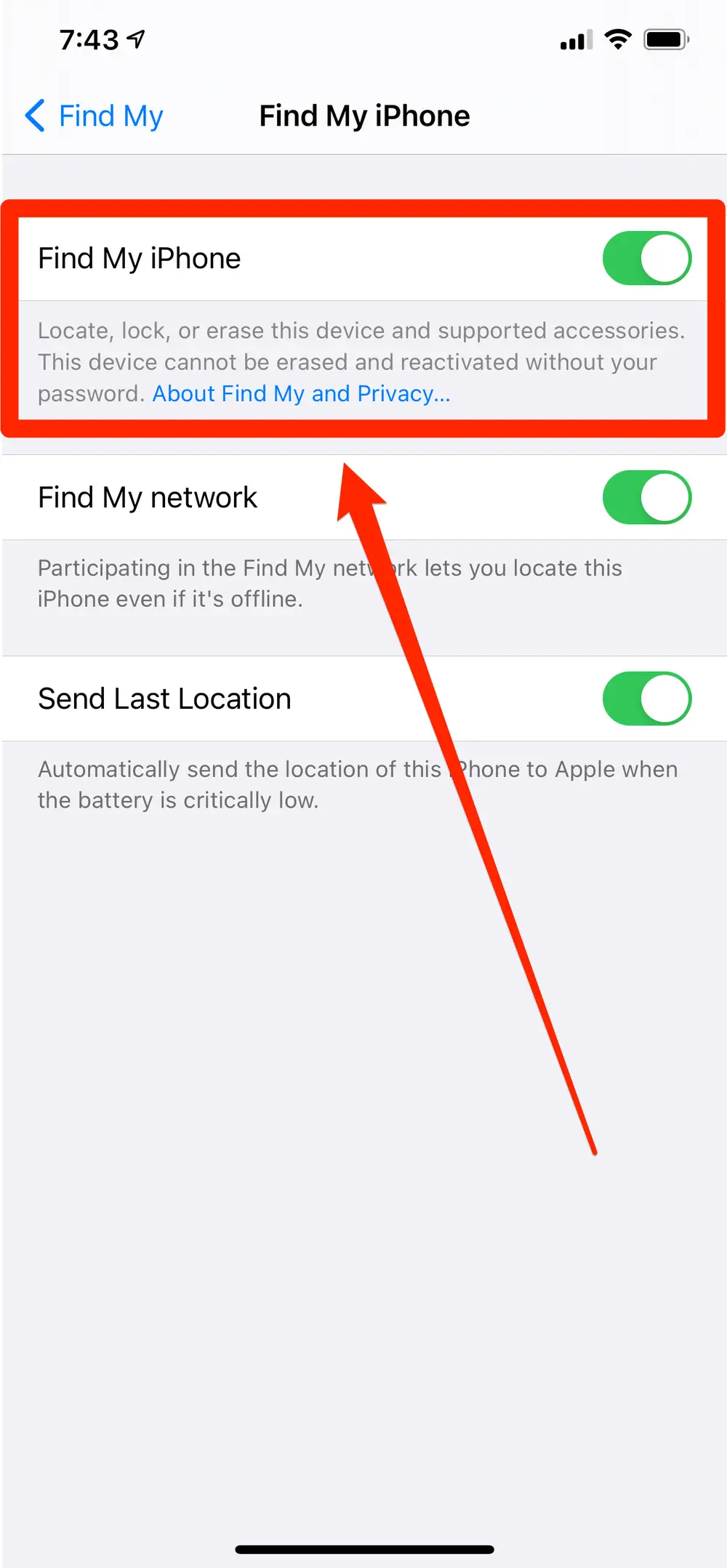 Turn off Find My iPhone.
Way 2: Turn Off Location Sharing Services for Find My iPhone
If you don't wish to disable Find My, you can stop sharing your location by turning off Find My's location services. This will disable location sharing but leaves the other features of Find My, such as Erase iPhone, active.
Steps:
Open Settings > Privacy.
Select Location Services > Share My Location.
Tap off the switch next to Share My Location to turn it off. It should turn gray when switched off.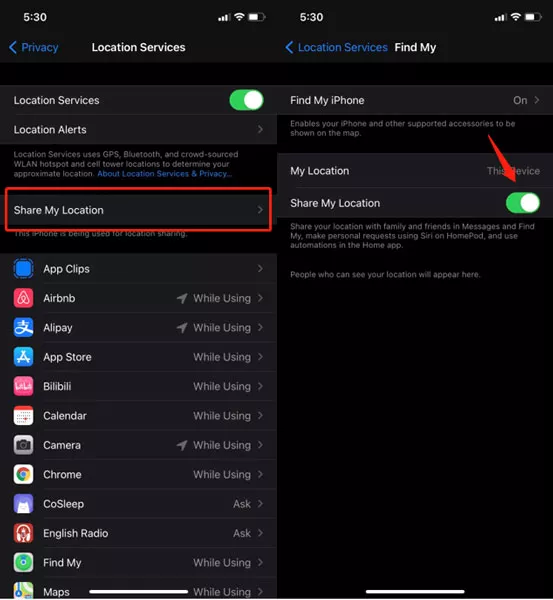 Switch off location sharing services for Find My iPhone.
How to Stop Sharing Your Current Location Without Anyone Knowing
If you have multiple Apple devices registered under your Apple ID, you can share a location from one that is stationary.
For example, an old iPhone you don't carry around. Thus, when people look up your whereabouts, they will see where the old iPhone is, not where you are.
Steps:
On the stationary iPhone, open Settings.
Tap on [your name]
Tap Find My > Use This iPhone as My Location.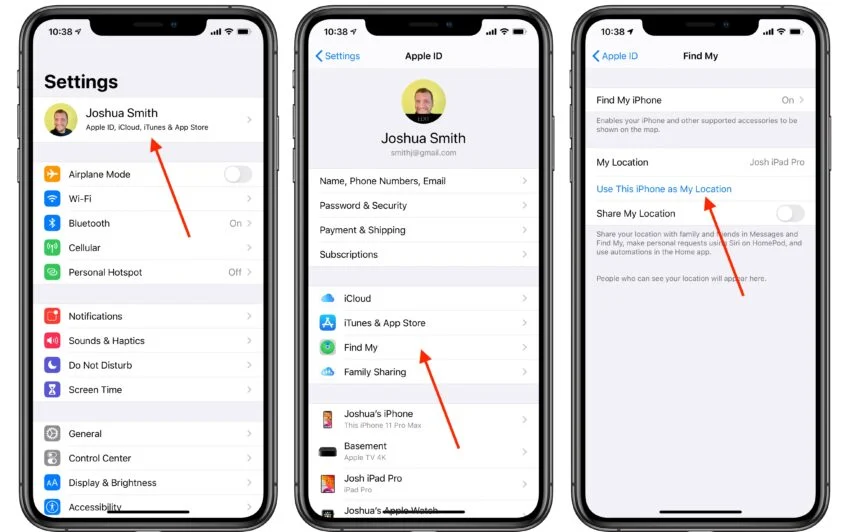 How to stop sharing your current location.
Stop Sharing Your Precise Location Without People Knowing
Another way to hide your whereabouts is to stop showing the precise location and only share an approximate location. This means your friends would know which city/neighborhood you are in but not an exact address.
Steps:
Go to Settings > Privacy > Location Services
Tap Find My.
Toggle the switch next to Precise Location to turn it off. It turns gray when switched off.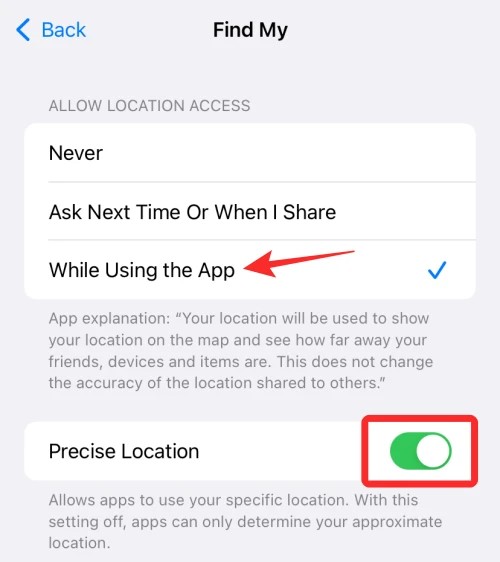 Stop sharing your precise location.
How to Close App Access to Location Sharing Without Notification
You can also quit sharing your location by disabling the location sharing permission for an app such as Find My, iMessage, or Snapchat.
This prevents your iPhone from sharing your whereabouts with the app. If the app cannot access the iPhone's location, it cannot tell or share where you are.
Steps To Disable The Location Sharing Services For An App :
Go to Settings > Privacy > Location Services.
Select Find My.
Under Allow Location Access, tap Never.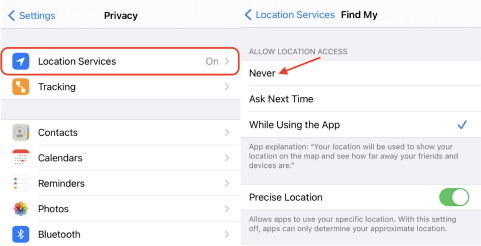 How to close the Find My app access to your iPhone's GPS location
Note: Some Apps may not work properly with Location Services disabled.
Steps to Stop Sharing Your Location On iMessage
If you truly want to hide your location, you should also prevent iMessage from sharing your whereabouts. When iMessage is allowed to share your location, the people you message can see where you are. Thus, disable this feature.
Steps:
Open the Messages app.
To disable sharing your location, you need to select a conversation with a contact with whom you wish to stop showing your location.
After selecting a contact, tap the info icon on the upper right corner of the Messages window.
Press Stop Sharing My Location. You can then choose how long you want to disable iMessage location sharing with the contact.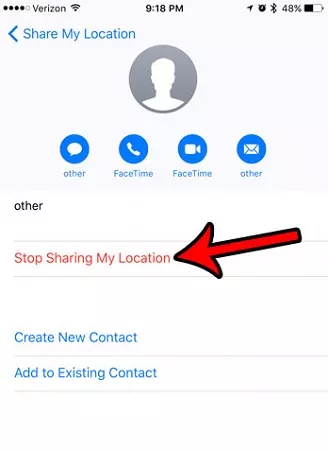 How to stop sharing your location on iMessage.
Fake Your Location Sharing Without Anyone Knowing
You can disguise your actual location by using a GPS spoofer tool. This tool tricks your iPhone's GPS into believing you are at a different place. Since Find My relies on your iPhone's GPS, it will pick up and show the fake location.
When it comes to GPS spoofer tools, LuckLuckGo is an excellent choice. This dedicated location software allows you to switch your GPS coordinates easily. You can use it to hide your location on Find My or other apps. You may also use LuckLuckGo to simulate GPS movement or play location-based games.
Steps:
Connect your iPhone to a computer, then unlock the iPhone and trust this computer.

Click Satrt To Use LuckLuckGo

Select a teleport mode from your screen's top left corner.
Choose a location from the map and click Move.

changes location on iPhone with LuckLuckGo
Application Scenarios:
To hide your actual location without notifying anyone on apps like Find My, Life360, and Snapchat.
When you intend to spoof your iPhone's GPS for a better gaming experience in Location Based games like Pokemon Go.
To change your social media location so you can chat with friends globally.
Protect your privacy and prevent apps or others from tracking your actual whereabouts by faking your iPhone's location.
If you need to access geo-restricted content like music, movies and videos.
Trustpilot
Reasons to Choose LuckLuckGo
High efficiency: You don't have to wait long to switch your location. LuckLuckGo does it quickly and easily.
It maintains the GPS location.
Easy to use: The User Interface design is friendly to all users.
High suitability: It offers support for Mac and Windows and lets you use either to change your iPhone's GPS position.
Cost-effective: LuckLuckGo provides competitive prices and hassle-free money-back service.
Safe: You don't have to jailbreak your iPhone. Also, this app won't harm the iPhone either.
It lets you spoof the GPS location of five iPhones at once.
Enable Airplane Mode to Stop the Location Sharing Services Without the Other Person Knowing
Airplane mode is the fastest and simplest way to stop sharing your location. Showing your location requires an internet connection, but setting your iPhone to airplane mode blocks this connection.
However, despite being the easiest, this method comes last because it is not ideal. Under this mode, other functions like calling are also disabled.
Steps:
Open the Control Center by pulling down the top right corner of your iPhone screen.
Press the airplane icon to enable airplane mode. The icon will turn yellow when airplane mode is activated.
Alternatively, go to Settings and toggle the switch next to Airplane Mode to turn it on.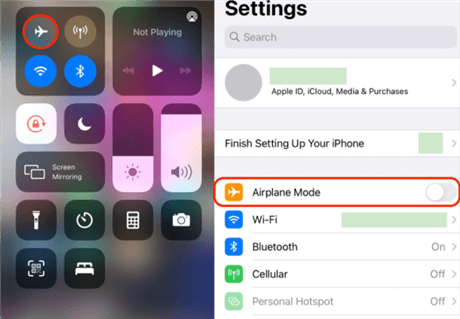 Turn on airplane mode to disable location sharing.
Bonus Tip: How to Check if Someone Stopped Sharing Their Location With You
Although you may not receive a notification when someone stops sharing their location with you, you can still check via the Find My app.
Steps:
Open Find My.
Go to the People section. You will see a list of people who have chosen to share their location with you. If you no longer see someone who was on the list before, it means they have stopped sharing their location with you.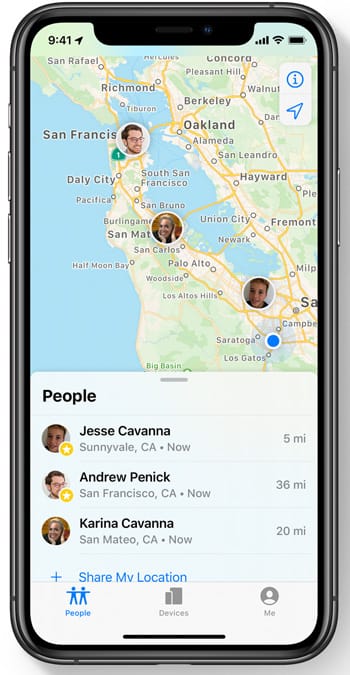 How to see if someone stopped sharing their location with you.
While sharing your location is a good thing, you may desire to limit who can see your whereabouts at some point. Luckily, this article has shown you how to hide your location anonymously when this need arises.
In addition, as you go about stop sharing location without them knowing, I recommend using LuckLuckGo. This tool's simplicity and effectiveness make it the key to disguising your GPS position. Give it a try today!