Find My iPhone was among the best options I used when locating my friend's iPhone or even my own iPhone until I learned about its shortcomings.
When someone's iPhone is misplaced, it becomes a headache, and having the option to find it quickly is a relief.
So, in this article, I will provide you with easy steps to help a friend locate their iPhone (or to find your own iPhone on someone else's iPhone).
Find My iPhone is one of the best options to locate a friend's iPhone. We will encounter situations where we need to locate a friend's iPhone in our daily lives.
In this article, I will show you how to use Find My Friends on iPhone to assist you in locating the position of the targeted iPhone without a struggle. Continue reading to learn more.
In this post, I will show you how to use Find My Friends on iPhone to assist you in locating the position of the targeted iPhone without a struggle, continue reading to learn more.
What Exactly is "Find My Friends?"
Find My Friends is a feature available on all Apple devices that aid protection. This tool assists in recovering an Apple device that has been stolen or lost. Find My Friends is an excellent tool for locating the location of your iPhone.
Some of the features are as follows:
You can quickly share your location with your loved ones using this app.
This software will assist you in sharing your location with someone for as long as you choose.
It is simple to use, so you can effortlessly share your location using this app. And this software is fundamental and straightforward for all family members to utilize.
How Can I Use "Find My Friends" to Locate a Friend's iPhone?
Open your messaging app and choose the contact you wish to share the location with.
Then, click on the information on the right side of the screen.
A new page will open, and then you must press the "share my location" button.
The new page will then appear, and the pop-up will appear at the bottom of the screen for the period you specify.
Potential threats to privacy
Malicious users may discover your location.
Can expose health information about users.
Going on a date with someone you don't know might be dangerous since a background check is required. Taking quick judgments based on a clean profile might leave you susceptible.
There are many privacy concerns that you may face if you use Find My Friends. As already said, to safeguard your privacy, you should spoof your GPS position.
Why is Find My Friends not Working on iOS 16?
The following reasons might be why your Find My Friends is not working:
They are now available in a new app.
The server has gone down.
What to Fix "Find My Friend" Not Working
Update the application.
Check if the servers are down.
Relaunch the App.
Your device's date and time should be corrected.
Turn on the "Location Sharing" on your device.
Ensure you have not reached your limits.
Restart your iOS device.
How to Turn Off Find My Friends without Them Knowing
LuckLuckGo is one of the most outstanding iPhone software to help turn off Find My friends without alerting them. LuckLuckGo can fake location and enables you to turn off Find My Friends, which is sometimes used to indulge one's privacy and stalk behavior. Furthermore, LuckLuckGo provides a platform wherein you don't want to be monitored by others. You can easily switch to a fake location and find My Friends useless.
Features
There are no restrictions on the number of places you can simulate in the application.
You may search for a location by name or by providing its coordinates.
It is compatible with all of the most popular iPhone models running iOS 16 and prior versions.
Change location on Find My Friends on iPhone without them knowing.
Pros:
No jailbreak is required.
You may also simulate strolling between different locations at your own pace.
All location-based applications, including Pokemon Go, are compatible.
Support for the most recent iOS 16 and the iPhone 14, iPhone 13/13 Mini/13 Pro Max.
Steps:
Launch LuckLuckGo and connect your iPhone to the computer.
Connect your iPhone to the computer and click "Start."
Set a location from the map and click "Move."
That's it! The Find My Friends on your iPhone has been changed to a fake location.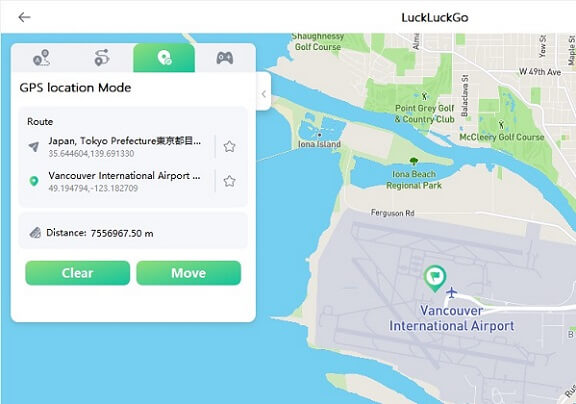 Find My Friend's iPhone is a great application. However, sometimes it is issued by people who will likely be stalkers or anybody else who might not be of our interest to share location with them.
Keeping that in mind, LuckLuckGo software comes in handy when we feel that the finding my friend app is misused. The better thing about LuckLuckGo is that it is easy to use. It can instantly change your location, hence ditching apps used to locate you through your iPhone. Furthermore, LuckLuckGo does not interfere with other apps on your iPhone; thus, you don't need to worry about your privacy.