LuckLuckGo - iOS Location Spoofer
Boost Your Pokémon Go Game: Play Without Moving!
Elevate your Pokémon Go gameplay by simulating GPS movements along actual or planned routes, compatible with multiple iOS devices and WiFi connections.
Select A Pokémon Go Spoofer Feature
Joystick Mode
Joystick feature lets you manage your movement direction, giving you greater control and freedom to explore your surroundings. You can easily catch rare Pokémon, visit Pokestops, and hatch eggs without physically moving around.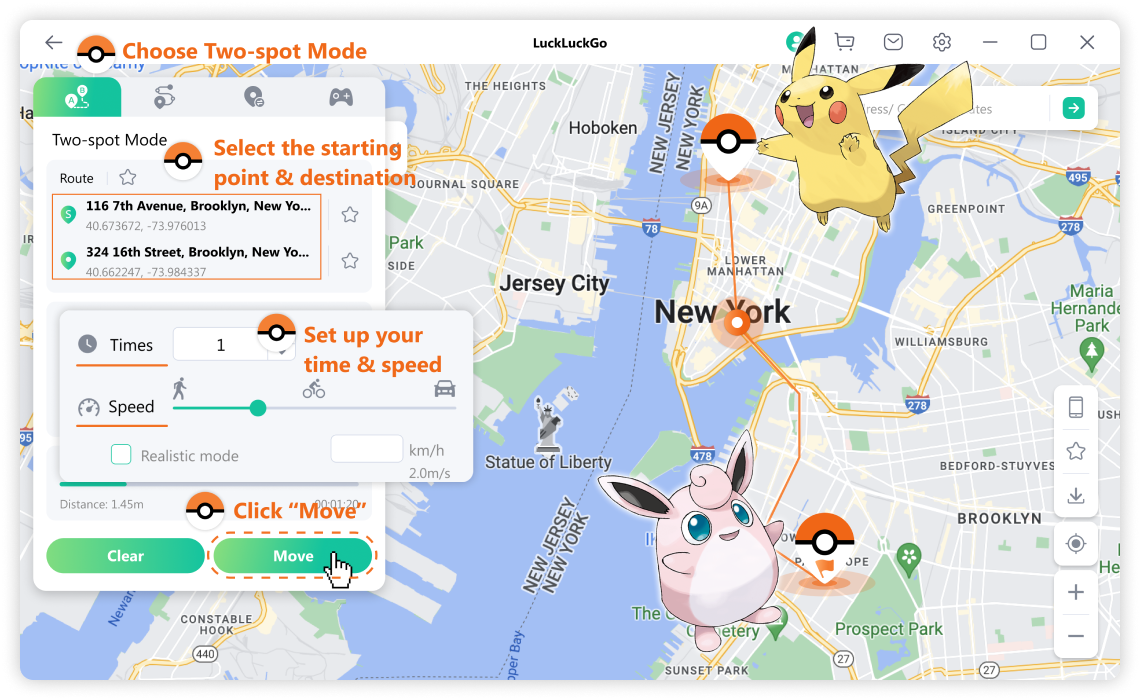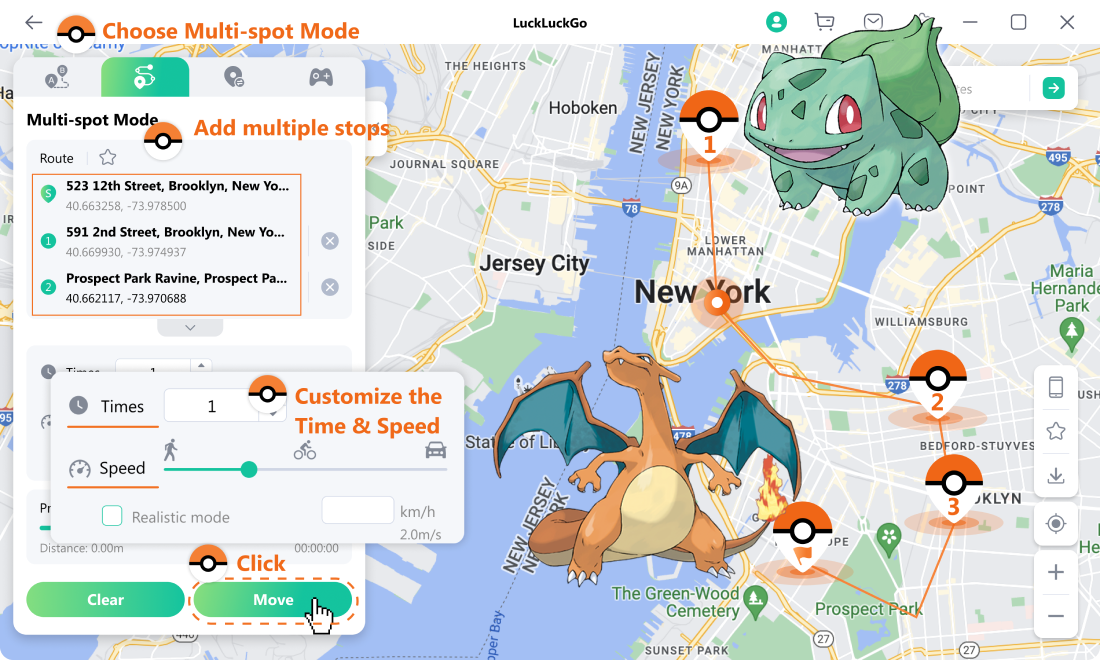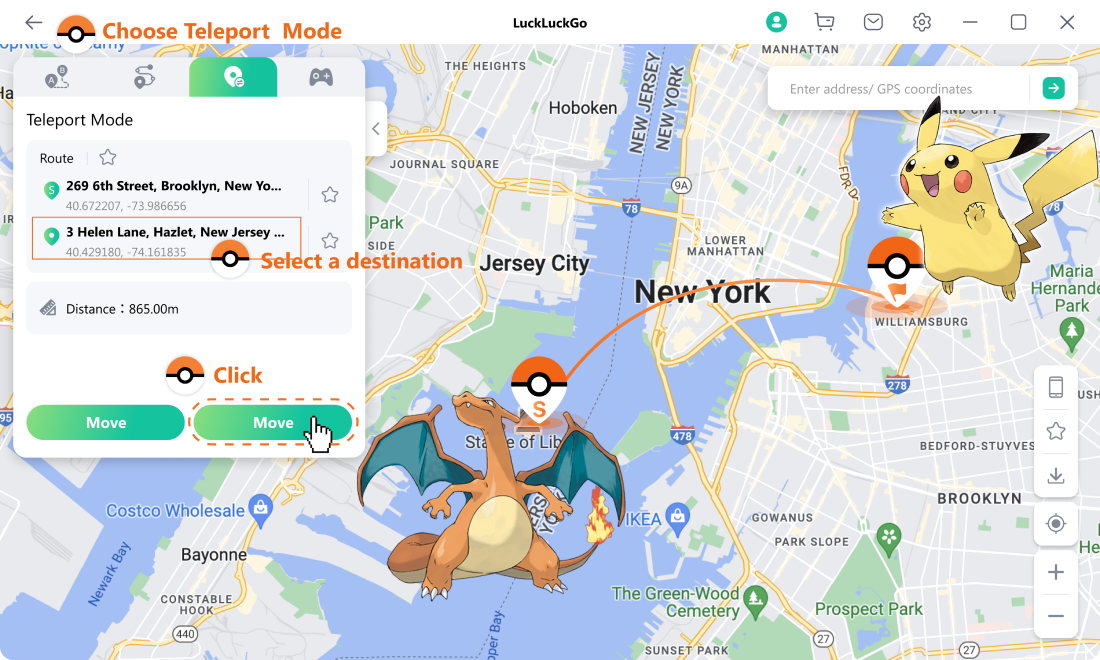 More Convenient Features
Import and Export
GPX File
With this advanced feature, you can follow other players' routes to find the Pokémon you're looking for, all without leaving your home. Simply import a GPX file from another player, and let LuckLuckGo do the rest.
You can:

Control your movement with your keyboard
Enjoy free orientation in a 360-degree view.
Giving you ultimate control and flexibility in your gaming experience.
Check how to use GPX file>>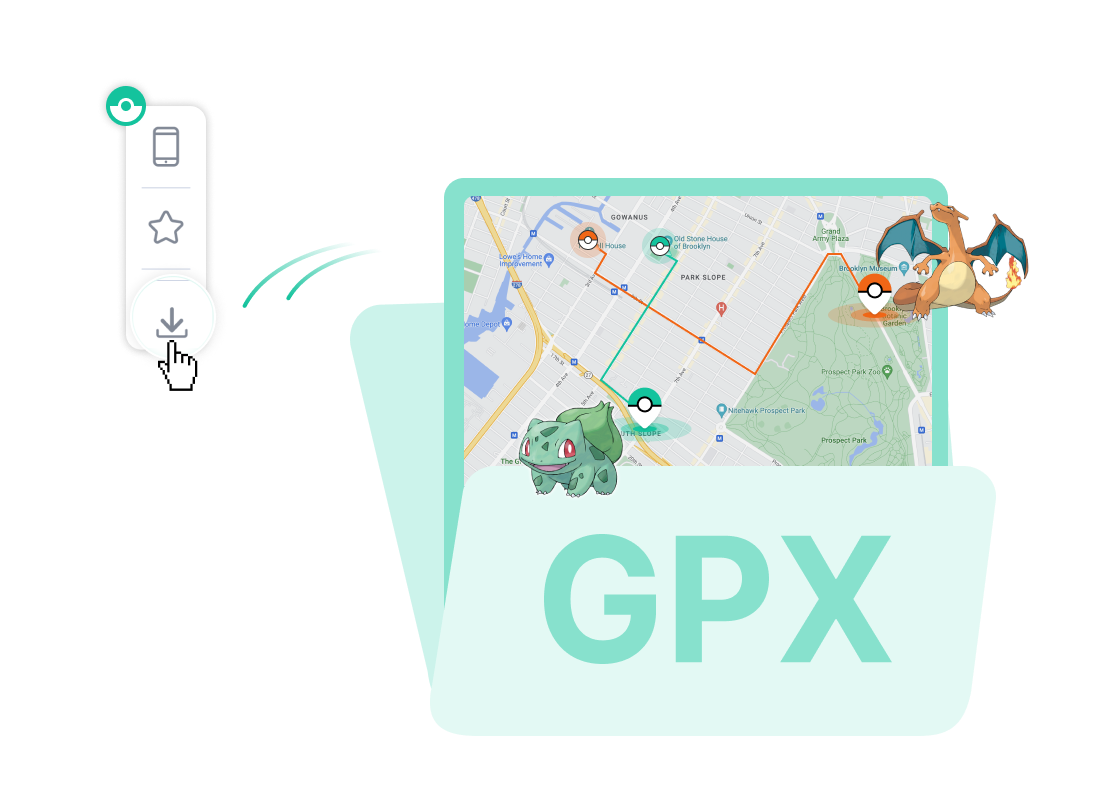 Connect with
WiFi
Looking for a way to change your GPS location without the hassle of USB cables and ports? Use LuckLuckGo's with WiFi! You can connect up to five iOS devices wirelessly, so you can play Pokémon Go anywhere in your home with WiFi coverage.
You can:

Fake GPS location via WiFi wirelessly.
Play Pokémon Go on your sofa.
Change your iOS location anytime, anywhere.
Check how to connect with WiFi>>
Change Location on
up to Five

Devices at Once

LuckLuckGo supports simultaneously change the GPS location of up to 5 iOS devices. You can see them all on the right-hand side of the screen, and choose which device(s) you want to change the GPS location for and do it with ease.
You can:

Increase your chances of catching rare Pokémon.
Coordinate with friends to cover more ground.
Save time by changing the location of various devices at once.
Check how to connect your devices>>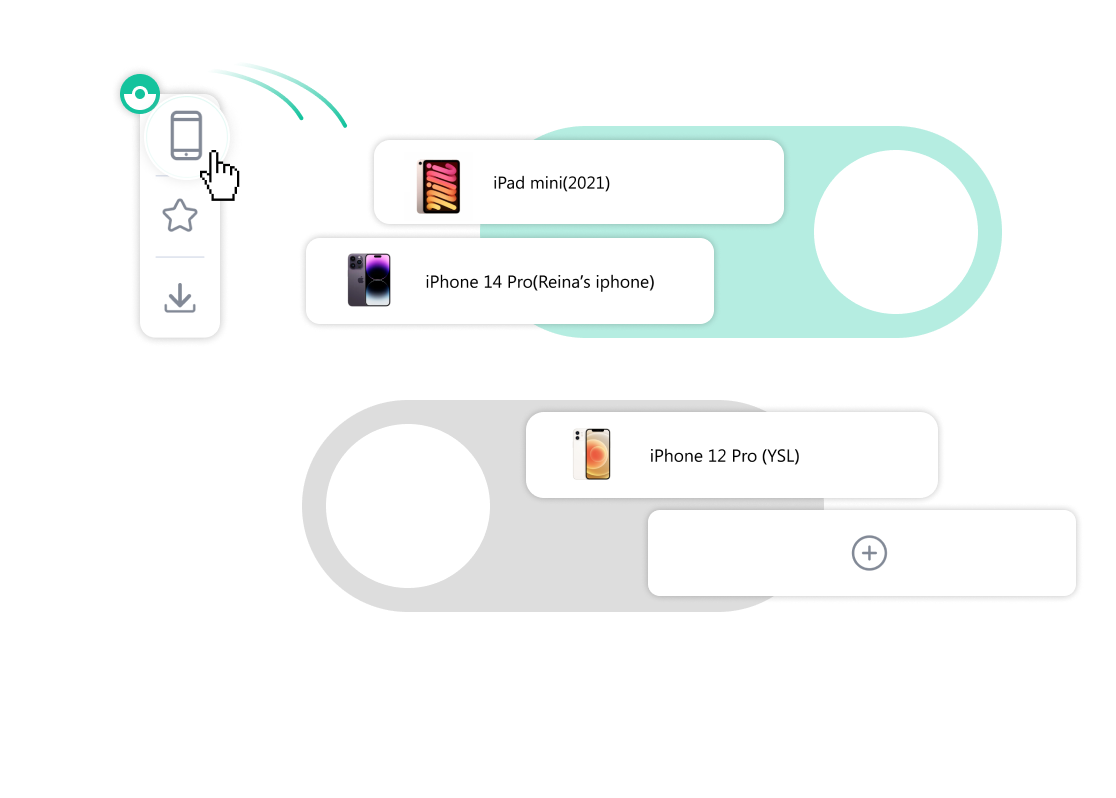 Maximize Your Fun: Discover the Other Features of LuckLuckGo
Our software has covered everything from customized movement speed to a cooldown timer. Let's explore other exciting features of LuckLuckGo to take your gaming experience to the next level!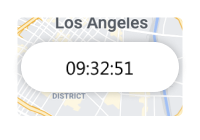 Cooldown timer
The "cool down timer" is designed to prevent the overuse of location change. It helps you to avoid detection while changing your location.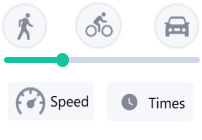 Adjustable Moving Speed
Drag the speed bar and set your pace from 1m/s to 3.6km/h. It allows you to tailor your gameplay experience to your preferences.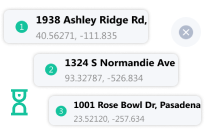 Historical Records
Your search histories are stored. This makes tracking your past movements and locations easy, allowing you to quickly revisit places you've been to before.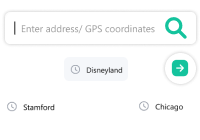 Search for certain locations
You can search for any location, including an address or GPS coordinates. Enter the location into the search bar, and LuckLuckGo will transport you to that location in just a few clicks.
Returns or Loops
You can set your GPS location to move back and forth between the starting point and destination. This feature comes in handy when you must cover the same path multiple times, allowing you to complete your goals efficiently.
Positioning and Zooming Map
The Positioning and Zooming Map feature allows you to navigate the map accurately. Moreover, you can quickly find your current location with the Position button.
Returns or Loops
Once you choose the Realistic Mode, your GPS moving speed will randomly vary within your selected speed range. This will give your location movement a geniune touch.
Add to Favorite
The Add to Favorite feature is available in Two-spot, Multi-spot, and Teleport Mode. It lets you easily collect spots and routes by clicking the star icon. It helps you to access your favorite locations and routes anytime you want quickly.
LuckLuckGo - iOS Location Spoofer
Get LuckLuckGo and Level Up Your Pokémon Go Game Today!