If you're looking for a way to match with more people on Tinder, then it's time to try Tinder Passport. With this feature, you can change your location to match with people from all over the world, whether you're looking for a vacation fling or want to meet someone from a different culture.
This guide will show you how to use Tinder Passport. We'll also share tips on how to set up your profile for maximum matches. So if you're ready to meet more people, let's get started!
What Is Tinder Passport?
Tinder Passport is a premium feature of Tinder's tiered paid service that allows subscribers to change their location to anywhere in the world and swipe through profiles of people in that area.
With a Tinder passport, you can match with people in any city, choose where your profile appears, and even set your Tinder search radius.
This is a great way to connect with singles in other areas. So, whether you're looking for a vacation fling or want to meet someone from a different culture, Tinder Passport is an excellent way to expand your dating pool.
Is Tinder Passport Free?
Tinder Passport is typically not free; it is a paid feature exclusive to Tinder Plus, Tinder Gold, and Tinder Platinum subscribers.
Tinder tiers subscription varies depending on your age; see detail below:
Tinder Membership Pricing (Under 30 Years Old)
| Plan | Length | Monthly Cost | Total Cost |
| --- | --- | --- | --- |
| Platinum | 1 month | $ 19.99 | $ 19.99 |
| Platinum | 6 months | $ 10.00 | $ 59.99 |
| Platinum | 12 months | $ 6.67 | $ 79.99 |
| Gold | 1 month | $ 14.99 | $ 14.99 |
| Gold | 6 months | $ 7.50 | $ 44.99 |
| Gold | 12 months | $ 5.00 | $ 59.99 |
| Plus | 1 month | $ 4.99 | $ 4.99 |
| Plus | 6 months | $ 2.50 | $ 14.99 |
| Plus | 12 months | $ 1.67 | $ 19.99 |
Tinder Membership Pricing (Over 30 Years Old)
| Plan | Length | Monthly Cost | Total Cost |
| --- | --- | --- | --- |
| Platinum | 1 month | $ 39.99 | $ 29.99 |
| Platinum | 6 months | $ 20.00 | $ 89.99 |
| Platinum | 12 months | $ 12.50 | $ 119.99 |
| Gold | 1 month | $ 29.99 | $ 24.99 |
| Gold | 6 months | $ 15.00 | $ 74.99 |
| Gold | 12 months | $ 10.00 | $ 99.99 |
| Plus | 1 month | $ 9.99 | $ 7.99 |
| Plus | 6 months | $ 5.00 | $ 23.99 |
| Plus | 12 months | $ 3.33 | $ 31.99 |
In addition, since Tinder Passport is one of the services of subscription programs such as Tinder Plus. This means that you are actually paying for the entire subscription, so you can also enjoy some other features such assuch as unlimited likes, rewind, and boost.
However, it is important to note that there are other ways to change your location on Tinder (and on other dating apps), without having to pay for Tinder Plus.
Therefore, if you just need to change your location and don't need to use other features, then professional location spoofing software is a better option, which is usually less than half the price of Tinder Plus.
What Is the Difference Between Tinder Passport and Tinder Plus?
Tinder Plus includes additional premium features, such as extra Super Likes, unlimited right swipes, and a free Tinder Boost every month. With Tinder Plus, you can also rewind your last swipe and use Tinder Passport to change your location.
To learn more about the differences between Tinder Plus and regular Tinder, check out the table below.
| Features | Tinder | Tinder Plus | Tinder Gold | Tinder Platinum |
| --- | --- | --- | --- | --- |
| Match.Chat.Meet | Yes | Yes | Yes | Yes |
| Unlimited Likes | | Yes | Yes | Yes |
| Unlimited Rewinds | | Yes | Yes | Yes |
| Passport To Any Location | | Yes | Yes | Yes |
| Hide Advertisements | | Yes | Yes | Yes |
| 5 Super Likes a week | | | Yes | Yes |
| 1 Free Boost a month | | | Yes | Yes |
| See Who Likes You | | | Yes | Yes |
| New Top Picks every day | | | Yes | Yes |
| Message before Matching | | | | Yes |
| Prioritized Likes | | | | Yes |
| See the Likes you've sent in the last 7 days | | | | Yes |
How Do I Subscribe Tinder Passport?
To subscribe Tinder Passport:
Launch Tinder, select the profile menu
Then navigate to Settings > Get Tinder Platinum, Tinder Gold, or Tinder Plus.
You will be asked to enter your payment information; Tinder accepts most major credit and debit cards, as well as PayPal.
Once you've subscribed, you can start using Tinder Passport immediately.
Change Your Location With Tinder Passport
Before changing your location with Tinder Passport, you should know a few things.
Regarding Your Profile: When you change your location, your profile becomes visible only to Tinder users in that area. You are free to change your location as often as you like, but for up to 24 hours after you leave a location, matches you've "liked" may still be able to see your profile.
Also, nobody at your "real" physical location can view your profile. Even if you log out and back into the app, your destination city will be displayed until you manually change it.
It uses of your five most recent locations: Your five most recent locations will be saved, and you can switch between them by tapping on the city name.
Distance will be indicated: As Tinder Passport does include a distance indicator, your potential dates will know precisely how far apart they are from you.
Boost for "new users": A "new user" boost is automatically applied to your Tinder profile whenever you use Passport to change your current location. That means you will initially receive more views.
You can only be in one city at a time, but you can change your location as often as you want. People you've Liked while using Passport can view your profile for up to 24 hours after you change your location(s).
Steps To Change Location With Tinder Passport
To change your location on Tinder, simply:
Navigate to 'Settings' or ' App Settings' and select ' Swiping in' (Android) or 'Location' (iOS).
Select " Add a new location" from the menu
In the search bar, enter the city where you wish to swipe
Choose it from the search engine results
To change your location, tap the blue banner

Tinder Passport-My Current Location Tap the Blue Banner
Once you've done so, your profile will only be visible to Tinder users within the specified area.
How To Turn Off Tinder Passport
You can easily turn off Tinder Passport and prevent your profile from being shown to users in other cities with the following methods.
Select a new city on the map.

This will remove the current city from your list of options, and you will no longer be able to see profiles from that area.

Remove one of the listed cities altogether.

You can do this by clicking on the trash can icon next to the city name.

Once you close the app, put your location back to where you're from.
For instance, if you're currently in New York, you can switch your location back to your hometown when you're done using Tinder.
Tinder Passport Feature Not Working
There could be several causes for the passport feature not to function. In the event that your Tinder Passport is not functioning, try these suggested fixes:
Reset Your Tinder Passport Location
If you're having trouble with your Tinder Passport feature, there is a possibility that Tinder has not loaded the current location. To fix this, go to the Tinder app's main menu and follow the steps below:
Tap on the Account Settings icon
Select Discovery Settings
Tap on the Current Location

Tinder Passport Current Location Add New Location Tinder

Here, you can view your current and previous Tinder locations. You can use your current location before restarting the application.
Repeat the process to change your location to a different location.
Reinstall Tinder
There could also be app-related issues causing the passport feature not to work as expected. We suggest you reinstall the Tinder app to see if this solves the problem.
Uninstall Tinder from your device
Restart your device
Reinstall Tinder from the App Store or Google Play Store

Download Tinder

Sign in with your Tinder account
Once you've reinstalled Tinder, try using the Passport feature again.
Tinder Passport Location is Fixed in One Place
Another common Tinder Passport issue is a "stuck" Tinder location. This means you're stuck in one location and can't change to another. There are a few things you can do to fix this:
Launch the App Switcher and swipe the Tinder card upwards to stop the application from running in the background. Try to relaunch the application and change its location

iPhone App Switcher

The free Tinder passport feature support may no longer be available, or your Tinder Plus/Gold subscription may have expired
Switch off your phone's WiFi and mobile data, then exit the application. Launch Tinder once more after some time has passed
Change your location manually in your Tinder account settings by choosing a new location (not the previously saved locations).
Fix Tinder Passport Location Not Found
Tinder passport might not be able to find or load your location for one of the following reasons:
You may have entered an incorrect location name or made a typo in the location's address.
Tinder may not be available in the area where you wish to use the app.
It could also be that Tinder probably could not have been granted GPS access on your phone.
Here's how to check this:
Navigate to your device's Settings
Select Apps, then Tinder Permissions, and Location
Ensure that location permission has been granted on your device.

Tinder Location Permission While Using This App
Using Tinder Passport and Finding No Matches
When Tinder user changes their location using the passport feature, they occasionally receive the " no matches" message pop-up on the app. There are a few possible explanations for this:
The country where you have changed your location may not currently have Tinder.
There may not be a large number of Tinder users in that area.
You may have reached your Tinder profile-swiping limit for the day.
You may have applied stringent filters (for age, distance, and other preferences) that prevented any matches from being found.
There is a possibility that the app did not load your location correctly. Reset your location and relaunch Tinder in this scenario.

Discover New People on Tinder
1. Create a Stellar Tinder Profile
Maintaining an active and engaging profile is crucial to meet new people. With that in mind, here are a few tips for creating a stellar Tinder profile:
Ensure that your profile is up to date and complete. Include recent photos that show off your personality and interests. Write a brief bio that gives potential matches an idea of who you are and what you're looking for. And be sure to list your age, location, and other relevant information.
In addition, you can ask friends to critique your profile. They can offer helpful feedback on everything from your photos to your bio. And they may even have some suggestions for ways to improve your profile.
Also, take advantage of Tinder's built-in features. For example, you can use the "Tinder Boost" function to make your profile more visible to potential matches in your area.
2. Use High-Quality Photos
Your Tinder profile photos are arguably the essential part of your profile. They're the first thing potential matches will see, so you want to ensure they're high quality and represent who you are.
Use a clear, well-lit shot of your face as your Tinder profile photo. Avoid using filters or editing your photo too much, as this can give the impression that you're trying to hide something.
Also, avoid group shots, as they can confuse potential matches. Don't use photos that are more than a few years old. Your recent photos are a better representation of how you look now.
3. Tinder Passport Alternatives: Change Location on Tinder Freely (For iOS)
Although Tinder Passport allows you to change your location and match with people around the world, there are only five locations that you can modify. If you want to be able to choose your location or match with more people, you should consider a more professional location modification software like LuckLuckGo.
LuckLuckGo is a simple and easy-to-use software that helps users conceal their location on iOS devices. The app also allows users to fake a location on dating apps, making it a valuable tool for online daters.
What's more, LuckLuckGo offers a few other features that make it worth considering. It is compatible with most Location-based games and apps, such as Pokemon GO, Ingress, and more.
Steps
Download and install the LuckLuckGo app on your device. Then Click " Start."

Click Satrt To Use LuckLuckGo

Connect your iPhone to the computer, unlock your iPhone and Trust this computer.
In the top left corner, select the desired mode.
Set a location on the map, adjust the speed and other parameters to your liking, and click " Move."
The Benefits of LuckLuckGo
Lower Price: Tinder Plus costs about $120 a year, and LuckLuckGo is a third of that.
More options: You can change your location or conceal your real location as you prefer, with no restrictions.
Enjoy more Apps: LuckLuckGo allows you to change the location of all your GPS-based services, like Pokemon Go.
More devices: LuckLuckGo supports changing the location of up to 5 iPhones at the same time.
4. Change Tinder Location For Android
If you're using an Android device, you won't be able to change your Tinder location using the previous method. Instead, download a GPS spoofing app for Android, such as Fake GPS. This will allow you to conceal the location of your device.
Steps
Download and install Fake GPS on your Android device
Open your Android device's Settings menu
Find the Developer Options page

Developer Options Page on Android

Toggle on the Developer Options
Activate the toggle for Allow Mock Locations if your phone has one
Tap Select Mock Location Application
Choose your Fake GPS app
Return to Settings and then select Location
Change the Location Mode setting to Device Only (GPS only)
Launch Tinder and navigate to the Settings and Discovery Options
Change the Search Distance to something else to force Tinder to reacquire your location.
5. Make Your Tinder Bio Unique
Your Tinder bio is your opportunity to sell yourself, so it's essential to make it unique. A few well-chosen words can say a lot about your personality and interests. However, don't try to stuff your bio with too much information or make it overly quirky.
The most important thing is to be genuine and authentic. Leaving your bio blank is a missed opportunity to connect with potential matches. So take a few minutes to write a bio that reflects your true self—you may be surprised at the connections you make.
6. Use a Professional or Use Tinder's Premium Features
Another way to increase your chances of getting more matches is to use a professional dating service. A professional will have the experience and expertise necessary to help you put your best foot forward and make a great first impression. They can also provide valuable feedback and guidance on improving your profile and photos.
In addition, you can also get more matches by using Tinder's premium features. Tinder Boost, for example, allows you to pay to have your profile shown to more people in your area. Tinder Plus and Tinder Gold offer additional features like unlimited likes, rewind, and super Likes. While these features come at a cost, they could be well worth it if you're serious about finding a match.
7. Modify the Tinder Discovery Settings
Adjusting your discovery settings can increase the number of matches you receive. Tinder's default setting only displays profiles from people a certain distance from your current location. Altering this setting raises both the Maximum Distance and Age Range.
You can also increase your chances of getting more matches by turning on the Global Feature, which lets you see people near you and from all over the world. To modify your discovery settings, do the following:
Steps
Access your Profile

Click on Tinder Settings

Navigate to Settings
Scroll down to the Discovery Settings section.

Click on Discovery Settings
How To Stop The Location Services On Tinder
Tinder uses the GPS on your phone to determine your location. This information is used to find potential matches near you. However, if you don't want your location to be shared with potential matches, you can turn off the location services on your device. Here's how:
Steps On iPhone
Launch the Settings app on your iPhone
Scroll down and tap the Privacy icon
From the Location Services menu, scroll down until you see the section for " individual apps," then tap the row for the app whose settings you want to change e.g Tinder

Location Services App List

On the following page, select one of the location access options:
Select " Never" to prevent the application from ever using your location.
Select " Ask Next Time Or When I Share" to ensure that your location is accessed only with your permission or input.
Select " While Using the App" or " While Using the App and Widgets" to enable location access while an app or widget is in use.
On certain apps, such as Google Maps and Apple Maps, " toggle off Precise Location" to prevent access to your precise location.

Location Permission for a Specific App on iPhone
Steps On Android
Go to the Settings on your Android device
Scroll down to Privacy
Select App Location Permissions from the Location menu (or App Permissions on a Samsung device)
Choose the app whose location permissions you want to change. Then choose one of the following:
" Allow all the time", which enables the app to continuously track your location
" Allow only while using the app", which limits location tracking to when the app is being used
" Ask every time", which forces the app to always request permission to track your location
" Don't allow", which completely prevents the app from tracking users

Location Permission for a Specific App on Android
Turn off " Use precise location" to make sure the app doesn't track your exact whereabouts.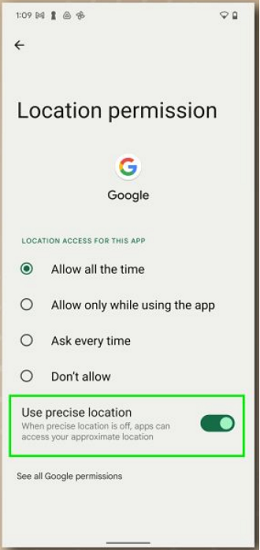 Turn off "Use precise location" on Android
On a Samsung device, you should turn off precise location by going to " Google Location Accuracy" and then turning off " Improve Location Accuracy."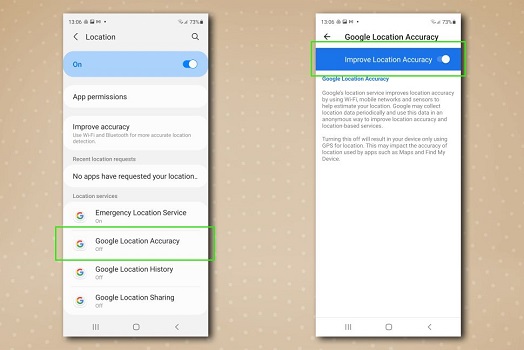 Turn off "Google Location Accuracy" on Samsung
Now you know how to use Tinder Passport to match with more people. Use these tips to make the most of this feature and increase your chances of finding a perfect match.
Don't forget to try LuckLuckGo when you need help faking or changing your location on your iOS devices. It is cost-effective, easy to use, and very safe.
Happy swiping!