Do you want to alter your Tinder Location but don't know how? Tinder only shows potential close-by hookups as searches are only available for a limited range of distances.
So, what to do if you are looking for matches in different locations without actually being there? Well, your answers lie in this guide.
We'll look at how to change location on Tinder in the most affordable way, including changing the phone's GPS location to match and meet people worldwide. Let's get started.
How Does Tinder Get Your Location?
Tinder acquires your location by accessing your GPS location services. Hence, the app projects possible matches based on your search radius, usually from 1 to 100 miles. Beyond that, you 'll need to convince Tinder you are in a different location than your phone says to get more swipes and matches.
What are the benefits of changing your Tinder location?
You get a rookie boost, which helps you to get more matches.
Changing your Tinder location improves your profile 's visibility.
Increased profile engagement, leading to more matches.
Permanent increase in your rankings, likes, matches, and followers.
Switching between different locations limitlessly.
Using Tinder Passport
Tinder passport is a relocation feature on Tinder Plus and Tinder Gold subscriptions. It allows you to change your location as many times as you want. This feature allows you to switch back and forth between different locations.
Steps:
Open Tinder and touch the Profile icon.
Click on Settings.
Tap Swiping In on Android and Location on iPhone.
Tap Add a New Location and type in any location.

Steps To Use Tinder Passport To Change Location
Tips:
You get 5 Super Likes each day and one free Boost per month.
It gives you the ability to rewind your last swipe.
You can only be in one city at a time, but you can change your location as often as you 'd like.
Pros
It boosts the average length of conversations by 25%.
Your profile remains visible for 24 hours.
You can explore new countries, inspiring you to travel.
It gives you the "don 't show my distance " option.
Cons
Only Plus and Gold users have access to the passport feature.
You can tell if someone is using a Tinder passport or not.
Change Tinder Location To Anywhere On iOS
If you are a Basic user, you 'll need to mask your iPhone 's location to change your location on Tinder. Use external software on your computer, known as GPS spoofers. LuckLuckGo is one such proven software for your GPS spoofing needs. It 's convenient and requires no jailbreaking.
Steps:
Download , install and launch LuckLuckGo on your computer.
Click Start Now.
Unlock your iPhone and connect to the computer. Tap Trust This Computer.
Set a location from the map and click Move.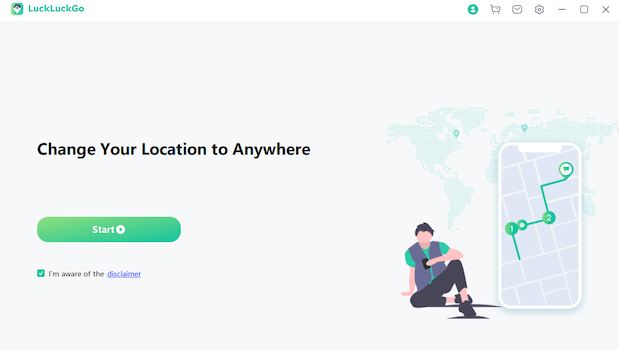 Click Satrt To Use LuckLuckGo
Trustpilot
Benefits of using LuckLuckGo
Change your location to match with friends around the world.
Protects your privacy by blocking apps and other users from tracking your location.
Hide your location without anyone knowing.
Fake your iPhone GPS location to have a better experience with other apps like Pokemon Go.
You can spoof GPS location for five phones at once.
What is the difference between changing location with Tinder Passport and LuckLuckGo?
| Tinder Passport | LuckLuckGo |
| --- | --- |
| Tinder Plus is expensive. It costs $120 a year. | Professional tools are cheaper, LuckLuckGo is a third of that. |
| The oldest location you set gets deleted whenever you enter the fifth location. | Allows you to change your location with no restrictions. |
| Works only on Tinder. | LuckLuckGo allows you to change the location of all your GPS-based services. |
| Limited devices. | LuckLuckGo allows you to change the location of 5 phones at once. |
Use Fake GPS For Android
Unlike the iPhone, on Android, you can modify the phone's GPS location with just one app without computer. The modified location is also valid for Tinder.
There are many apps available on the market; here, we'll use Fake GPS as an example.
Steps:
Download and install the Fake GPS app for Android on Play Store.

Install Fake GPS App

Open Settings.
Click Developer Options and toggle it on.
Turn on Allow Mock Locations if your phone has this option.
Tap on Select Mock Location App.
Select your Fake GPS app.

Select Fake GPS Under Mock Location App

Go back to Settings>Location.
Select Location Mode and change it to Device Only.
Open Tinder and go to Settings.
Tap Discovery Settings.
Change the Search Distance to force Tinder to reacquire your location.

Increase search distance With Fake GPS

Start swiping.
Change Your Facebook Location
If you are logged in to Tinder through your Facebook account, you can change your location using Facebook. However, it is essential to note that Facebook limits the times you can edit your location. Therefore, the method is not as convenient sometimes.
Steps:
Log in to Facebook.
Click on the Profile icon at the top right corner.
Go to the About Me section.
Go to Current City. Tap Add Current City.
Input the Location and choose from the list.
Click Save to finish the settings.

Steps To Change location On Facebook
Jailbreak Your iPhone
You can change your iPhone 's location by jailbreaking your iPhone. It means removing restrictions the manufacturer put during production, which has the chance to cause weaknesses in your iOS system.
Usually, you download apps from Apple Store on your iPhone. But after jailbreak, you can install apps not allowed by Apple, such as location spoofer apps, games, etc., through third-party app stores, like Cydia.
Steps:
Download and install the latest version of Checkra1n.
Connect iPhone to the computer.
Click on Options.

Select Options on checkra1n

Tick "Allow untested iOS/iPadOS/tvOS " versions. Click Back.

Allow untested iOS and OS versions

Select Start to jailbreak.
Follow the onscreen instructions to put your iPhone in DFU mode. Click Start.
When All Done is displayed, it means the jailbreak is complete.

All Done Displayed On Checkra1n
Use VPN To Change IP Address
A Virtual Private Network (VPN) is an encrypted server service that helps you remain private online. It hides your actual IP address and creates a secure tunnel between your device and the web, making it harder for 3rd-parties to track your traffic or hackers to steal your data.
Steps on iPhone:
Download a VPN app from the App store.

Download VPN from the App Store

Create an Account and Sign In. Choose to pay for a subscription or free VPNs, or VPNs with free trials.
Tap Allow to receive VPN configurations.
Choose the Country server you want to change your location to.
Click Connect to activate your VPN connection and fake your location.
Steps on Android:
Download and install a safe-to-use VPN.
Launch the application and Log In with your information.

Select a Country From the List for Android

Choose a Location from the list.
Once connected, open Tinder and continue swiping.
Edit Your WiFi Manually
Another way to hide and replace your IP address with another area is to manually change the address on your phone in your app settings.
Steps on an iPhone:
Go to Settings.
Click Wi-Fi.
Click Network.
Under IPv4 address, tap Configure IP.
Select Manual.
Enter your new IP address and continue surfing.
Steps on an Android:
Go to Settings.
Select Wireless & Networks.
Choose your Wi-Fi network.
Click Modify Network.
Click Advanced Options.
Click Change Your IP Address and enter your new address.
How To Turn Off Location Services On Tinder?
Turning off location services will stop your phone from receiving all GPS-related data. But this only masks your location on Tinder rather than changing it.
Also, if you don't need location tracking on every app or don't need it turned on all the time, you can follow these steps:
Steps on iPhone:
Open the Settings app.
Navigate to Privacy.
Select Location Services.
Choose Tinder from the app listings.
On the next page, select one of the options for location access:
Select Never to ensure that the app never uses your location.
Select Ask Next Time Or When I Share to ensure your location is only accessed with your knowledge. .
Select While Using the App or While Using the App or Widgets to allow location access the entire time an app or widget is being used.

Location Access Options
Steps on Android:
Go to Settings and open the Locations menu.
Tap App Location Permissions
Select the app for which you want to change location permissions. Then select one of the following options:
Allow all the time - Allows the app to track your location constantly.
Allow only while using the app - Restricts location tracking to app usage.
Ask every time - Forces the app to ask you if it wants to track your location.
Don't allow - It blocks tracking for the app completely.

Location Permissions for a Specific App in Android
By now, you 've learned many alternatives to Tinder Passport on changing your Tinder location.
Among them, jailbreaking might expose your iPhone to vulnerabilities. And VPN alone is not enough to edit your location. Therefore location spoofing software that is friendly to your operating system is the better choice. LuckLuckGo is an excellent professional tool for your GPS spoofing needs. Install it today and enjoy swiping right without worrying about your identity.