iPhone location limits our access to GPS-enabled applications or fun games like Pokémon Go.
How about faking the current location to enjoy more leisure?
I have collected the 3 best and easy methods during my research and shared them here in this article with you.
iPhone location has some great advantages related to personalized suggestions, such as weather forecasts or news updates.
But sometimes, these suggestions can limit your access to a region, especially when you want to run some GPS-enabled applications or fun games like Pokémon Go that require your actual location.
Of course, you would like to enjoy more leisure than your current location. What to do in this situation? You have to fake your location, but how? Let me show you.
Before we start with our fake GPS location iPhone, I want to advise you to go through this journey with us till the end because I have something special planned only for you.
Why Do You Need to Fake Your Location on iPhone?
Some of you might wonder why one wants to fake their location. According to my know-how, there can be multiple scenarios, such as:
Not wanting to share location on social media apps.
Visiting multiple places virtually for location-based games.
Boosting signals for GPS on your current location.
iPhone makes it compulsory for you to add a location to access multiple applications. But wanting to enjoy services in another region or place is what we all are looking for, so here are the 3 effective methods of how to fake a location on an iPhone.
Way 1: Via LuckLuckGo (Most Recommended)
You might be wondering what LuckLuckGo is if you are hearing it for the first time. Let me introduce you to one of the most recommended ways to fake your location on iPhone.
LuckLuckGo is a third-party app you can use to fake your location settings anywhere in the world with just one click. The steps to get started with LuckLuckGo are listed as follow:
Steps
You have to download and launch LuckLuckGo on your computer.
Connect your iPhone to the computer.
Click on the Start option. Select a place you wish to move to.
Select the Move option.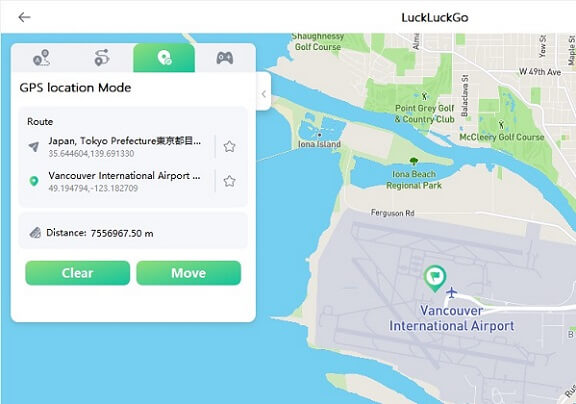 Boom! You are now in a new place to enjoy all your location-based applications.
Pros
The steps to enable LuckLuckGo are super easy.
This method is swift and does not lag at all.
You can also use this to share fake locations on social media accounts.
It is compatible with all location or GPS-enabled applications such as Map Whatsapp, Facebook, or fitness apps.
You can synchronize movement in location-based games such as Pokémon Go.
Way 2: Via VPN (for Web browser only)
Besides LuckLuckGo, the VPN method can also be used to fake your location on your iPhone. VPN is known as a third-party app that creates a virtual wall-like shield in front of your actual IP address that contains information like address or location.
Steps
The first step is to go to the Apple store.
Search for VPN applications such as Turbo VPN, Express VPN, or Nord VPN.
Download the VPN of your choice.
Run the VPN application.
Create your account.
Next, allow the VPN app to modify the settings of your iPhone.
Select the location VPN you wish to move to.
Tap on the 'connect' button.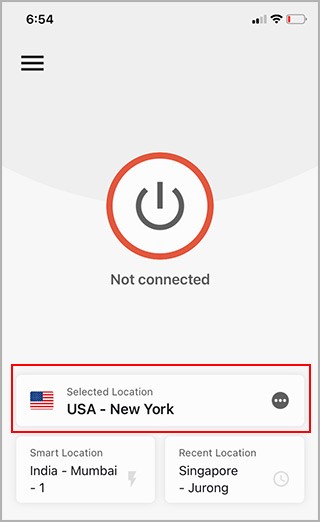 That's all. You are in a new region or country now.
Pros
VPN is straightforward to use.
You can easily unblock websites if they are banned in your regions, such as Facebook, YouTube, Skype, or any other.
Cons
It only works on a web browser and does not work on applications.
The above method, using VPN to fake GPS location on iPhone, has some cons and can create a problem. Also, this method only lets you fake your location on web browsing. So, if you want to fake location on applications, the following method is listed in detail.
Way 3: Via Relocate (Jailbreak required)
The last method I have for you is using the relocate application. The method uses fake location technology to virtually move you to a brand new place to enjoy the GPS services of that area. You can follow the steps below to get acquainted with the 'relocate' app.
Steps
Download the Relocate app from the app store or web browser.
Launch the application after downloading.
Select the location option.
Choose the region of your choice and confirm.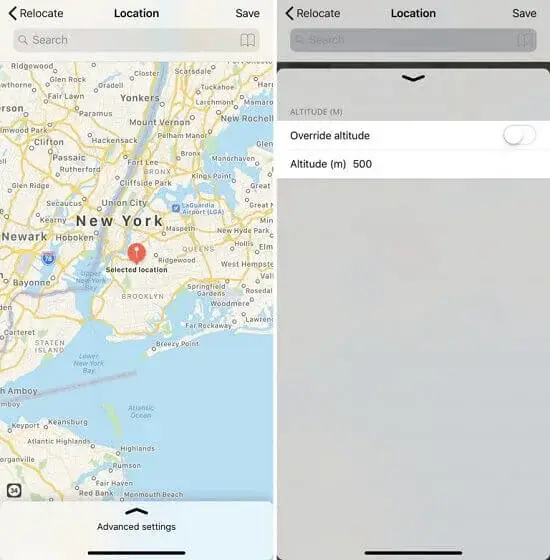 You are all done with Relocate to set your iPhone in a new fake location.
Pros
The relocate method is free to use.
It does not involve any complicated tasks.
Cons
Your account might get detected by Pokémon Go for spoofing the location.
Jailbreaking is a must in this method.
FAQs about fake iPhone GPS Location
You must have understood all the three effective methods I explained above to fake location on iPhone. But faking location might have raised some questions in your head. So, here are the answers I got to clear out your concerns and thoughts.
What are the limitations and attention when we use fake locations?
GPS services on iPhone can be tracked for multiple reasons, and GPS-based applications can save your location to keep track. Fake GPS lets you change your location according to your choice and requirements, but it might get you in trouble also since GPS spoofing can get your accounts banned.
For example, if you are using fake GPS or location to access different regions in Pokémon GO and by anyhow they can comprehend that you are spoofing your location, then your account will be banned.
How Accurate is the iPhone Location?
GPS services or location on iPhone are accurate up to some feet when you have full GPS signals available, but if you lack signals, you might have to face the consequences as it can show a difference of up to a few 100 meters.
Concluding the article, I want to let you know that no matter what situation you are stuck in. The 3 effective ways or methods of faking location on the iPhone we listed above will get your work done effortlessly in no time.
But to help you make a better decision, I want to recommend that LuckLuckGo will prove to be the best option for you. Using LuckLuckGo for a long time now, I can say that it is one of the most effective ways to fake location for GPS-limited services like games or software.