Do you get confused about how to fake location on iPhone? To jailbreak or not to jailbreak? With or without a computer?
Your iPhone obtains location data through its built-in GPS receiver. The data isn't shown in the system settings, and you have no right to modify it. So to change the location, you must bypass Apple's restrictions.
Luckily, this article will detail all the possible ways to fake your location on the iPhone. We'll also analyze the most mentioned "jailbreak" to help you find the best solution. Let's get rolling.
How To Fake Location On iPhone?
iPhone relies on the accuracy of your GPS chip to continually update your physical position. It relays coordinates to your phone's operating system to confirm the location of your iPhone. This feature is called Location Services on iPhone.
GPS-based services such as Maps or Find My use this feature to access location data with the user's permission. However, iOS restrictions make it hard to run any piece of code or unsupervised programs to alter the location settings.
It's possible to trick your iPhone into believing you are in a different location, but not with simple software tricks. Hence, you need the help of location spoofer apps because of Apple's strict limitations.
Let's take a closer look at how you can fake your GPS location on an iPhone.
Using Location Spoofer Software - LuckLuckGo
If you're looking to spoof your GPS location, you need to install iOS location changer software on your computer.
LuckLuckGo will help you fake your location without jailbreaking your iPhone. You can alter your location anytime with a few clicks and enjoy many more benefits, like playing Pokemon Go.
Application Scenarios of LuckLuckGo:
When you want to spoof your iPhone GPS location to help you have an unrestrictive gaming experience in Location-based games, such as Pokemon Go.
If you need to change your Facebook or Snapchat location to chat with friends around the world.
If you value protecting privacy, prevent Apps or others from tracking your true location by faking your iPhone's location.
If you want to mask your real location without anyone knowing.
When you want to access global geo-restricted content such as videos, movies, music, and shopping.
Steps:
Download and Launch LuckLuckGo.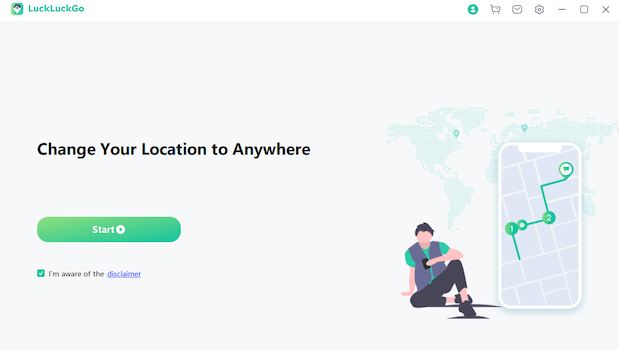 Click Satrt To Use LuckLuckGo
Click Start Now.
Connect your iPhone to the computer, unlock your iPhone, and tap Trust This Computer.
Choose your preferred Teleport mode from the top left corner of the screen.
Set a location from the map, and click Move.
Trustpilot
Why Choose LuckLuckGo?
High efficiency: The tool can spoof GPS Locations for 5 iPhones at once.
Easy to use: The UI design is friendly for any technical knowledge.
Cost-effective: It boasts of competitive prices and hassle-free money-back service.
Safe: It guarantees no jailbreak is required, and no harm to your iPhone 14.
Editing Your Backup File With iBackupBot
Another way is to edit your backup file. By modifying the location information in your backup file, your iPhone will take this "location data" as your present location when restoring this backup.
This method also requires the use of third-party apps. iBackup is used as an example here.
Steps:
Connect your iPhone to a computer, launch iTunes and click on the iPhone icon to access more options. Select Back Up Now while Encrypt iPhone remains unchecked.
After completing the backup, close iTunes and launch iBackupBot, it should automatically locate and open the backup files.

iBackupBot tool

Navigate to the Apple Maps list file, by either following User App Files > com.Apple.Maps > Library > Preferences or System Files > HomeDomain > Library > Preferences.
Open the file and search for the < dict> tag. Insert the following code right under it:
<true><key>_internal_PlaceCardLocationSimulation</key><true/>
Close iBackupBot but keep the iPhone plugged in and don't open iTunes yet.
Go to disable Find My iPhone as follows:
Settings > Your Apple ID > iCloud > Find My iPhone and tap to toggle off.

Turn Off Find My iPhone

Reconnect to iTunes and restore from the modified backup.
Launch Apple Maps and navigate to the location you'd like to be in.
Tap the bottom of the window to get location information. Locate the Simulate Location feature and tap to confirm and verify if it works for your other apps.
Jailbreak Your iPhone
A jailbreak on iPhone lets the user get access to install the apps that Apple doesn't allow them to. It's easier to download the location change apps on their iPhone via a third-party apps store after jailbreaking.
Apple strictly prohibits Jailbreaking because while it opens up many deep permissions to modify the system, it also causes irreversible risks to the iOS system. Apple cautions against installing any software that hacks iOS. According to Apple, unauthorized modifications to iOS can result in;
Disruption of Apple services such as iCloud and iMessage.
Phone instability.
Lack of software updates.
Therefore, jailbreaking is a last resort and must be chosen carefully.
Steps:
Download and install Checkra1n on your PC or Mac.
Connect your iPhone to your computer using a USB lightning cable.
Disable your Face ID or Touch ID.
Tap Trust This Computer if prompted and enter the passcode if asked.
Click on Options and tick "Allow untested iOS/iPadOS/tvOS versions ". Click Back to go to the main screen.

Select Options on checkra1n

The app automatically detects your iPhone. Click Start.
Place your iPhone in DFU mode by long pressing the Side and Volume buttons simultaneously for at least 10 seconds. Release the Side button but continue holding the Volume button until the Apple logo appears.
Again, click on Start.

Click Start to finish the jailbreaking process

As soon as All Done is displayed, the jailbreak should be complete. Click Done.
iTool: iOS 12 and earlier
iTool is also a reliable tool with its Virtual Location feature. The program provides a reasonably simple interface allowing users to easily change their GPS location.
Steps:
Run iTools and choose the Virtual Location feature from the interface.

Run iTools on Your Computer

Connect your iPhone and type any location that you want to use on the Map screen that appears.
Tap on Move Here, and iTools will instantly alter the current location.

iTools "Move Here" Feature

Change back to the original location by tapping on the center icon.
Using A Hardware
This process involves an Apple-compatible system that allows you to relocate your iOS device wherever you like virtually. It isn't free or cheap, but it works well and is a robust and reliable solution to fake location on iPhone without a computer. GFaker is essentially a tiny pluggable hardware device you connect with your iPhone. Run the provided app without jailbreaking to set the location you want.
Modifying the Property List
The .plist is connected directly to the Maps application on the iOS device. Therefore, you can change the location on the iOS/Apple Maps application by modifying the required properties without jailbreak.
To modify the file, your need an application like 3uTools, to read and edit the iOS backup on your iPhone.
Steps:
Connect your iPhone to the computer and launch the 3uTools application.
Make sure that the automatic sync option is disabled on iTunes.
Go to the Backup/Restore section of the tool and click the Backup iDevice button.
After completing the backup, go to the Backup Management option and choose the most recent backup activity on your iPhone. Click the Pro Mode button under the View section to open this backup.
On the backup viewer, click on the Application Document tab.
Go to AppDomain-com.apple.Maps > Library > Preferences folder.

Double-click "com.apple.Maps.plist"

Open a file titled 'com.apple.Maps.plist' in the plist editor by double-clicking on it. In the plist editor, insert the following code before the tag:
__internal__PlaceCardLocationSimulation
Save the modified ". plist " file.
Go back to the Restore/Backup option and choose the Restore Data option.
Turn off Find My iPhone.
Choose the most recent backup activity done on your iPhone and click the Restore Now button.
After completion, unplug your iPhone from your computer.
Launch the Apple Maps application on your iPhone and put your desired location in the address bar.
Set a pin location and then scroll up and click the Simulate Location button.
You're done. The location that you set earlier will now be shared with all the apps using location services on your iPhone
Use a Secondary iPhone To Fake Location On Find My
Yes, showing a fake location to Find My Friends is possible if you have a secondary iPhone. It often serves as a backup plan to keep your location private without anyone knowing.
Steps:
Sign out of Find My Friends on your official iPhone.
Log in to the secondary iPhone using the same Apple ID
Leave the iPhone at the location.
With this, no one will detect location changes on your iPhone 13, and you'll be able to share it with any of your friends.
Fake Find My Location With FMFNotifier (Jailbreak Required)
If you already have a jailbroken iPhone, use FMFNotifier to easily tap into a different location. The Location Spoofing feature of this application is quite handy. You can fake the location on Find My Friends after the iOS 16 jailbreak using FMFNotifier.
Steps:
Install the app from a genuine source and enable the Location Spoofer option inside the menu.

Enable location spoofer on FMFNotifier

Choose a Label among the options to put on a fake location or add labels as you want.
Specify the location on the label and lock it.
Confirm the action that an app is trying to request location through the Find My Friends app.

Confirm Action From On-screen Prompt

Now feel free to fool others with that fake location.
Using VPN To Fake Your IP Address On iPhone
An IP address is your internet's virtual location. On the other hand, a VPN (Virtual Private Network) is the most effective way to protect your internet traffic and keep your identity private online.
Using a VPN changes your IP address and makes you appear to be in the location you select when you connect.
Steps:
Download and install a reliable VPN app from the App store.
Sign In by creating an account.
Allow VPN configurations on your iPhone.
Select the Country you want to change your location to.
Click Connect to establish your connection and browse privately.

Connect iPhone to VPN
How to check that the location on your iPhone has been changed successfully?
It's pretty easy. Just open a location-based software that provides services based on GPS and share your location with others to check.
For example, open Maps, PokemonGo, Tinder, or Find My.
I hope by now, faking location on iPhone is a pretty straightforward experience. You need to pick an approach, whether connecting to a VPN, jailbreaking, or using GPS-changing software and hardware. However, you will face problems when trying to change location, but with the appropriate tool in your hand, don't worry. Get access to LuckLuckGo, and enjoy a range of benefits without jailbreaking your iPhone.