You can see the location of your friends and family on your iPhone device in different ways, and our guide compiles the easiest steps. But sometimes, you don't want your location to be tracked, and we have a bonus section that covers how you can make your location invisible. Read on to learn more details.
Add Your Family Or Friends on Find My
The Find My app on Apple devices is the easiest way to track the location of family members, friends, and colleagues. The app allows iPhone users to share their location with others and track it at any time. If you want to see someone's location on iPhone, this is the easiest way.
To see your friend's location on Find My, you must first share your location with them.
Open the Find My app and select People.

Steps To Share Location With Find My

Choose the person you have shared your location with.
Select the Ask To Follow Location option.
Click OK and wait for them to accept the request.
Set Up Location-Based Notifications
Another method is to set location-based notifications. You can set recurring location-based notifications, which inform you on whether a person has left or arrived at a location or isn't in a particular location.
Here's how to set it up:
Open the Find My app > Select People.
Click on the person you want to share location-based notifications with.
Select Notifications > Add.
Click Notify Me to see your friend's location (If you want to share your location, select Notify Friend instead).
There are different options under When. Choose Arrives, Leaves, or Is Not At (If you want to share your location, choose I Arrive or I Leave).

Set Up Location-Based Notifications Some One Leaves

Then under Location, click the current location of your friend.
Finally, under Frequency, select Only Once or Every Time.
Use Family Sharing Group
Family Sharing allows up to six family members to easily share music, movies, TV shows, apps, books, subscriptions, including iCloud+, and more.
If you are in the family sharing group as someone, you can view each other's location. This method requires both family sharing parties to perform together.
Here is what your friend/family member will do: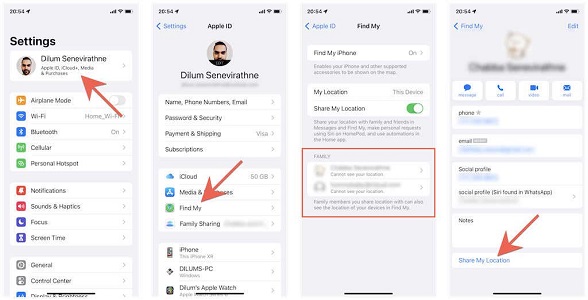 Steps to Share Location via Family Group
Open Settings> Apple ID.
Click on Find My and select your name under Family.
Select Share My Location.
Then, you will do this:
Tap the Find My notification. Keep in mind that it is time-sensitive.
View the family member's location.
Send Location Via Apple Maps
If the person you want to see the location of is also an Apple user, you can ask them to share their location through a link on Apple Maps. Follow the steps to do so: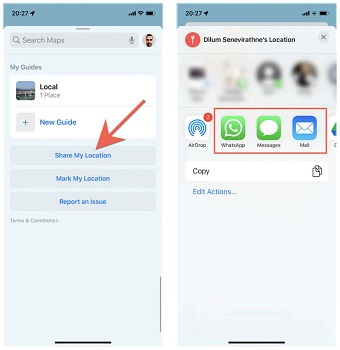 Steps to Share Location via Apple Maps
The person will open the Apple Maps app.
Pull up the handle from the bottom and select Share My Location.
Send the location through text messages or other messaging apps.
You can click on the link to view and select Directions so that the map will lead you to the person's location.
Share Location Via iMessage App
It's convenient to ask the person you want to track to send their location through the iMessage app. You can view it for a specific period when they share their location. The person will have to share their location with you.
Tips: The iMessage will say "You started sharing location with [contact name]" when you use it to send the location.
This is how they can do so: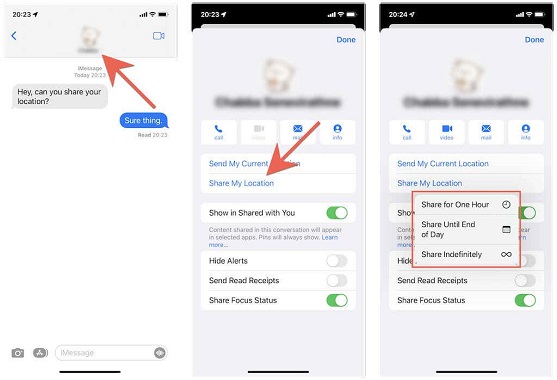 Steps to Share Location via Messages
Open Messages and click on their conversation with you.
Select the name at the screen's top and Start Sharing Location.
Choose the duration:
Share For One Hour
Share Until End of Day
Share Indefinitely
Send My Current Location.
Then, you will click on the notification and see their location. After tapping their name, you can also open iMessages and view their location on the map.
Use Google Maps For Your Friend's Android Devices
If the person you want to track has an Android device, you can ask them to share their location through Google Maps. But, you have to install Google Maps on your iPhone and sign in with a Google account.
This also works between Apple devices. The person will: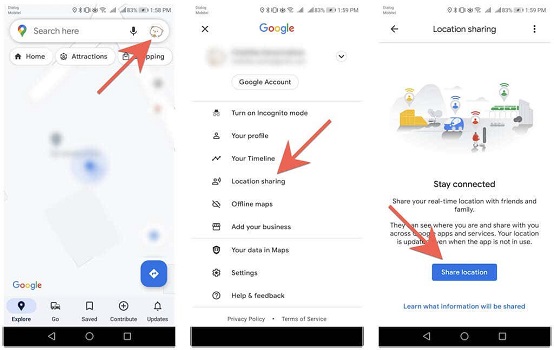 Steps to Share Location Via Google Maps
Open Google Maps and select your profile.
Tap Location Sharing > Share Location/New Share.
Choose how long you will share your location and the medium to send the link.
Click Send.
Then, you can click on the link to view their location or open Google Maps and click on the person's name on the map. You can also receive directions to go to the person.
Use Tracking Apps
If necessary, you can use professional tracking software to check the location of your friend or family member. But, if you decide to do this, it's important to get consent from the other party and select a reliable tracking software that will protect your privacy.
There are third-party apps for tracking people's location without their knowledge, but it's not advisable to do that. You can use apps to get this done, including mSpy, and Localize.mobi, or Life360. In addition, please pay carefully when purchasing apps to avoid scams.
Use Other Social Media Apps
Different chat apps allow you to see your friend's location as long as they send it to you. Snapchat, WhatsApp, Facebook Messenger, and some dating and gaming apps.
Here's how to see someone 's location on WhatsApp: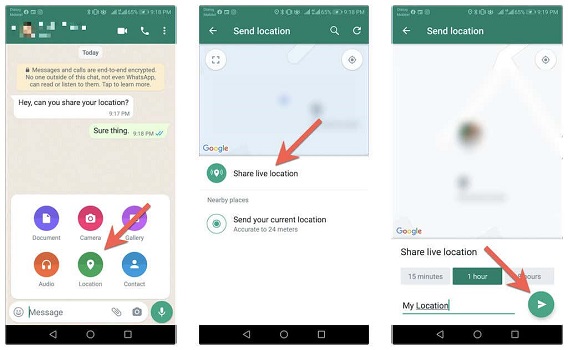 Steps to Share Location via Whatsapp
Open WhatsApp and choose your conversation.
Select Attachment>Location.
The person will send their location by clicking Share Live Location and picking a duration.
You will get the message, and when you click on it, you will see the map with its location.
What Can You Do With A Friend's Location
Aside from knowing how to see someone's location on iPhone, you can do even more with your friend's location. Here are some things you can do after getting their location.
Give Them Directions
If you want a friend to get to where you are, you can see their location and give them directions.
Click on People at the bottom of the screen in the Apple Maps app.
Choose the person you want to give directions to.
Then, select Directions.
Set a Label for their Location
Another thing you can do is set a label for their location, like Work or Home. So if they are at work, the label will show below your friend's name on the map.
Select the People tab and choose the person you want to set a label for.
Then, click on Edit Location Name and choose the label or create a custom label.
Mark Favorites
You can easily manage the location of your closest family members and friends by making them a favorite. They will be at the top of the People list.
Click on the person you want to mark as a favorite, tap their name, or swipe left across the name.
Then, add them to favorites or tap the star.
How to See Location History on iPhone
You can check the location history if you want to get a previous location for your iPhone. This is for viewing where your phone has been. Follow the steps to do so:
Open Settings > Privacy.
Choose Location Services and scroll down to select System Services.
Then, click Significant Locations and History.
Bonus Tip: How to Make Your Location Invisible
Sometimes, we don't want to share our location with friends or while using certain apps and games on our phones.
If you're looking to go off the grid or you want to play location-based games without leaving, you can change your iPhone GPS location. LuckLuckGo is an easy tool that can help you get this done.
What is LuckLuckGo?
LuckLuckGo is a location changer that allows you to make your iPhone location invisible. The tool allows you to spoof GPS location for five phones at a time and stimulate a fake GPS movement by customizing the speed.
It is compatible with a wide range of location-based games and apps, and you can either share a fake location or conceal your location in general.
Reasons Why You Should Make Your Location Invisible
Not familiar with the technique of changing positions? Here are some specific applications for LuckLuckGo.
Hide your actual location, so no one knows where you are.
Improve your gaming experience on location-based games like Pokémon Go by spoofing your GPS location.
Change the location on social media apps like Snapchat or dating apps to meet people worldwide.
Fake your iPhone location to stop others from tracking you and protect your privacy.
Create a fake location movement when playing games and more.
How to Mask Location with LuckLuckGo
It's pretty easy to hide your location using LuckLuckGo. Follow the steps below to do so:
Download LuckLuckGo, launch it, and tap Start.

Click Satrt To Use LuckLuckGo

Connect your iPhone to the computer. You need to accept the computer on your iPhone to show that it is a trusted device.
Choose the mode you want, which is available in the top left corner of the screen.
Choose the location you want to go to and select Move.
Trustpilot
Why LuckLuckGo is Great for Hiding Location ?
There are various reasons why you should consider LuckLuckGo for efficiently hiding your iPhone location. Here are some advantages of using this location-changing tool.
LuckLuckGo is highly efficient. You can instantly change your location with one click, and you won't have to worry about glitches because it maintains the location.
It is easy to use, even for a beginner who has not tried location changing.
The tool is completely safe and does not require any jailbreak. You can rest assured that your iPhone or iPad is safe.
It is highly compatible with a wide range of iPhone or iPad devices and their different versions. It also supports Mac and Windows systems for setting up.
You can spoof the location of five iPhones at once when using LuckLuckGo.
It is a cost-effective way to protect your privacy, with a hassle-free money-back guarantee.
Q1: How Accurate is the Location on Find My Friends?
Find My Friends location is accurate to 16 feet under the best conditions. If the conditions are unfavorable, the location can be as inaccurate as 65 feet.
Q2: Can You Tell When Someone Checks Your Location?
Apple does not let you know who has checked your location on Find My. As long as you have approved it for a certain duration, the person can check your location as often as possible.
Q3: Can You See Someone's Location if Their Phone is Off?
iPhone cannot be tracked once it is off so that you won't see the person's location again. But it will show you the last position before you turn off your iPhone.
Q4: Will Fake GPS Work on Find My When Others Check My Location?
Yes, the fake GPS will work and show the fake location on the Find My app. If you are using LuckLuckGo as a location changer, it works on all the GPS-based apps without them knowing.
Now that you know how to see someone's location on your iPhone, you can easily track your friends when they go out or give them directions to where you are.
Use any of the methods in this guide that are convenient for you. But, if you don't want them to see your locations, or you want to hide your location for a particular reason, LuckLuckGo is the top choice.