I'm a frequent traveler, and sometimes apps offer different content depending on the region I'm currently using. I preferred to be updated on what was trending in my country on social media and other websites such as youtube, TikTok, etc. On occasion, I want the extra features or settings of an app by spoofing my location to access those content.
But location spoofing is tough on the iPhone. Undeniably, the condition of false location applications on iOS is awful. However, neither the App Store nor side-loaded apps (installed via Apple or other techniques) seem to operate consistently.
In this article, I will explain five proven methods that you can use to change your location on iPhone.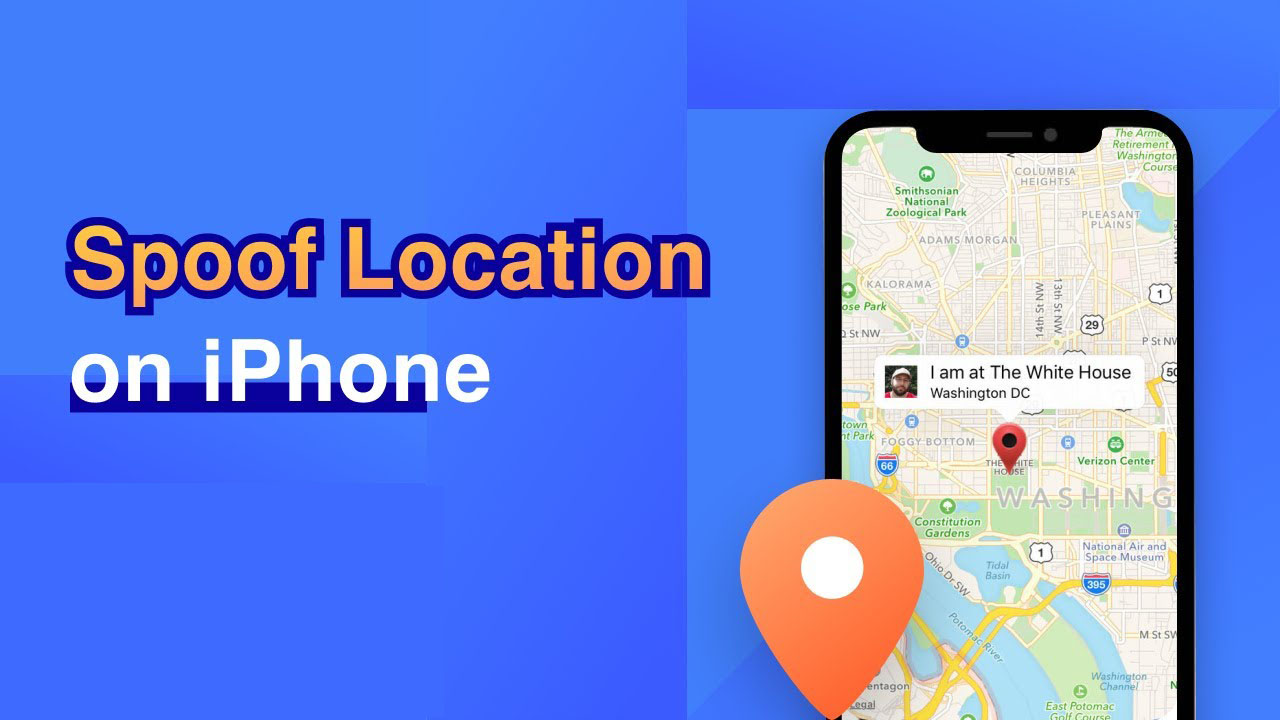 Way 1. LuckLuckGo - The Best Way to Spoof GPS Location on iPhone
LuckLuckGo is the ideal method to fake your iPhone's location because the program has been verified to function with iOS.
The LuckLuckGo software performs better than VPNs that are blocked or don't work on all apps that depend on GPS Geo locking to provide services.
Pros:
It's simple to create a fake location, and there are no delays.
Allow you to publish your false location on social media.
Compatible across all location-based apps like Map, WhatsApp, Fitness app, Facebook, and others.
It's ideal for gaming. Allows you to play Pokemon Go without moving by coordinating simulated motions.
Steps:
Start LuckLuckGo on your computer that is connected to your iPhone.
Connect your iPhone to your computer and tap the "Start" button.

Click Start To Use LuckLuckGo

Choose a place from the map and press the "Move" button.

Change location on iPhone with LuckLuckGo
Done! Your location will be adjusted immediately. All location-based apps on your iPhone will also be modified to the faked Location.
If you have more than one iPhone, it is possible to use another device to fake your iPhone's location to avoid being monitored by find My iPhone.
Way 2. How to Spoof iPhone Location using Another iOS Device
Changing your iPhone location using another iOS device entails fooling your phone into informing applications that you're someplace you're not. Spoofing your GPS position tricks every location-based app on your iPhone in most circumstances.
Steps:
Open Settings on the other iOS device.
At the top, tap on your name.
Choose "Find My" and then "Use This iPhone as My Location."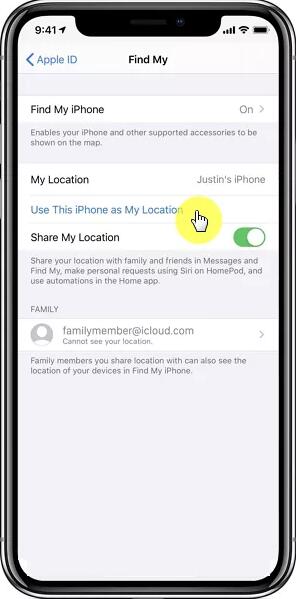 Pros:
Quickly fake your iPhone's location without being noticed
Free
Useful for disguising current location when using various applications and avoiding being monitored by Find My iPhone by family members.
Cons:
Another iOS device is required.
If the location remains the same, family members or friends can quickly locate it.
A more competent technique to fake your location on iPhone for Find My is to utilize location-changing software like LuckLuckGo, which allows you to generate simulated movements.
Sometimes you want to watch your favorite movies on streaming channels like youtube or Netflix from different regions. The best method to do quickly is to use VPN while browsing and checking various sites on your iPhone.
Way 3. Use VPN to Spoof IP Address on iPhone (For web browsing only)
You can access VPN apps from the apple store that you can use to change location from one location to another. VPN allows you to access different content on different websites, watch movies on NetFlix, and stream geo-restricted content easily.
Steps:
Open the App Store on your iPhone and download a VPN app. Turbo VPN, Express VPN, and NordVPN are popular VPN apps available on the app store.
Start the VPN app on your iPhone and permit it to change VPN settings.
Tap the connect button after selecting a VPN server location from the Locations tab.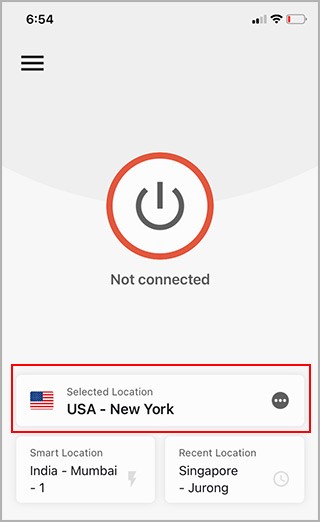 Pros:
It is simple to use.
Assist you in accessing services on websites from foreign countries, such as Netflix or YouTube.
Cons:
Only capable of faking your location when using your iPhone to browse the internet.
Won't spoof GPS location-based apps and games like Pokemon Go, Tinder, WhatsApp, and Facebook.
Apart from the use of VPN, which has a limited usage on where you can apply it, another method to spoof your location on iPhone is jailbreaking your iOS.
Way 4. Jailbreaking your iOS to Spoof Location on iPhone
The following way to fake your iPhone's location is to jailbreak it. When you jailbreak your iPhone, you have access to most of your device's original settings. This procedure, however, might be complicated because it is dependent on the iOS version you are running.
"The Anywhere!" app is a nice choice, and it is compatible with iOS 15 as well. Here is a step-by-step instruction to help you with this method.
Steps:
On your phone, download the 'The Anywhere!' location faking the Cydia app.
Install the app and activate it from your home screen.
Navigate to the location you wish to spoof.
A red pin will appear on the address when you tap it.
Next, on the next screen, touch the blue tab.
On iOS, you may now pick the applications you want to spoof GPS position.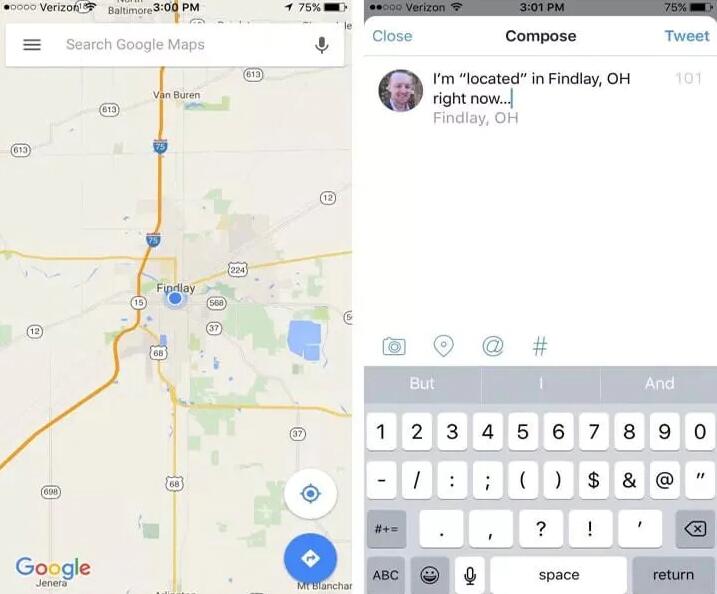 Now that you've opened the selected app, you should be able to see the updated Location on it.
Pros:
iOS app, no need to use a computer.
Cons:
The procedure is complex.
Jailbreaking your iPhone makes it risky and may cause damage to it.
Way 5. Spoof iPhone Location by Hardware Technique App
Instead of applications that tend to fake your current location at the app level, some devices allow geolocation spoofing far more consistently and function at the system level.
These are little physical devices that connect into the lightning socket of your iPhone as a secondary GPS module, allowing you to fake your position anywhere in the globe. The fake location function is available across iOS, including System Settings and specific apps.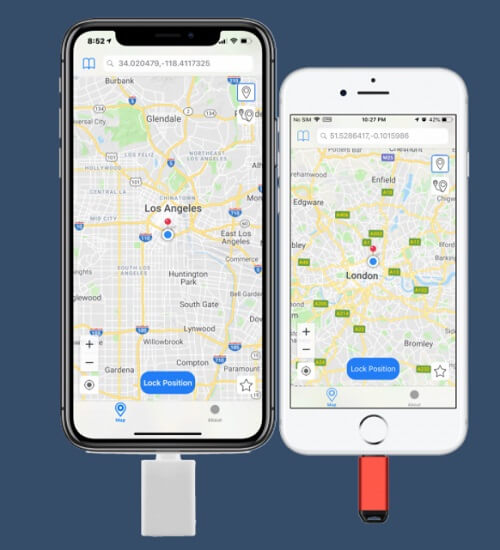 Even though there are various tools on the market designed for this purpose, our analysis finds that GFaker, iTeleporter Location Spoofer, and GFaker are the most used spoofing iPhone technique.
Steps
So, here's how to install and configure it to fake your device's location.
First, if you have GFaker location hardware GPS, you must follow the manufacturer's guide and instructions for installing the companion app. It will not be available on the App store. The manufacturer must alternate installing the companion app on your IOS device without jailbreaking it.
Pros:
Easy to use
There is no need to use a computer.
Cons:
Expensive, with different versions beginning at $259
Why Do You Need to Spoof Your Location on iPhone?
There are several reasons why spoofing location for iPhone users is necessary. Some of the reasons include:
Hide your current location when using specific Apps or avoid being monitored by Find My iPhone by family members.
You may wish to watch a movie on Netflix/amazon prime and other streaming sites that aren't available in your location.
When you fake your location on your iPhone, you can play location-based games like Pokemon Go. More easily or receive more matches on location-based dating sites like Tinder.
Spoofing your iPhone's location can allow you to access limited location-based services. I'll show you five ways to spoof your iPhone's position securely.
Hot FAQs about Spoofing Location on iPhone
Q1:What is the difference between spoofing GPS location and IP location on iPhone?
Suppose you change your location to trick an app into thinking you're using it in a way you're not supposed to (for example, Pokémon GO). In that case, the app will often match your GPS position to your IP address. You must now utilize a location changer, such as LuckLuckGo, to alter your GPS location to spoof location on your iPhone.
When you use a VPN app, you can only spoof your locationn when accessing the internet on your iPhone. This is handy for streaming Netflix or YouTube, both given by websites.
Q2: How Accurate Is the iPhone Location?
The iPhone location is accurate down to a few feet when a GPS signal is available, according to the test, when changing GPS location with tools like LuckluckGo. However, when the position is determined by mobile phone signal, it may be wrong by a few hundred meters.
The location is imprecise, not particular, generally a country or area, unable to be specific to a specific street or position for changing IP address using VPN.
It doesn't get much easier than this to hide your iPhone's location. If you're concerned about some applications using your location, you may easily disable them. I have presented five simple methods for hiding the location. Each option has advantages and disadvantages depending on the user.
I strongly recommend using the LuckLuckGo software, which provides more possibilities for changing and hiding your location than the other techniques listed here.
LuckLuckGo is concerned about your safety and privacy. That is why I examined several methods to conceal the location of your iPhone to have more control over what way you can use it.