I didn't want my friends, family, and followers to track my whereabouts, so I stopped sharing my iPhone locations without them knowing.
Read the article below to find out 4 proven solutions.
I'll start with a solution that won't interfere with the device's other functions.
While at home, shooting TikTok clips or playing video games, I feel watched by friends, families, or followers who can view my location at any time. They know when I go to the park, run errands, walk my dog, or go to the beach.
Consequently, I decided to stop location sharing without them knowing? It allows me to access specific features in apps like location-based games or shares a virtual location on social media.
I'll show you 4 proven efficient techniques to stop sharing locations on your iPhone without alerting anyone in this article.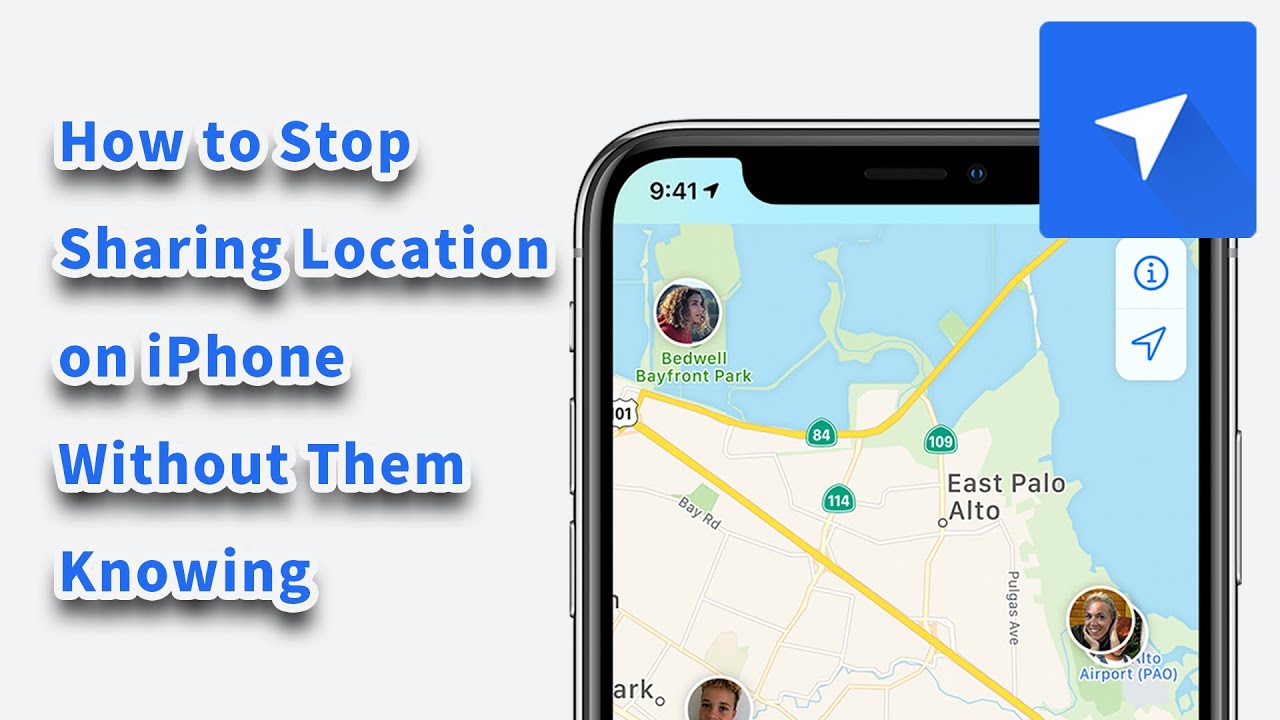 Method 1: The Fastest Way to Stop Sharing Location on iPhone without Them Knowing
While various programs are available to spoof your current location, LuckLuckGo is one of the best professional third-party apps I use.
You can enter your desired GPS coordinates or address and have LuckLuckGo software fake your current location. With its amazing technology, I can pretend to be wandering along the street while relaxing at home.
Pros:
LuckLuckGo's interface is straightforward. Use this program even if you're not a tech whiz.
You can use it to stop sharing your location on your iPhone without alerts.
No jailbreaking is required.
Change your location to access all location-based apps such as Pokemon Go and Tinder.
Here is how you can change your iPhone location to anywhere and even customize your GPS route.
Steps:
You need to download LuckLuckGo and launch it on your PC.
Connect your iPhone or any iOS device you want to stop sharing location without notifying.
Now, click on the " Start" button.
Set the preferred location on the map, then click "Move."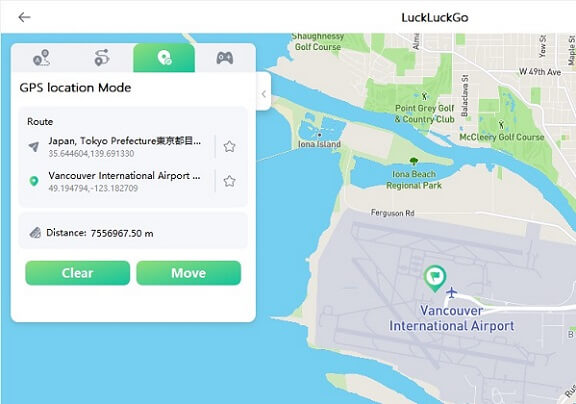 LuckLuckGo allows you to spoof your location and alter it to anywhere easily. However, suppose you have another iOS device. In that case, you can utilize its location to modify your iPhone's current location and pretend you're not moving. Your family, friends, and followers can see a location via Find My App or iMessage tracking, but not your actual location. Continue reading to find out more.
Method 2: Use Another iOS Device to Stop Sharing Location Without Notifying
It is quite possible to stop sharing locations on an iPhone using another iOS device that's not moving. This is only achievable if you use the same Apple ID on both iOS devices.
But first, you must change your iOS device's location sharing settings to stop sharing location with iPhone devices.
Pros:
A rapid way to spoof your location without notification.
It doesn't leave a void in your location history.
Cons:
You'll need another iOS device.
If the location remains unchanged and it can be easily detected.
It doesn't conceal your gadgets' location from Family Sharing members.
Let's check out how you can hide your current iPhone location by sharing from another device below.
Steps:
On the second iOS device, Open the Settings menu.
At the top, tap on your name.
At the top, tap on your name. Select " Find My."
Click on the "Use This iPhone as My Location" option.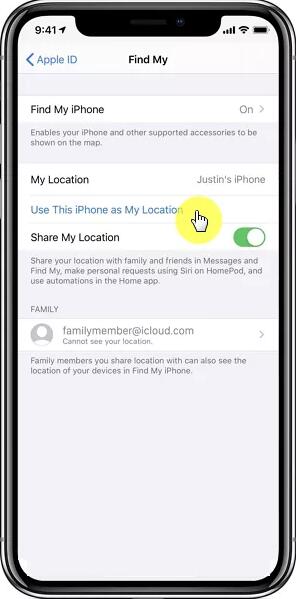 Once done, switch on location services on your original iPhone, and nobody will be notified.
Yet again, if you don't have access to another device and simply need to block someone from knowing your whereabouts, the Find My app can easily help you become invisible to friends and family.
Method 3: How to Stop iPhone Location Sharing Without Notifying Others
Find My app is a unique application that allows iOS users to track and share their current iPhone location with family and friends and other iOS devices within their reach. You may also delete a specific member or user from the list and no longer share your location with them. This will not alert anybody else on the list.
Pros:
It's a simple process.
Remove someone you don't want to share your location with.
Cons:
The individual removed will be notified of their absence from the list.
If you lose your smartphone, you won't trace it.
The Find My App map will still show your last known location and timestamp.
If you want to stop sharing your location with other members of the Find My app, follow these steps.
Steps:
aunch the "Find My app" on your device.
Select the "Me" option in the bottom right. Proceed to disable the "Share My Location" checkbox.
If you wish to remove specific individuals from the "Share my location" app list, simply click on the "People" tab and select the targeted people you want to stop sharing your location with from the list.
Finish by tapping on "Don't share" or "Stop Sharing My Location" from the menu.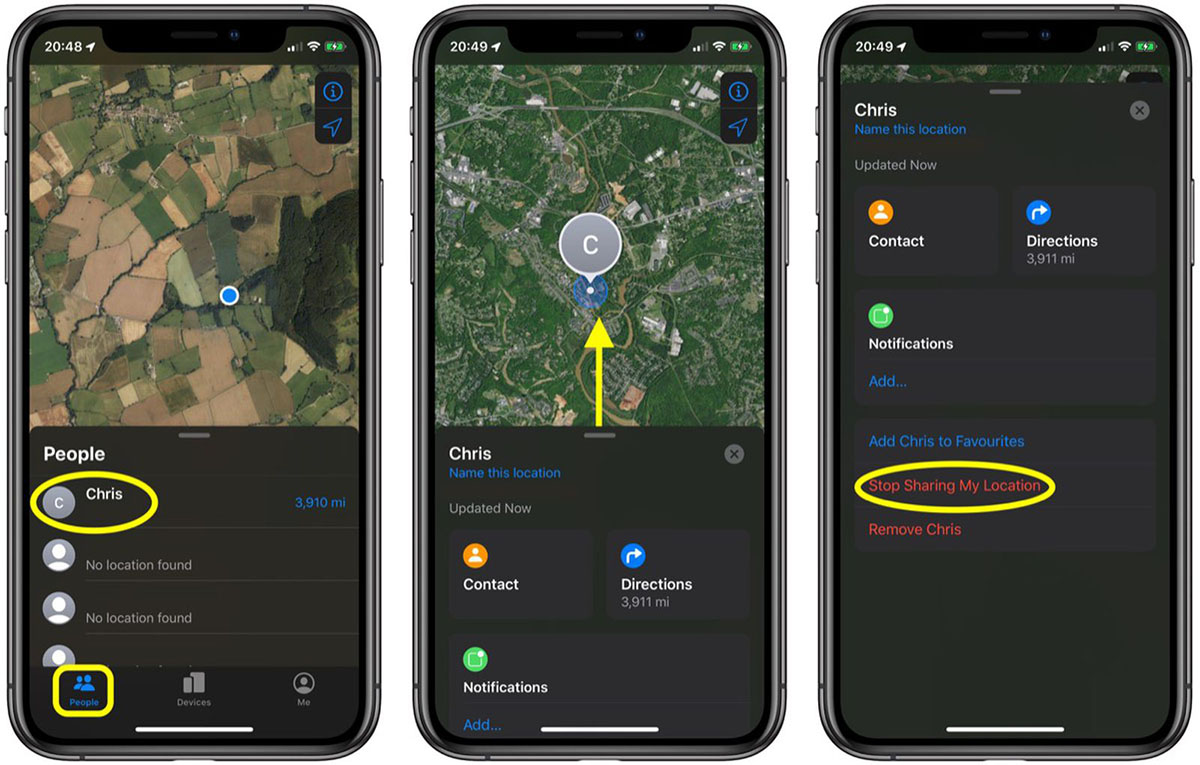 When you're ready, reverse these instructions, and you'll be able to share your location with everyone in the Find My App list.
When relatives or close friends discover they are banned from seeing your location, they may be upset. It can be difficult to explain to your parents, especially if they use it to track your whereabouts. In that case, use location modification programs such as LuckLuckGo to swap locations.
Method 4: How to Stop Sharing My Location Without Their Knowledge from iPhone Settings
If you've made it this far, you've already mastered the location sharing function on your iPhone or other iOS devices. Disabling the "Share My Location" function in your iPhone's settings is a quick and easy method to stop sharing your location without notifying others.
Pros:
Simple, one-stop place for disabling all location sharing on your iPhone.
When you disable location services, no one is alerted.
Cons:
Some apps, like Maps and Weather, may not operate properly without access to your location.
Although it doesn't send a notification, your location status becomes invisible, prompting others to find you if they keep an eye out.
Works with iPhone iOS 8 and above.
Follow the steps outlined below to stop sharing your location with everyone.
Steps:
Open the iPhone's settings app, scroll down to the "Privacy" tab and click on it.
Proceed to select the "Location Services" option.
Once you've clicked on Location Services, tap on the "Share My Location" button.
Lastly, toggle the "Share my location" option to disable location sharing.
Tips: Avoid Using Airplane Mode to Stop Sharing Location on iPhone Without Them Knowing
I've read several articles suggesting I switch on airplane mode to disable location sharing on my iPhone, and I can tell you that's pointless. If you turn on airplane mode on your iPhone, it will cut off your internet connection, and no one will be able to call or text, which is inconvenient, right?
That's not what I want to do. Because I can't live without my iPhone, music, YouTube, and social media, likewise, my friends and family would be worried if they couldn't reach me. To save time, avoid this procedure.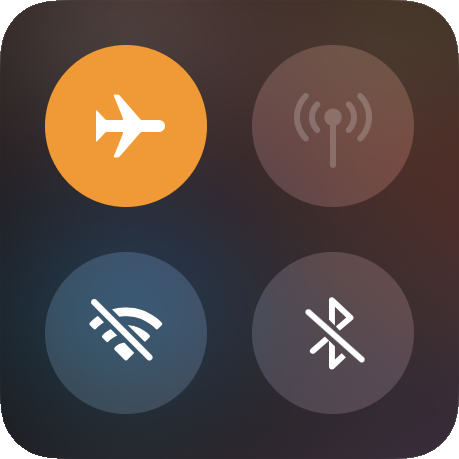 The article above describes 4 simple solutions to how to stop sharing locations on iPhones without them knowing. Each solution has its benefits and drawbacks. I highly advocate using the LuckLuckGo app, which is more efficient and powerful than the other techniques listed here. LuckLuckGo values your privacy and safety. Change your location today to get more control over what you share.