Turning off your location on your iPhone can help you with people not able to track you down, plus applications won't also have access to your location.
I listed all 6 effective methods with pros, cons, and their step-by-step procedure to make it easy for you to decide on a method.
Last month, I had a terrible day, and I wanted to spend some time alone, so I went to an abandoned building. But my friends found me with iPhone location tracking.
This got me into thinking if there is a way one could turn off location on iPhone so no one can track him down. Guess what?
I found not one but several methods that you can use to make it!
6 Effective methods to turn off location on iPhone
Whether you want to turn off your location temporarily or do not want them not to know, this article will help you in every case. I listed each method with their step-by-step procedure, pros, and cons so it can be easy for you to decide on a method. Let's get them.
Way 1: How to Turn off My Location from iPhone Settings
The first and foremost way of turning off your location is from iPhone settings. The method is introduced by Apple and does not require you to follow any complicated procedures. Let's take a look at some pros and cons of the method before getting into the process.
Steps
Go to privacy settings under general settings.
Choose location services.
Toggle off the location services button.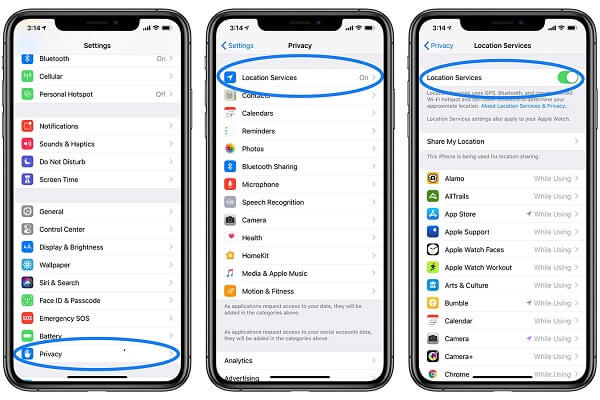 Pros
The method is super-fast and easy to follow.
Cons
You cannot use location-based applications such as weather forecasts or maps.
Other people will be notified that you have turned off your location.
This method is easy to try but comes with some heavy cons. Other location-based applications might misbehave. Plus, people will also be notified of you turning off your location. What if you can turn off your locations by eliminating all these drawbacks? Yes, the following methods tell you how to turn off your location without them knowing.
Way 2: How to Turn off Location on iPhone without them knowing
LuckLuckGo is a location-changing tool that helps you to fake your location, so you do not have to share your actual location. The tool does not notify anyone and comes with some excellent pros.
Steps
Launch LuckLuckGo
Connect your iPhone to the computer. Click "Start"
Choose a location from the map. Select "Move"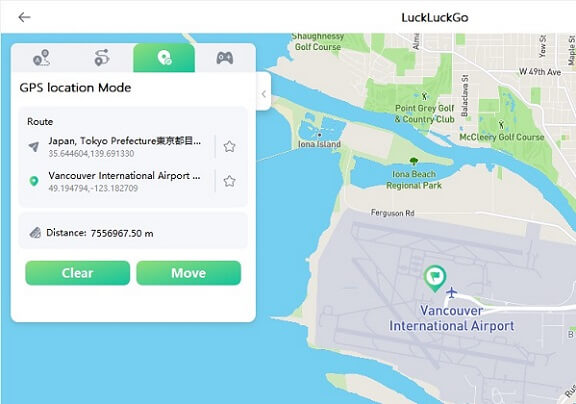 Pros
LuckLuckGo includes fast processing.
You can change your location with only one click.
Let you change location to anywhere in the world.
The steps are super easy.
Works with location-based games and applications such as tinder and Pokémon Go.
Did you know iPhone tracks and stores your location? It felt weird to me and creepy, too, like you are being spied on all the time. To overcome this situation, I usually clear my location history on my iPhone. Let's take a look at how easily you get rid of iPhone location tracking.
Way 3: How to Turn off Location Tracking on iPhone
As I said before, the iPhone can store locations you previously visited in history, such as cache, to give you personalized suggestions. However, location history can be cleared if you have privacy issues. Let's take a look at the method.
Steps
Go to settings and locate privacy settings.
Open system serves at the end.
Launch significant locations.
Enter your password to move further.
Click on edit and delete in front of the location.
Pros
It is fast and easy.
You can stop location tracking by iPhone.
Cons
It only works with location history.
Your iPhone might start working slower because of no-cache.
Are you looking for a way to turn off your location for a particular app or someone certain? Here are two methods to help you get through the situation.
Way 4: How to Turn off Location on iPhone for Specific Apps
If you want to stop sharing your location with certain apps, this method will prove good for you. Let's dig it up.
Steps
Open your iPhone's settings
Go to privacy settings.
Choose the location services.
Select the applications you want to block for location service.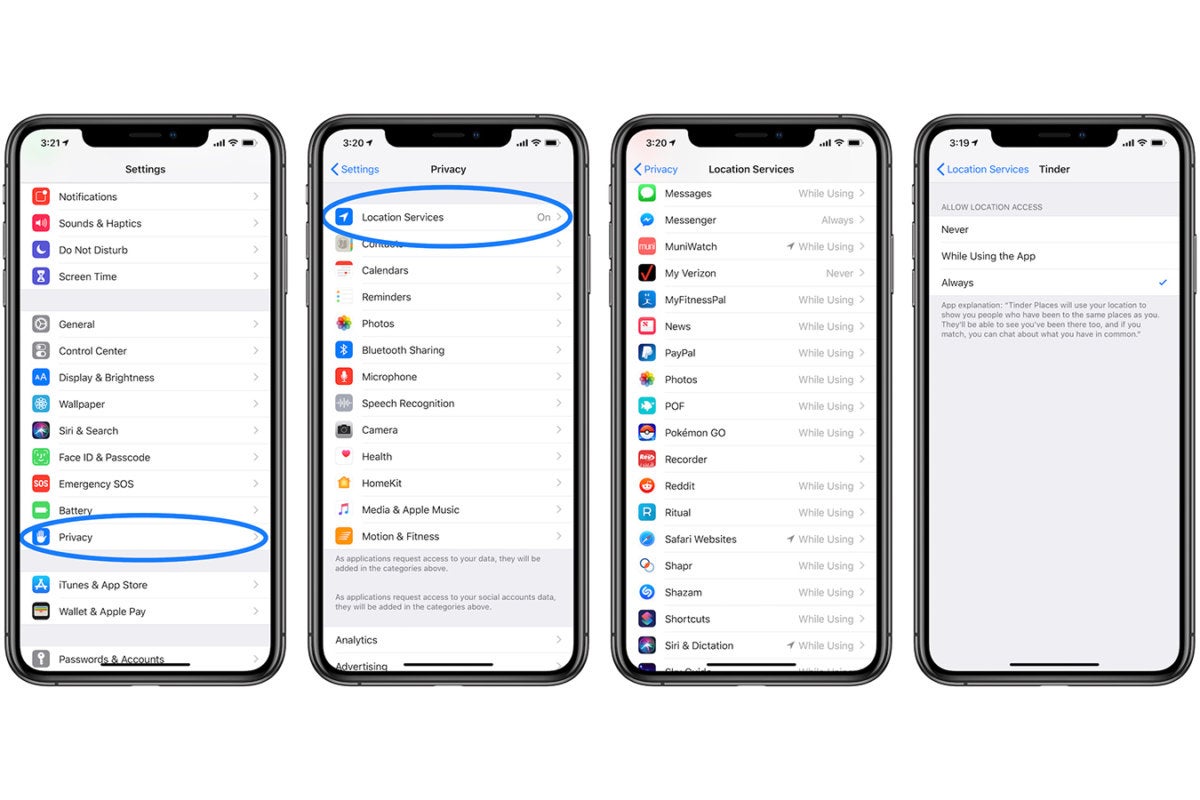 Pros
The method is easy to follow.
Only blocks a specific app.
Cons
It only works for the application.
Location-based apps will not work.
Agreeing to the terms of an app to give them location access didn't feel right to me. What if I don't want to share my location because of some sensitivity issues? That's when I found LuckLuckGo to fake my location and enjoy the location services of an area.
Way 5: How to Turn Off iPhone Location Sharing for Someone
Find My device lets your friends and family track your location down. If you don't want someone to find your location, you can remove them with this method.
Steps
Launch "Find My App" on your iPhone.
Select the 'People' tab.
Click on the person you do not want to share your location with.
Select 'Stop Sharing My Location.'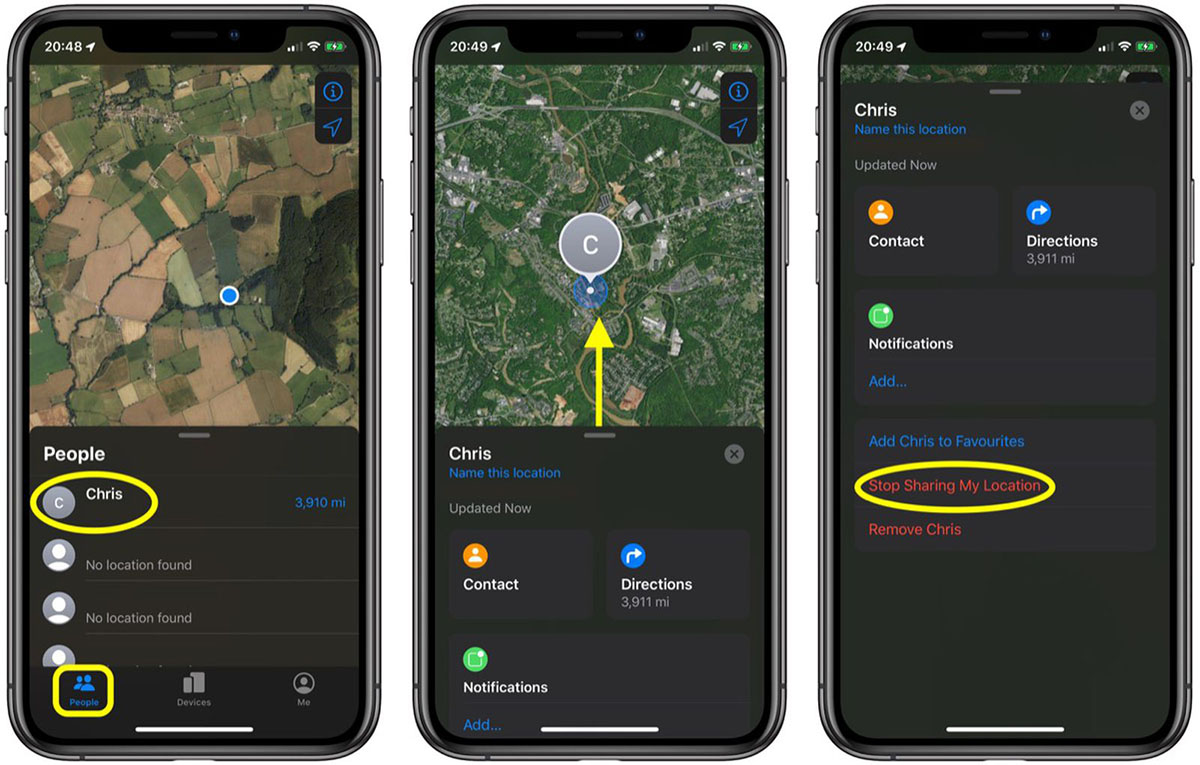 Pros
It does not take much time to follow.
Do not notify others that you stopped sharing your location.
Cons
Will notify the particular person you stopped sharing your location with.
The method to block someone from my location was easy, but things got messed up when my parents were notified of my action. I didn't have any answers to their questions. To protect you from the situation, I would advise you to use location-changing tools such as LuckLuckGo or fake location with another iOS device.
While I was researching the information regarding how to turn off location on iPhone, I came to know that iOS 15 had an update, and even if you turn off your location, you will still be tracked down. In this case, you can use the following method.
Way 6: How to Turn off Location on iPhone by Find My iPhone
The latest version of iOS 15 can still track your location if you turn it off or use airplane mode. You can change these settings with this last method I am going to explain.
Steps
Go to the settings of your iPhone.
Click on your name and select "Find my"
Turn off your location with the toggle button.
Pros
Do not track your location in any case.
Cons
You might not be able to find your phone if lost.
Your family members will be notified.
Does Airplane Mode Turn off Location on iPhone?
You might be wondering why to go for several other ways when you can simply just use Airplane mode to turn off location on iPhone. Do you really think it is more effective than other methods? Let me break things into smaller pieces for better understanding.
If you have used airplane mode before, you must already know it cuts off your access to a cellular network or internet. A phone or smart device without any access to connectivity is useless. You cannot make a call or text someone, neither can they. Imagine the situation of your parents or family when they can't get through to you. They will start to panic.
Besides this, the iOS update released a new feature that even if you turn on airplane mode or power off your iPhone, you can be tracked down if "find my" is enabled. The feature was especially introduced to help you in case your iPhone is stolen or lost because the first thing a thief would do is turn your phone off.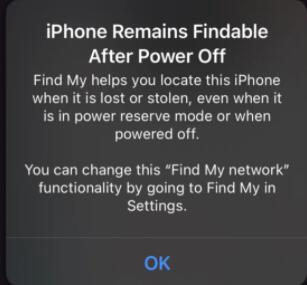 I personally advise you never to use airplane mode to turn off your location on your iPhone. Besides people worrying about you, it is of no use if "find my" is enabled, plus you will also not be able to use any application on your iPhone, such as social media. If you ask me, I cannot spend a single minute without my phone.
I hope you must have understood all the crucial factors regarding how to turn off location on iPhone and you have made the right choice to follow the suitable method. Don't worry if you still don't get what method to choose. Because all the methods I listed above will do your work.
However, I have been using the LuckLuckGo method for a while now, and I had the best experience of turning my location off. It didn't notify people when I faked my location, plus the method was super-fast. The most amazing thing I liked about LuckLuckGo was its user-friendly interface.