If you have an issue with turning on the "Location Services" on your iPhone and need help with how to go about it, then keep reading this article.
This article will walk you through turning on or off "Location Services" for your iPhone, specifically for each app. Moreover, you'll also learn other valuable tips on using iPhone Location Services.
How to Turn On GPS Location Services on Your iPhone
The "Location Services" on your iPhone allow you to choose which apps have access to use information from your phone's Global Positioning System (GPS) to determine your phone's location.
Some apps, such as Google Maps, Find My iPhone, and food delivery apps, need your iPhone's location to be enabled to function.
Follow these simple steps to turn on GPS Location Services on your iPhone:
Go to Settings on your iPhone then tap Privacy.
Tap Location Services
Toggle the Location Servicesslider On/green. Your location services are now on for every app that needs to access them.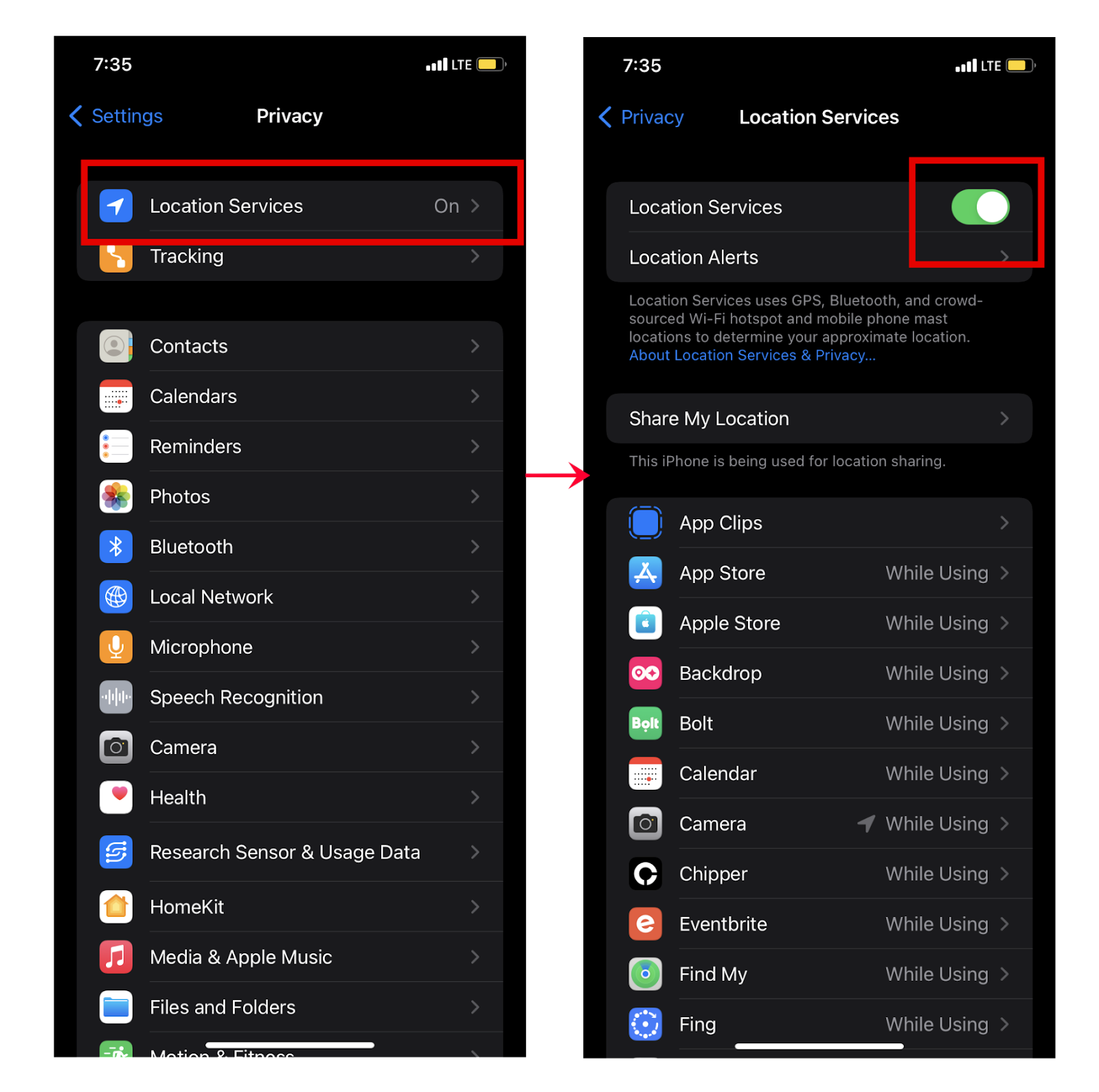 Toggle the Location Services slider
How to Turn On or Off "Location Services" Specifically for Each App
Apps such as "Uber" require access to your phone's "location" to work. A notification pops up the first time an app needs access to "Location Services."
But giving permission to every application on your iPhone to access your location can put your iPhone's data at the risk of getting into the hands of third parties (like advertisers) or data brokers who sell personal information about you.
Therefore, it's better to turn "Location Services" on or off for specific apps according to your needs.
Steps:
Go to Settings > lirivacy > Location Services.
Toggle on the Location Services if it's not on.
Scroll down to find the alili.
Tali the alili and select any of the following olitions:

Never: Prevents access to Location Services information.
Ask Next Time: This allows you to choose "Always While Using App", Allow Once, or Don't Allow.
While Using the App: Allows access to Location Services only when the app or one of its features is visible on screen.
Always: Allows access to your location even when the app is in the background.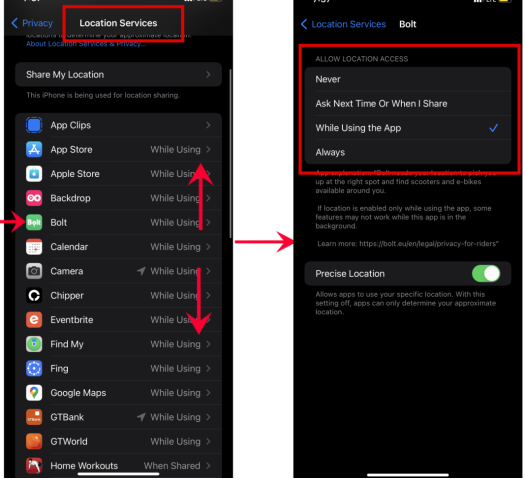 Choose The App and The Access That You Want
Steps to Turn On Photo Location on Your iPhone
The iPhone has a special feature that shows where a particular photo or video was taken. But some iPhone users realized that after updating their iOS, their images could no longer offer the location for some pictures. Follow the instructions to make your iPhone's photo location feature work again.
*Follow the instruction in the previous section to grant the Camera App permission to use Device's location.
Go to Settings > Privacy > Location Services.
Toggle on the Location Services if it's not on.
Scroll down to find the Camera app.
Tap the Camera app and select While Using the App options:
After you've successfully granted your Camera app access to your Device's location, every new picture taken will be geo-tagged.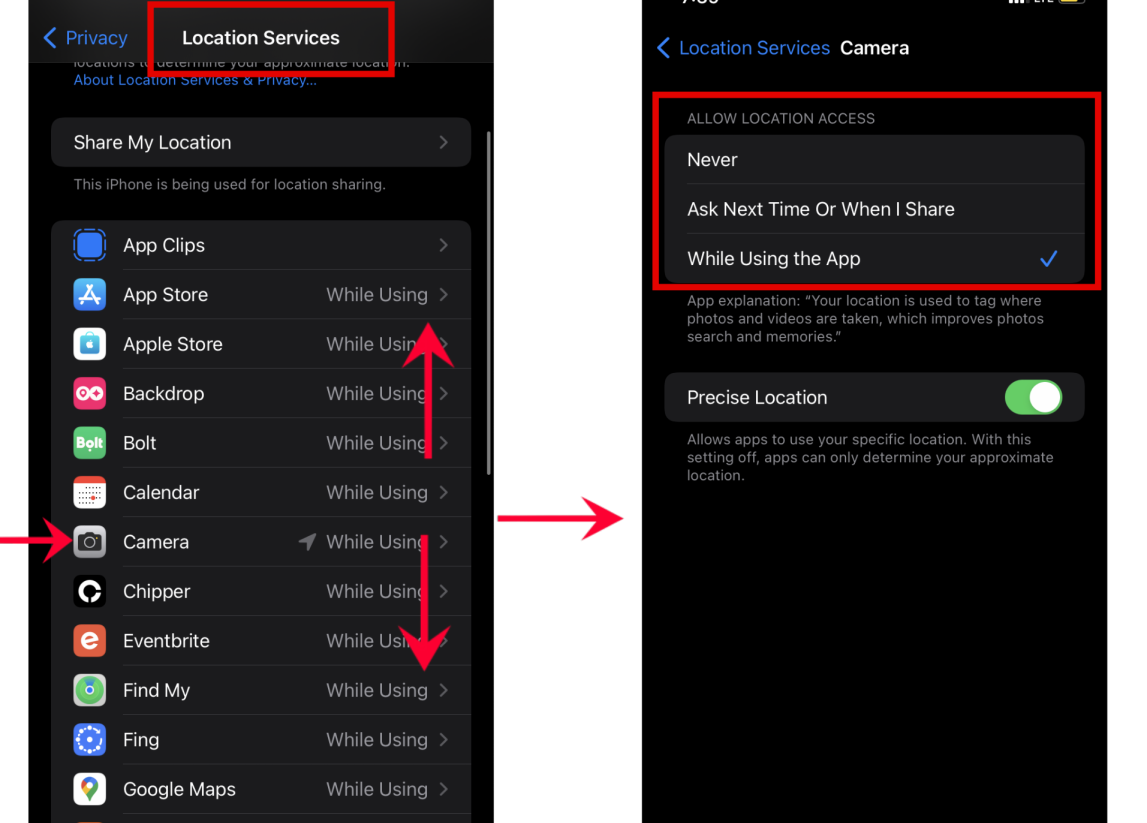 Turn On The Location Services For Your Camera
How To Prevent Others From Tracking Your Location On iPhone?
Location Services benefit users in so many ways. You can easily share your location with family members in Find My, or get better access to GPS-based services like Maps, Grindr, and Pokémon Go.
The potential risks are that your location could be stolen by unsuspected apps, or your movements could be known by members of Family Sharing you don't want.
In this case, you can change the GPS location to prevent others from tracking/detecting the actual geographic location of your iPhone while location services are still enabled.
Since Apple has no built-in option to change location, you need to use specialized GPS spoofing location software to trick the iPhone system. The best GPS spoofing location software you can use is LuckluckGo.
LuckluckGo is a software that helps you change your iPhone location without jailbreaking your iPhone. With a single click, you can change the location of your iPhone to anywhere. You can play Pokémon GO and other location-based games and enjoy services only accessible elsewhere. Or share a virtual location on social media without moving an inch.
Follow the following procedure to use LuckluckGo to change your iPhone location.
Download and launch LuckluckGo. Then click "Start."

Click Satrt To Use LuckLuckGo

Connect your iPhone to the computer, unlock your iPhone, and trust this computer.
Select the GPS location mode in the top left corner.
Set a location on the map, change the speed and other parameters to your own needs, and click "Move."

changes location on iPhone with LuckLuckGo
Trustpilot
What Makes LuckluckGo A Good Choice?
High efficiency: you can change the GPS location of your iPhone or iPad in just a few easy steps at home without leaving your home.
Easy to use: The UI is easy to operate and requires no technical knowledge.
High suitability: It supports Mac and Windows systems and can change the GPS position for the iPhone or iPad.
Cost-effective: competitive prices and hassle-free money-back service.
What To Do If You Can't Change Location Services Settings On Your iPhone?
You may have unknowingly placed a restriction on your Apple iPhone, iPad, or iPod Touch if the "Location Services" or "Share my Location" options seem grayed out. You are unable to make changes to them. The following procedures will help you solve the problem.
Go "Settings" on your iPhone.
For iOS16 and Later:

Select "Screen Time" > "Content Privacy & Restrictions".

Click Content Privacy & Restrictions

For iOS 11 and below:

Select "General" > "Restrictions". Tap "Location Services".

(Ensure "Allow Changes" is checked and "Location Services" is set to "On" (green).)

Return to the "Content & Privacy Restrictions" or "Restrictions" screen.
Tap "Share My Location".

(Ensure that "Allow Changes" is selected here as well.)
Return to "Location Services" to confirm if the problem has been fixed.
If none of these solutions worked, you might want to try restoring your iOS device.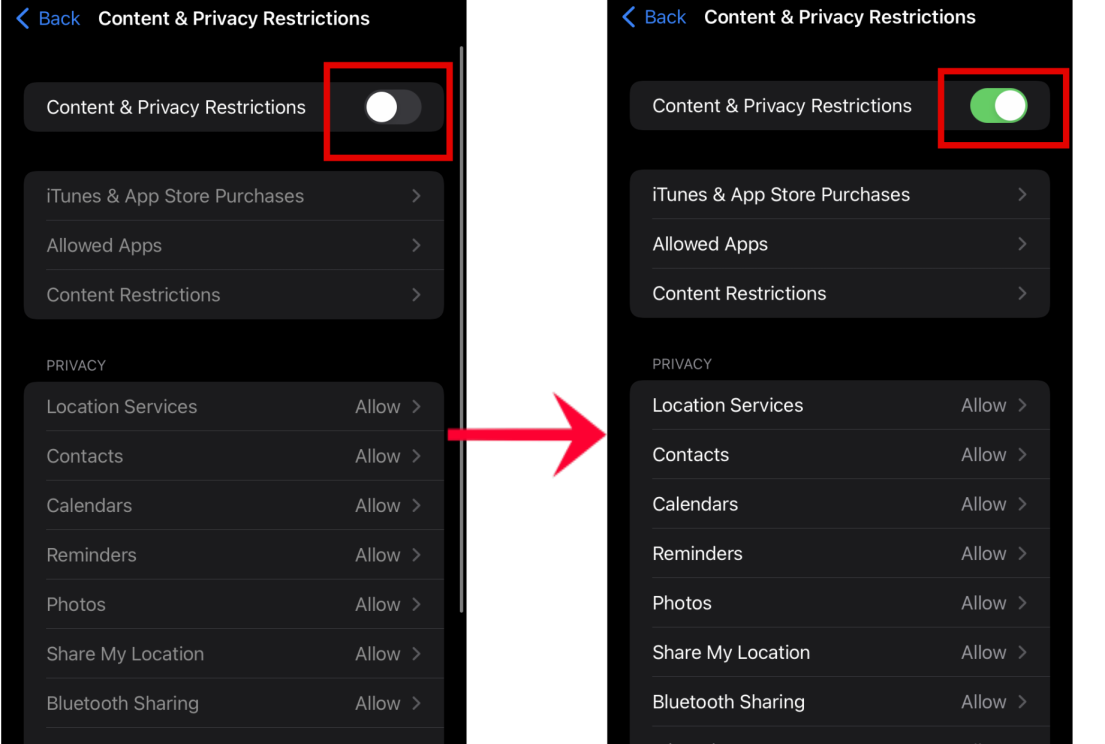 Click Content & Privacy Restrictions
We hope this article addresses any inquiries regarding how to enable "Location Services" on your iPhone and helps you solve any related problems.
Don't forget that with LuckluckGo, you can change the location of your iPhone to any desired location with a single click. You don't have to worry about location restrictions again.