Have you come across 'Live' in the Find My app on your iPhone? Do you wonder what this feature means and what its purpose is?
Well, in this comprehensive guide, I will explain everything you need to know about the Live feature, including how to enable it and use it to Find people. Now, let's get into it straight away.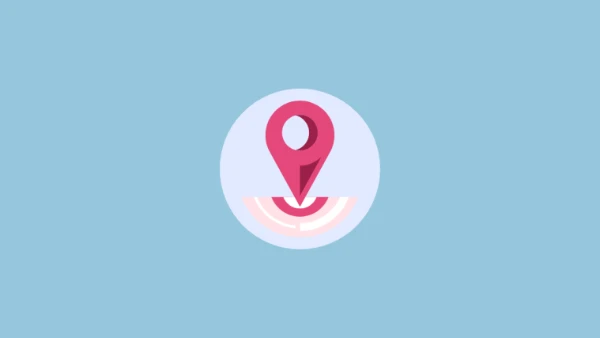 What Does Live Mean on Find My?
'Live' is a feature that allows you to monitor the location of other iOS users in real time.
This function eliminates the need to periodically refresh the Find My app when checking a friend's current location. Once an iPhone user has permitted you to monitor them, you can use the Live feature to see their every stop.
This function allows you also to monitor their movement, direction, and speed. It is particularly lifesaving when you need to keep track of children.
How to Turn on Live Location on Find My
Monitoring your friend or having them monitor your movement enhances security. By revealing your live location, you allow them to react in time if something happens to you and vice versa. Enabling the Live feature is easy.
Steps:
Go to Settings > Privacy > Location Services.
Toggle the button next to Location Services to activate location services on your iPhone. The button should turn green when enabled.

Enable location services on iPhone.

You will now need to activate Find My with your Apple ID. Navigate to Settings, then tap [Your Name].
Select Find My > Find My iPhone. Toggle the switch next to Find My iPhone to make it green.
Now you need to grant the Find My app access to GPS. Go back to Settings.
Press Privacy > Location Services > Find My.
You will see a menu to determine when the Find My app can access location services. Select While Using This App.

Also, enable Precise Location on the same interface so other iPhone users can monitor you.

Enable Precise Location on Find My

Open Find My, then tap Me from the bottom of the screen.
Tap the switch next to the Share My Location prompt. To ensure your iPhone is the device that shares your location, scroll down the Me interface, then tap Use This iPhone as My location.
Restart Find My, then press the '+' symbol next to the 'People' section.
Tap Share My Location.
Tap on the 'To' window and input the name or number of the iPhone user you want to grant access to your location. > Select the contact when it appears. >Once you are done, check the upper-right corner of your screen and hit Send.
Select how long you want your location to be visible.
How To Find People Using the Live Feature on Find My
The Find My app is straightforward, so locating people shouldn't be a problem. However, you can only see an iPhone user's location on Find My if they have shared their location with you.
Steps:
Open the Find My app.
Go to the People section and identify the individual you want to locate.

How to find people using Live on Find My

The map on your screen should indicate their whereabouts.
Tap their name to see more details, such as their speed and likely destination.
Opening their location will display their full address and an option to contact them.
Find My can also provide directions to them, reveal your location, and alert you if they move.
How To Ask To Follow The Location Using the Live on Find My
Locating a person who has shared their location with you is easy, but what about someone who has not disclosed their location? To track them, you will have to do a little digging.
Steps:
Open Find My and go to People.

You will see everyone you have shared your location with, but their location won't show if they have not shared it with you. Hence, you will have to send them a request.

Select someone who can access your whereabouts in the People window to send a live location request.
Scroll and locate the Ask To Follow Location prompt, then press it.

The Find My app will notify the other person of your request. The prompt appears on their screen. Once they accept it, you will see their location.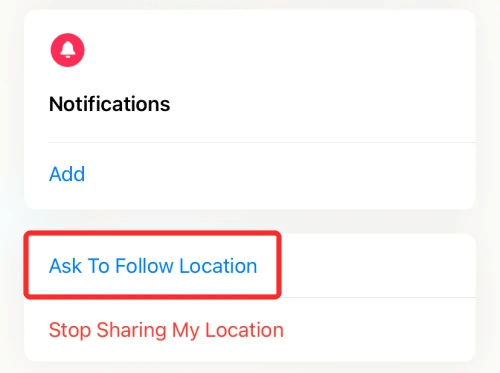 Send a request to locate someone via the Live feature on Find My
Now you know how to use Live, a tracking feature derived from your GPS location. So, another exciting tip I wanted to share is that your Live location can be disguised, even though you may not have left your house yet.
Get rid of location restrictions on dating apps to make friends worldwide? Pretend to travel around the world in a day? Protect your personal address online? It's all a piece of cake. All you need is a reliable GPS location spoofer tool.
How to Change the Location on the Live Feature of Find My
Mobitrix LuckLuckGo is the key to changing your whereabouts on live location.
This professional iOS location-related software allows you to switch the GPS location on your iPhone. It ultimately tricks your iPhone and the Find My app into believing you are in a different area.
Since you already set the Live feature to rely on your iPhone's GPS, it will show the fake location to anyone tracking you. See how to use Mobitrix LuckLuckGo below.
Steps:
Click Satrt To Use LuckLuckGo

Connect your iPhone to the computer, then unlock your iPhone and trust the computer.
Select your preferred Mode from the upper left corner.
Go to the map and set a location, then change the speed and other parameters to your needs and click Move.

changes location on iPhone with LuckLuckGo
More Application Scenarios Of LuckLuckGo:
To disguise your iPhone GPS location to help create a better gaming experience in Location-based games like Pokemon Go.
Switch your social media location to chat with friends globally.
When you need to change your location to protect your privacy and prevent apps or others from tracking your actual location.
To mask your real location without anyone discovering it.
Access geographically restricted content like videos and music.
Trustpilot
Why should I use LuckLuckGo?
High efficiency: You can easily and quickly spoof your location without waiting long before switching.
Mobitrix LuckLuckGo can maintain the GPS location.
Easy to use: The UI is friendly to all users.
High suitability: It provides support for Mac and Windows. So, you can change your iPhone's GPS via a Mac or a PC.
Cost-effective: Offers competitive pricing and hassle-free money-back service.
Safe: You need not jailbreak your iPhone to use Mobitrix LuckLuckGo. Also, it does not cause harm to your iPhone.
You can spoof the GPS location of up to 5 iPhones simultaneously.
How to Repair Your iPhone if 'Live' Location Tracking on Find My Is Not Working
On Find My, you may notice that a friend whose location you track only shows up on your map with a static blue indicator, and you cannot see their live location.
While there's no direct answer as to why this happens, there are some things you can do to fix your iPhone.
Method 1: Check Location Settings
The person you monitor may have denied Find My access to their location. Or, they may have disabled the 'Precise Location' setting causing this problem.
So, with their permission, ensure Precise Location is enabled on their iPhone.
Steps:
Go to Settings > Privacy > Location Services.
Ensure the Location Services switch is toggled on.

Turn on Location Services to enable Live on Find My.

Select Share My Location > Find My iPhone, then toggle on all the settings.
Go back to the Find My page and toggle on Share My Location.
Navigate back to the Location Services page.
Scroll down, and press Find My.
Select While Using the App, then toggle on Precise Location.
Method 2: Restart the Find My App
Sometimes, this problem can occur due to a simple software glitch that may cause Find My to stall.
Luckily, reopening the app can fix this issue. Restarting repairs your iPhone by causing Find My to refresh its location data.
Steps:
Exit the app normally or close it from the app switcher.
Go to the Home screen or app library to reopen Find My.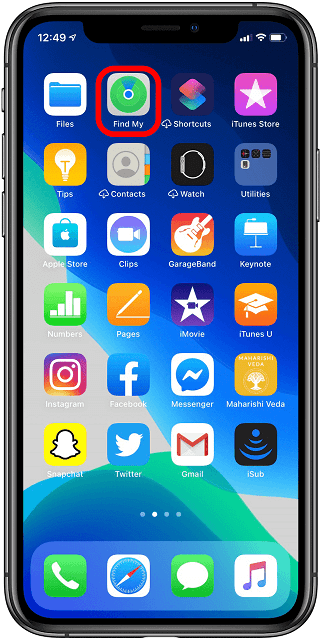 Restart Find My
Method 3: Enable Background App Refresh
The Live location may fail to work correctly when Background App Refresh is turned off. But, while this setting is handy, it also consumes a battery. So, turn on background refresh but toggle off all the extra apps that don't need it.
Steps:
Go to Settings, then tap General.
Select Background App Refresh , then turn it on.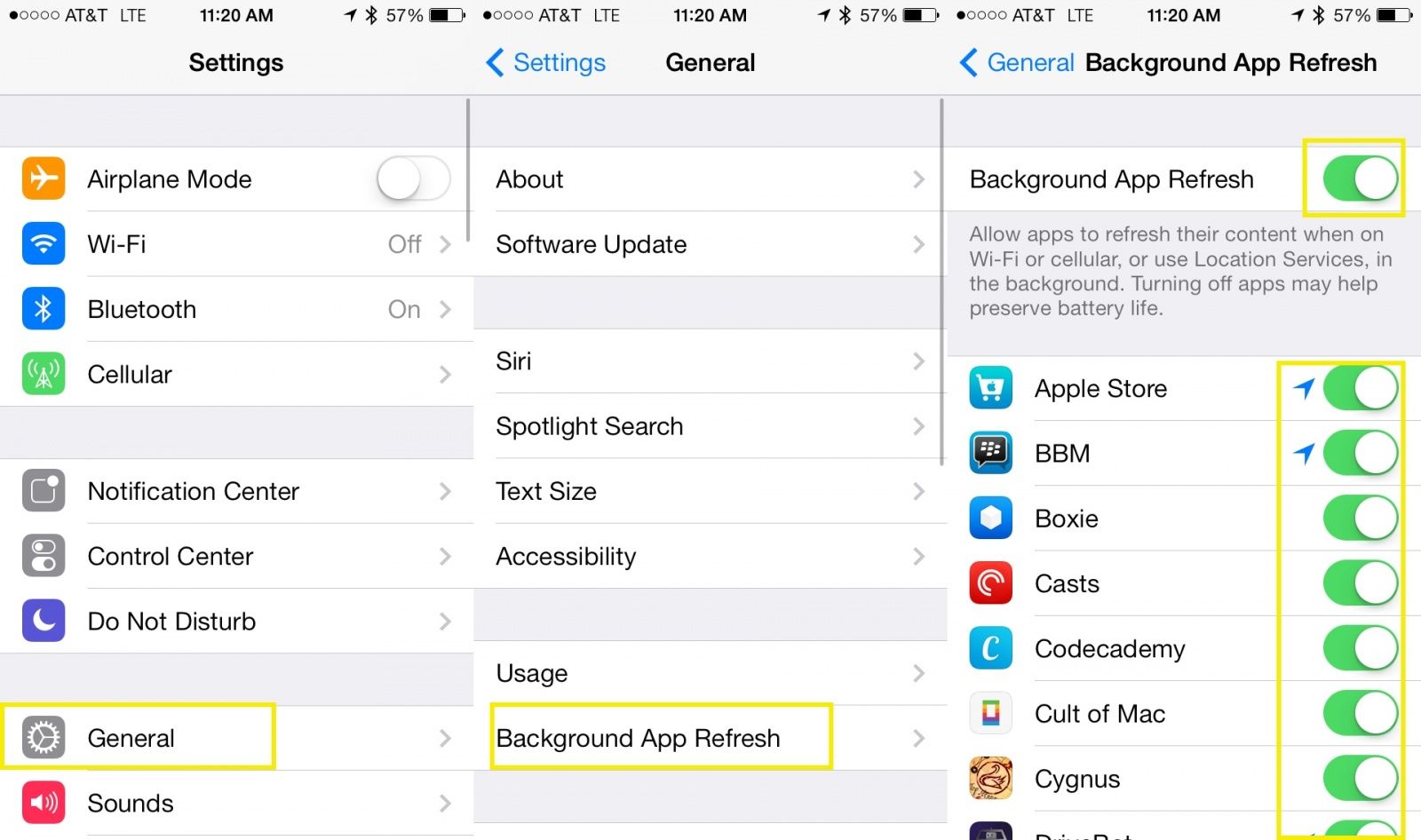 Enable background app refresh.
Method 4: Update Your iOS version
An outdated iOS version may also contain bugs or glitches that limit the Live feature from working precisely. Thus, ensure your iPhone is running the latest iOS version.
Steps:
Launch Settings > General.
Tap Software Update, then follow the prompts.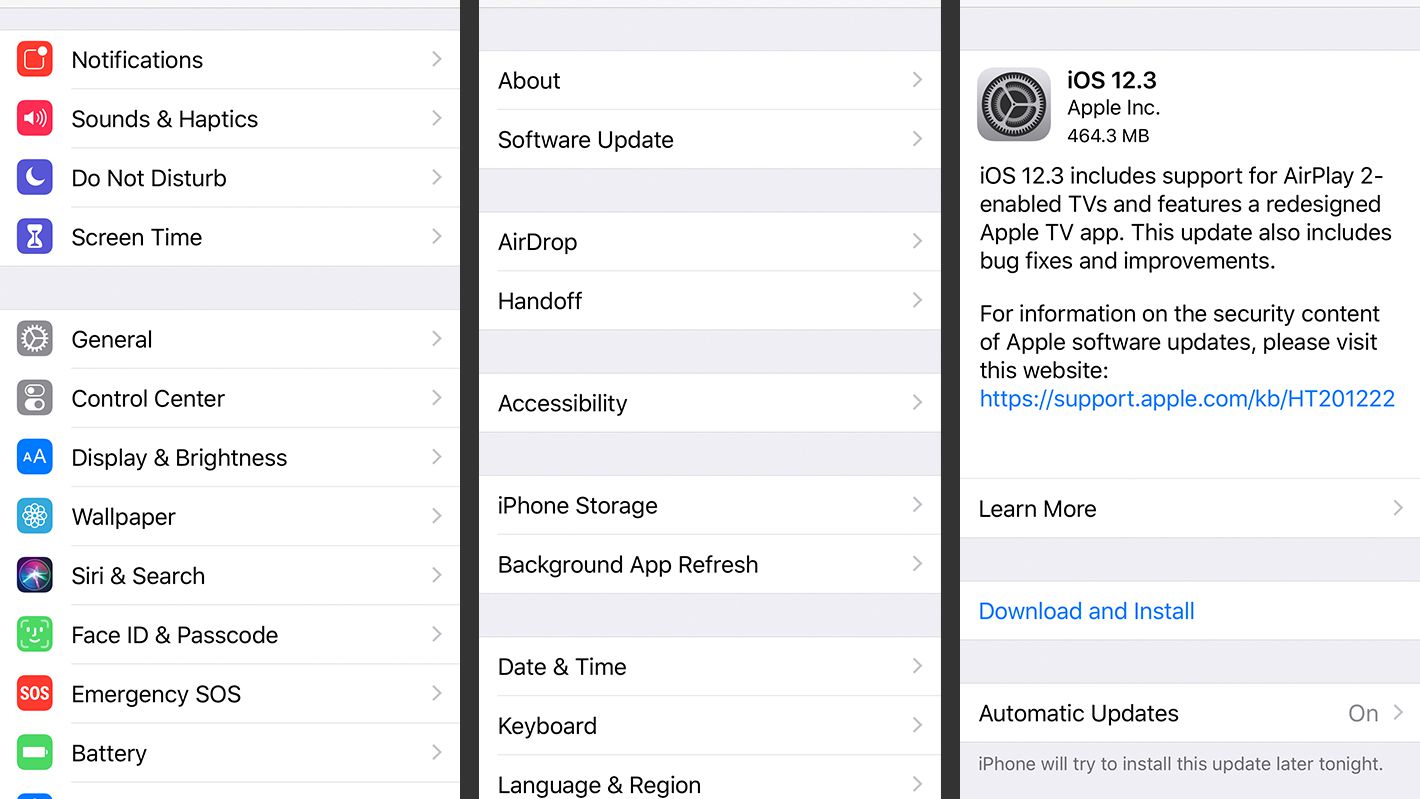 Update your iOS version.
How to Disable Friend Requests for Live Location on Find My
If you only want a few people to monitor you and do not wish to keep turning down requests to share your location, you can disable these requests. Deactivating location requests will prevent people from asking for your whereabouts.
Steps:
Open Find My.
Go to the Me section at the bottom of your screen.
Locate the Allow Friend Requests option.

Turn off Find My friend requests.

Tap the button next to this option to turn it off. Others will no longer be able to request your live location.
How to Switch off Live on Find My
The Live feature is tied to location sharing. Since location sharing automatically enables it, you cannot activate your location without enabling Live. To disable the Live function, you need to turn off location sharing.
Steps:
Open Find My.
Go to the People window.
Select someone you want to hide your location from.
Tap Stop Sharing Location.

How to stop sharing your live location on Find My.

Confirm your decision.

If you want to stop sharing your whereabouts with everybody, go to the Me section and toggle the switch next to Share My Location to an off position.
Bonus Tip 1: How to Locate Missing Devices via Find My
The Find My app is impressively versatile. Besides the Live feature, Find My can also enable you to trace missing Apple devices, such as iPhones, Airpods, and iPads. You do not require any technical knowledge to enable this feature.
Steps:
Open Find My.
Navigate to the Devices section to see a list of devices belonging to your Apple Family or Apple ID.
Find the missing gadget and tap it. This will display its location. You can then use several other Find My features to help find the device.

For example, you can make it play sounds or send a message to it. Alternatively, you may erase or lock the gadget to protect your data.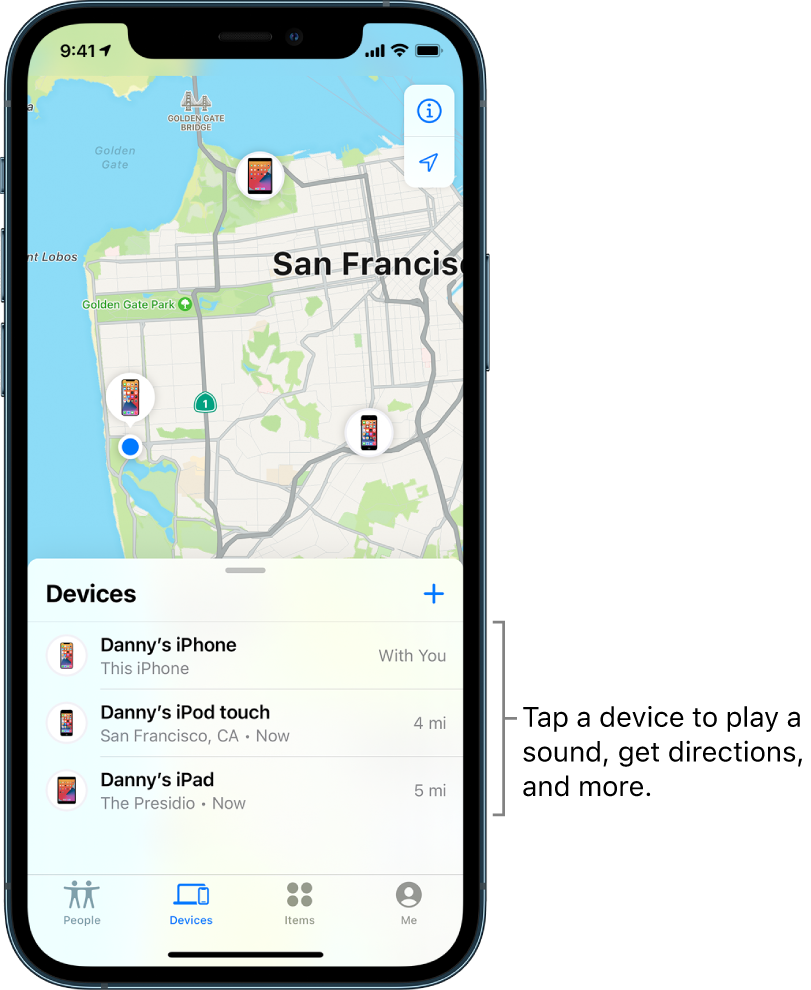 Track a missing device via Find My.
Bonus Tip 2: How to Use Notifications on Find My
You can set up notifications on your Find My app. For example, you can program your iPhone to automatically alert a friend when you leave or get home and vice versa.
You can even set up your iPhone to alert you when they pass a certain place.
Steps:
Open Find My.
Select the People tab in the lower-left corner.
Tap the user you want to create a notification for or about.
Swipe up on the information card to reveal more options below the map.
Under notifications, tap Add.
Press Notify Me or Notify[contact].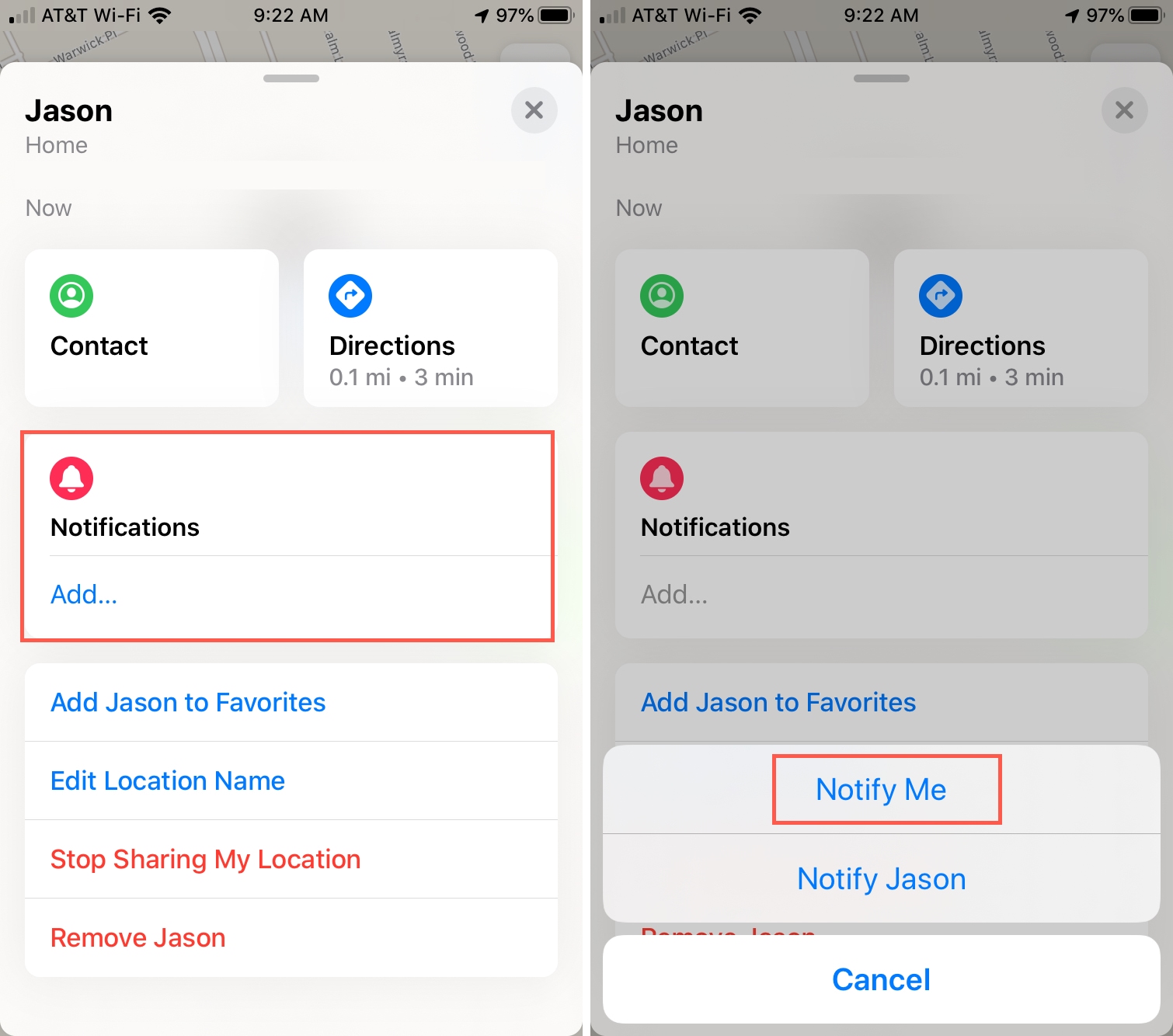 How to set up notifications on Find My.
FAQs About the Live Feature on Find My iPhone
What is the accuracy of Find My iPhone Live?

As long as your iPhone has access to a strong satellite signal, most iPhones' GPS should have an accuracy of about 20 feet. A weak signal can reduce this to 100 or even 1000 feet, depending on how weak it is.

If your iPhone's GPS cannot obtain a good signal, it may result in using Wifi triangulation. This also reduces the accuracy.

Can I switch off Live Location?

To turn off Live Location, you will need to switch off Location Sharing. This is because turning on Location Sharing automatically enables Live Location.

Hence, sharing your location on Find My inevitably shares your Live Location.

Is sharing a Live Location different from sending a current location? If so, how?

Yes. A current location is different from a live location.

When you share a current location with someone, they will see your present location.

However, the current location is static. This means that if you start moving after sharing your location, the other user will not know.
On the other hand, a live location is dynamic. It shares your present location and keeps updating it as you move. Hence, the other user can know your location even if you move.
The mystery of 'what does Live mean on Find My Friends' has been solved. I hope you can now activate the feature and use it to find other people.
You have also seen how to change and disguise your live location on Find My using Mobitrix LuckLuckGo. Whether you want to falsify your location for privacy or security reasons, this software has your back. It is efficient, fast, and delivers the expected result. So, what are you waiting for? Try LuckLuckGo today!