Get to know some of the best tools and steps for using the tools to get rid of location restrictions on Pokémon Go.
GPS location inhibits the visibility of Pokémon Go. It's best for you to know the pros, cons, and costs to decide what tool you deem fit to use for Pokémon Go Spoofer iOS.
My passion for Pokémon Go is unmatched, even though the Pokémon around me are always very few. This is despite my efforts of moving my position, which is usually time-consuming, yet in the end, despite the fatigue, I get almost nothing.
This prompted me to try and get a Pokémon Go Spoofer to change my location on my iPhone. I did attempt and spent all my time realizing that some spoofers are no longer available. Not forgetting that the VPN is not a good choice because it can only change my IP location, not the GPS location. However, Pokémon Go is a GPS location-based game!
With this, I bet that I have given you a sneak peek into why I would like to make a review of the currently workable spoofer for Pokémon Go. It is also my pleasure to share the best tools to help you get rid of the location restrictions on Pokémon Go.
Think that's all I have for you? No! I would also like to show you how to move the virtual location in the game! Trust me, after reading this article, you can catch any rare Pokémon from the comfort of your sofa at home like me. Sounds interesting, huh!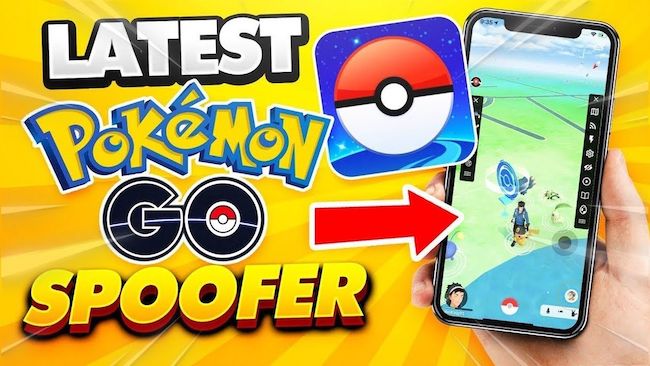 So what do you need to know about the best Pokémon Go Spoofer iOS?
First and foremost, I would recommend you use computer software. This is because the iOS app will need to jailbreak the iOS system for it to spoof location. This is complicated and may even leave your phone in a dangerous status. So, let's check the method without jailbreaking first.
1. Using LuckLuckGo to Spoof Pokémon Go
LuckLuckGo is the most recommended as you are about to find out. It does not only provide the GPS changes upon a click, but it will also allow you to move around remotely with ease. It is safe, and you won't have to worry about your account being banned because of changing the location severally.
You won't deny the relief this app offers because you can attest to how tough it is to come across an app to spoof an iOS location. I haven't had a good experience finding one before going for LuckLuckGo. Most of them are poorly rated, outdated, and can be detected instantly by Pokémon Go.
Features
With one click, you can switch to any location to find more Pokémon and can pin historical locations.
Its two-spot mode is superb. What's more? You have the freedom to set fake moments on the map and also synchronize it with Pokémon Go automatically.
It supports joystick mode controls up and down, left and right, to give you a better gaming experience.
Pros
It's user-friendly, the steps are simple, and you can get rare Pokémon easily at the comfort of your bed.
It supports the latest iOS 16 and iPhone 14/14 Plus/14 Pro Max.
You can simulate walking between different spots at the speed of your choice.
It's safe; hence no need for jailbreaking. Pokémon Go can neither detect location spoofer nor give you any warning or strike.
Steps to use LuckLuckGo
Download and launch the program.
Connect your iPhone and click start.
Modify a location on my map by clicking the move option.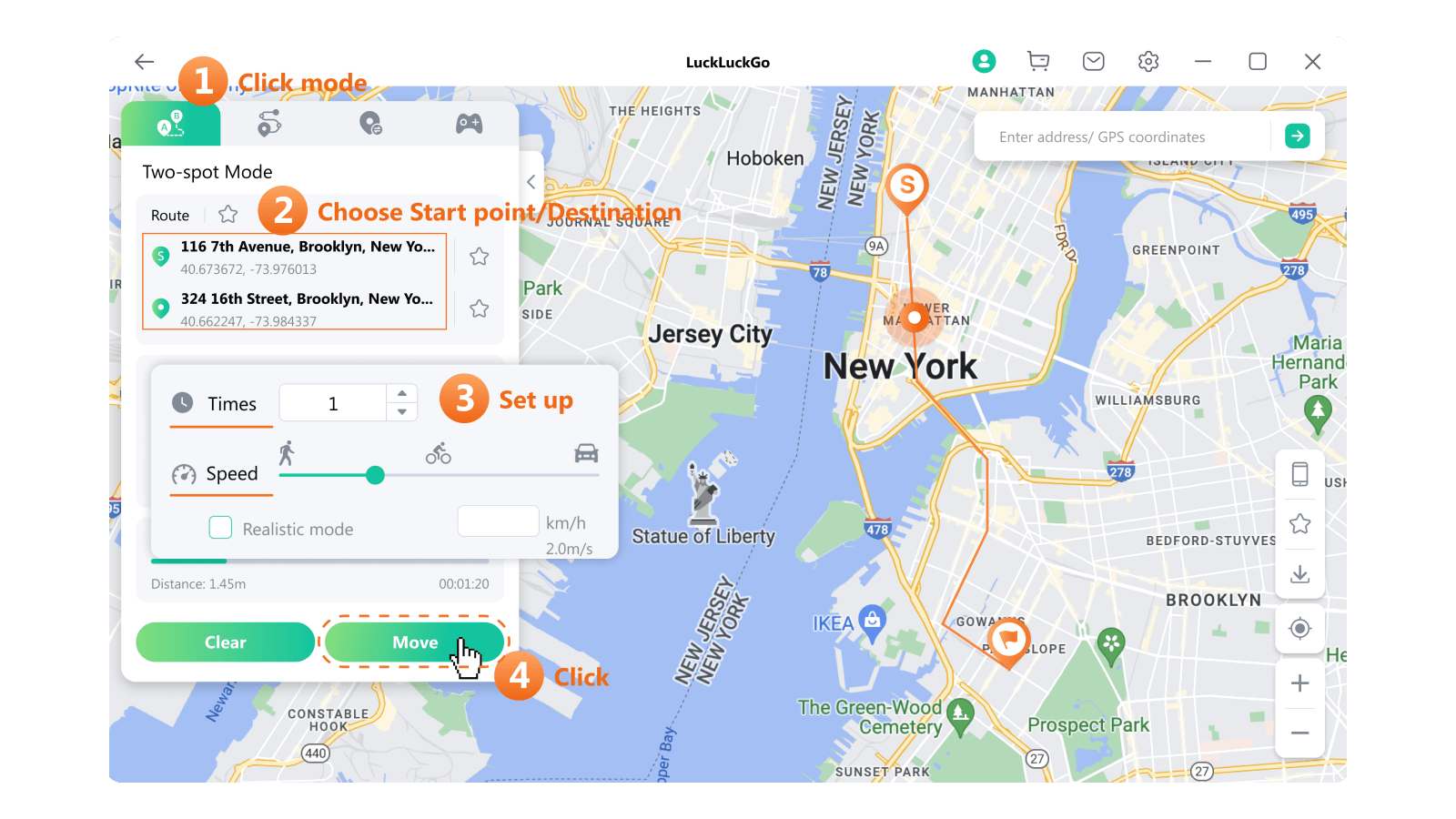 LuckLuckGo two-spot mode for Pokémon Go
Thinking about the cost?
Many Pokémon Go spoofers are the same price, $9.95 per month, such as Dr.Fone -Virtual Location, LuckLuckGo, iTools, and Tenorshare iAnyGo. If you want a simple, intuitive interface and a lower ban rate way to spoof Pokémon Go location, then LuckLuckGo is better based on my game-play experience. However, I will review all the Pokémon Go spoofers, showing you each of them and giving detailed instructions to help you.
2. Dr. Fone Virtual Location to Fake iPhone Location
Dr.Fone -Virtual Location is another excellent stimulator that can help you fake Pokémon Go. It has a map-like interface that will help change your location on Pokémon Go with accuracy.
Pros
You can implement virtual moves for playing Pokémon Go at your own pace.
Cons
Complicated steps.
It's not free since you will have to part with $9.95/Month.
You have to download the software on your desktop.
Have a clue on how to use Dr. Fone?
Open the "Virtual Location" feature. Then click "Get Started."
Find the teleport option at the top right corner of the tools, click and put the intended location or the coordinates on the search bar.
Move your pin to the exact target location. Then drop the pin and finish by clicking on "Move here."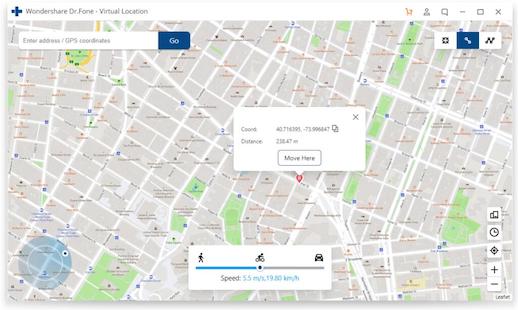 4.iTools by ThinkSky
iTools is one of the tools that can also assist you in changing location.
Pros
No jailbreaking.
It has unlimited spoofing options for premium users.
It can be used to back up and restore your iPhone data.
Cons
The interface is over-time, and the steps are a bit complicated.
The free version only allows three location changes.
Premium plans start from at least $5 a month.
Only running on iOS 12 and previous versions (no iOS 13, 14,15)
How to Use iTools
Log on to thinkskysoft website and then click on the store icon and then select "iTools."
Select the iTools version of your choice. You will pay different prices for the different versions.
Download the iTools version and install it on your computer. Connect the iOS device using the USB cord to the computer. Click the "Toolbox" once the home screen device pops up on your screen.
Click "Virtual Location." You will see a map showing your location on the device.
Select your new location. You also can enter a location in the search bar, or you can still pick a new location on the map. Ensure that Pokémon Go is closed before selecting the location you want to spoof.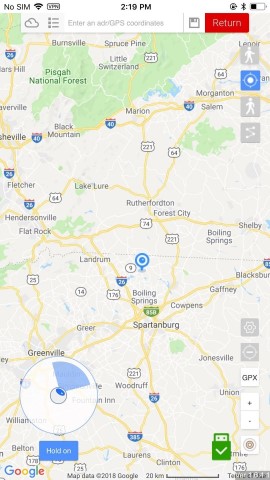 5. iPokeGo for Pokémon Go
iPokeGo is another Pokémon Go Spoofer on iOS. However, the major risk is that your account may be blocked once the company figures out your actual location.
Pros
Easy to use.
No jailbreaking.
Cons
Your profile can be banned.
You have to pay for the valuable features.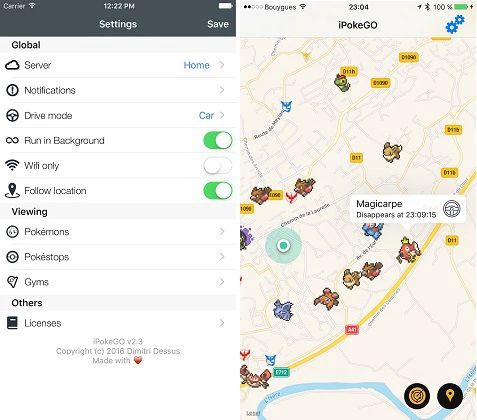 Concerning that, the iOS system doesn't have a "spoof location" setting. Doing so is not so straightforward. Many apps will need to jailbreak your iOS. Let's take a look.
6.Pokémon Go++
Pokémon Go++ is also one of the tools that can help you fake location when playing Pokémon. However, you should be ready to jailbreak your device.
Pros:
No need to use a computer.
Manual location spoofing.
Cons:
You need to jailbreak iOS.
You risk being banned from playing the game if detected.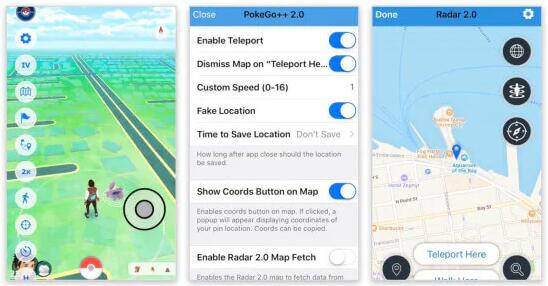 For individuals who can't use a computer or don't want to jailbreak, another option is to utilize a hardware approach to fake iPhone location.
7. iTeleporter Location Spoofer
This can be categorized as plug-and-play iOS devices spoofing solution. You will be to connect it to your device without installing anything.
Pros
Easy to use
No jailbreaking
It's accurate
Cons
Compatible with iOS devices only
Very costly, different versions with a starting price of $259
Only permits usage with its companion app
Want to know how to use iTeleporter Location Spoofer?
Select the Teleport mode at the upper right.
Search the location that you want to teleport.
To teleport the location, simply click on "Move here."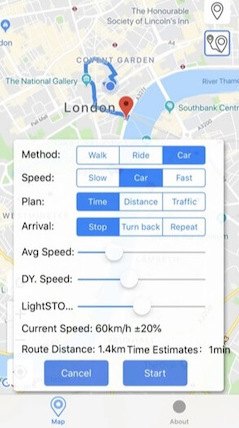 8. Gfaker iPhone Location Spoofer
This is iOS based, found in a solution termed as plug and play. It's easy to use, and you can change your GPS location to anywhere you want worldwide.
Pros
Can spoof while charging your device
Wide range of locations globally
No jailbreaking
Cons
Compatibility restricted to iOS devices only
It's expensive
Steps to using Gfaker iPhone Location Spoofer
Insert the Gfaker hardware on your device.
Searching the location that you want to spoof on your iPhone.
Choosing a mode to commence changing your location.
However, because this technology is so costly, I believe that grabbing a computer and using a Pokémon Go spoofer like LuckLuckGo is a preferable option.
Want an easy way out? Avoid the Pokémon Go Spoofers that do not work.
I hope you are not at your wit's end trying to get what I mean. Well, trust me with this. I have read many articles listing iSpoofer, iOS Roaming Guide, and VPN, and I can tell you it is useless. Let me clarify each one for you to save your time.
iSpoofer can no longer be used. Although you have seen recommendations elsewhere, it is unfortunately closed. iOS Roaming Guide no longer supports downloading, so you don't need to waste time looking for software that is no longer running.
Most importantly, It is not recommended to use a VPN because VPN can only change the IP location, and Pokémon Go is a GPS location-based game, which means you won't spoof your GPS location on your iPhone to play Pokémon Go if you use a VPN.
However, I spent some money on VPN and learned this in the end, and it is a pity that so many articles wrote and shared misleading information for a Pokémon Go user like me. So, I need to state my opinion here and help you choose a workable and trustily Pokémon Go spoofer!
You may have noticed from this article that GPS location inhibits the visibility of Pokémon. You now know how to spoof Pokémon Go on your iPhone. The best part would be that you won't go out. You will do it remotely since I guess you are now an expert and in a better position to spoof Pokémon Go on iOS.
Having discussed some of the 8 spoofers, it's crystal clear that LuckLuckGo stands out from the rest. Keep in mind that you, as a player, can easily change positions with a simple click! The cherry on top is that Pokémon Go synchronizes the virtual movement automatically. What else would you ask for when this allows you to capture a rare pokemon remotely?