Are you new to Pokémon GO and don't know how to get coins? Then, it would be best if you read this article keenly to the end.
This guide will cover all the different ways you can get coins in Pokémon GO, from completing challenges and tasks to participating in events. I will also give you tips on making the most of your coins once you've earned them. So if you're ready to start earning, let's get started!
Defending a Gym to Get the Pokecoins Free
Defending a gym will net you one PokeCoin every 10 minutes, up to 50 coins per day. That's a pretty sweet deal, especially if you have multiple Pokémon defending different gyms.
The catch is that you only get paid after your Pokémon is knocked out of the Gym. So, even if you have two Pokémon knocked out of a gym on the same day and they've been in their respective gyms for more than eight hours, you'll only get 50 coins.
Nonetheless, it's a great way to earn some extra PokeCoins without spending any real money.
Steps to Get Free Pokecoins
Find a gym that is the same color as your team in your area.
You can fight the Pokémon in a gym that isn't your team's color to take it over.
Place a Pokémon inside a gym that matches your team's color.
When your Pokémon is defeated, you will receive Pokecoins automatically.
Save your money and go shopping for your selected goods.
Which Pokémon Should You Leave?
Blissey is the best defender because of its ability to tank damage. Although not everyone has a hefty Blissey to assist them in defending their Gym against the red and yellow hordes, any high-CP Pokémon should suffice.
The Pokémon you leave as a defender can significantly impact how many coins you earn. If you leave something small, like a Weedle or Rattata, they'll be kicked out of the Gym in no time. You have a better chance of crossing the 10-minute mark and earning at least one coin if you leave anything bulky.
In addition, you'll be better off leaving a different type of defender than what's already in the Gym. The goal is to take up time and slow down other players.
Get PokeCoins Via Cash
If all else fails, you can buy PokeCoins with real money in bundles through the in-game shop. How much you get depends on how many PokeCoins you buy and which bundle you purchase. The higher the number of coins, the more value for your dollar. Be sure to check out all the different bundles before making any purchases.
Steps to Get PokeCoins Via Cash
At the bottom of the screen, tap the Pokeball icon.
Select the Shop icon.

Navigate to the PokéBall Menu and select Shop

Scroll all the way down to the PokeCoins section.

Select your desired PokéCoins bundle

Choose the coin bundle you want to purchase.
How Much Does It Cost to Buy Poke Coins?
Prices vary slightly by region, but in the United States, the prices are as follows:
| PokeCoins Bundle | Price |
| --- | --- |
| 100 PokeCoins | $0.99 |
| 550 PokeCoins | $4.99 |
| 1200 PokeCoins | $9.99 |
| 2500 PokeCoins | $19.99 |
| 5200 PokeCoins | $39.99 |
| 14500 PokeCoins | $99.99 |
What to Buy With Your Pokecoins
If you're lucky enough to have amassed a healthy number of PokeCoins, you might wonder how to spend them. Pokecoins can be used to purchase items in the Shop, such as:
Lucky Eggs
Egg Incubators
Star Pieces
Incense
Bag Upgrades
Lure Modules
Storage upgrades
Raid and Lure Pass
Poke Balls, Potions, and Revives
How to Check the Remaining CP of Your Pokémon
You can see which Pokémon are currently defending a Gym and their remaining CP in the Today View. It is a page where Trainers can check out the day's information, including their PokeCoins Earned and the Pokémon in Gyms.
The PokeCoins Earned section: This section tells you how many PokeCoins you've earned for the day. Trainers in certain countries may also see tasks they can undertake to earn more PokeCoins.

PokéCoins Earned section
The Pokémon in Gyms section: This section shows how healthy each of your Pokémon is and how long it has been guarding a Gym. You can also see which Pokémon came back that day and how many coins they got.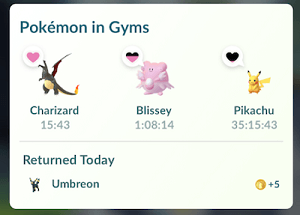 Pokémon in Gyms section
How to Get More Pokecoins on Gym
Distribute your Pokémon to as many Gyms as possible.
Berries should be fed to your other active Gyms.
In popular Gyms, use some of Pokémon GO's best Gym defensive Pokémon.
Pay attention to the typings when placing your Pokémon in each Gym.
How to Get More Pokémon Go money
Google Opinion Rewards is an app created by google where you take surveys and receive play store credit for your answers. This is a great way to get money for Pokémon Go because it's an easy way to earn credits.
The steps are as follows:
Download the Google Opinion Rewards app on your phone.
Sign in with your Google account or create a new one.
Answer the questions truthfully and wait for surveys to show up. Google will send you notifications when there's a survey available for you to take.
To spend your credits in Pokémon GO, tap the Pokeball button from the main Pokémon Go screen, then select Shop.
Enjoy your new-found wealth in Pokémon GO!

Money earned with Google Opinion Rewards
These are ways to get coins in Pokémon GO, which can help you quickly get the Pokecoins needed to purchase items and power up your team.
Whether collecting coins from Gyms or buying them with real money, Pokecoins can make your Pokémon GO experience even more enjoyable. So have some fun, and get those coins. Happy hunting!