GPS service sometimes limits your access to more amazing services you can enjoy.
What if we can use some practical ways to change our current iPhone's location?
I collected all the best methods during my research and shared them here in this article with you.
If you are an iPhone user, you must already know that Apple uses the location of your iPhone to recommend you nearby services or places.
As a vast iOS fan, I love these features provided by Apple. But using the GPS service of Apple for a long time I find it sometimes limits your access to more amazing services you can enjoy.
What if I tell you that you can visit any place in the world to enjoy the services of that area? Sounds exciting. Right?
Then do not miss out on anything in this article as we are about to travel the world virtually. I will share how to change location on iPhone with just one click.
I divided this article into three main parts for your convenience and better understanding. The first part includes detailed steps if you permanently want to change your iPhone location and your Apple ID and payment settings. But if you are looking for a temporary location change, go for the second part but wait. No matter what method you choose, do not forget to use the third party to remove saved locations if you have privacy concerns.
Part 1: How to Change My Location Permanently on iPhone via Settings
Apple officially introduced this method for iOS users to safely change their permanent location if they move to a new place, area, region, or country.
Keynotes:
This method will only work if you are moved to a new place.
Make sure you have canceled your subscriptions if you have any.
You might not be able to change permanent location if you have a family sharing group.
Steps of using settings to change iPhone location:
Go to the Settings of your iPhone.
Select your name and then 'Media and Purchases.'
Sign in to view your account.
Locate the Country or Region option.
Select your new region or country.
Agree to the 'terms and conditions.'
You will be required to enter new payment details according to your new location.
That's it. Your permanent location is changed.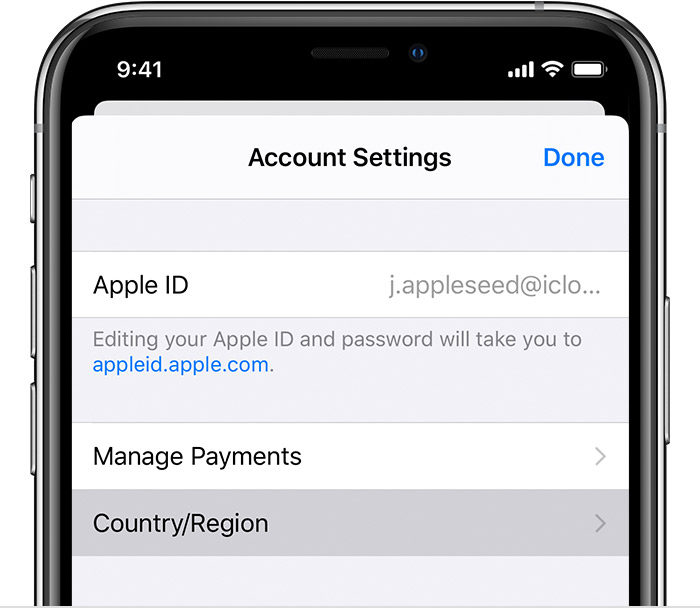 If you wish to change your iPhone location via iTunes or Apple ID, check this page for the detailed steps.
Yes, that's all to change location on iPhone permanently. But what if I want to change location temporarily to run some GPS-limited games and applications? For this, you will surely need a third-party app to do all the work.
Part 2: Temporarily Change My Location on iPhone
I know sometimes one method is not enough as any problem can occur. I have three methods for you to solve this concern, so you always have an alternate option.
Via LuckLuckGo (Most recommended)
If you are curious about what LuckLuckGo is, it is a third-party app that lets you change your location iPhone settings anywhere in the world with just one click. It is one of the most effective applications I have used to play GPS-restricted games and run software limited to a geographical area.
Pros:
You can change your location to anywhere globally; there are no limitations.
The friendly interface lets you easily handle everything.
It is compatible with all location-based apps.
You do not even have to move to play games like Pokémon Go.
Steps to change location on iPhone with LuckLuckGo:
Download and launch LuckLuckGo on the computer.
Next, connect your iPhone to the computer.
Select the Start option.
Locate a place from the map. Click on the Move.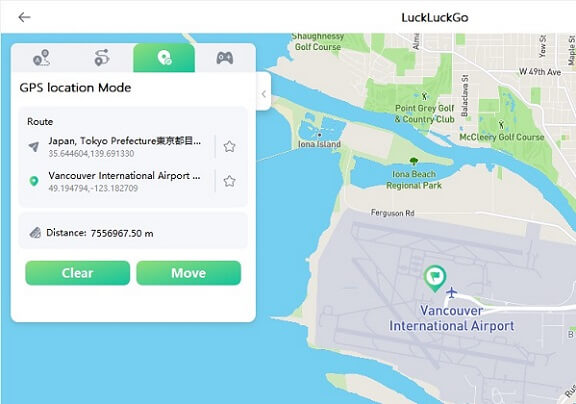 You are all done and can enjoy apps and games with your new fake location.
Via iOS VPN
One way to change your location on iPhone settings is to use a VPN. This third-party app uses a virtual wall-like shield to hide your actual IP address that contains information like address or location.
Pros
The method is straightforward to use.
You do not have to download a desktop version of the application.
Cons
This app is not compatible with Pokemon Go as it cannot synchronize movements for the game or any virtual location.
Steps
Go to the Apple store.
Search for a VPN.
Download the top-rated VPN and launch the application.
Create your account or sign in if you are already a user.
Tap the 'Turn on' button to connect to the VPN.
Select the region you wish.
Now locate the country, and boom! You are in a new region or country now.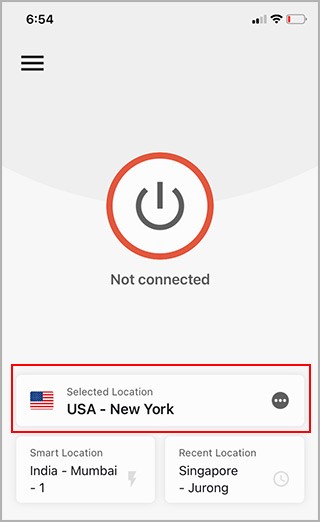 Via iPokeGo
The last method I will be discussing is iPokeGo. This third-party application is specially designed to get you access to new places in Pokémon Go without changing your location. You can use multiple features offered by the application to become a pro.
Pros
It is also an easy-to-use method.
You do not have to connect your iPhone to the computer.
Works on all iPhones running till iOS 12.3
Cons
You have to jailbreak your device to make it compatible with the application.
It is a high chance that your profile might get banned.
Not compatible with the latest iOS 16.
Steps to change my location on iPhone using iPokeGo
The first is to download the application through an IPA file.
Next, you will have to look for Cydia Impactor and download it.
Connect your iPhone to a computer and run Cydia Impactor.
Enter your Apple ID and go with the steps shown to proceed.
Now the application is installed, you can run Pokémon Go with a new location.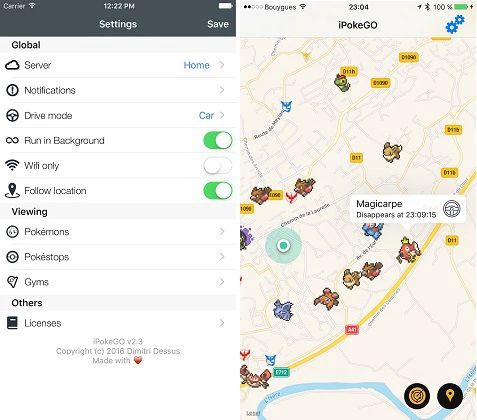 All of the above methods are effective and easy to use, but we recommend you the most is LuckLuckGo because of super-fast technology and other extra benefits.
If you are concerned about your privacy or any other issue, then the third part of our article is to solve this matter as promised.
Part 3: How to Clear History Position on iPhone
Using third-party apps to change iPhone locations is a great idea, but before you leave everything here, I recommend you clear your iPhone history, so you do not face any problems in the future.
To clear your position history, follow the steps below:
Steps:
Open the iPhone's Settings of your device.
Locate 'Privacy' in the settings menu.
Select the Location Services from the privacy menu.
Find System Services and select Significant Location settings.
You will be required to enter your passcode, Face ID, or fingerprint whatever you have set.
Select, edit, and delete the address from the list you wish to delete or locate 'clear history' at the bottom if you wish to delete all the addresses.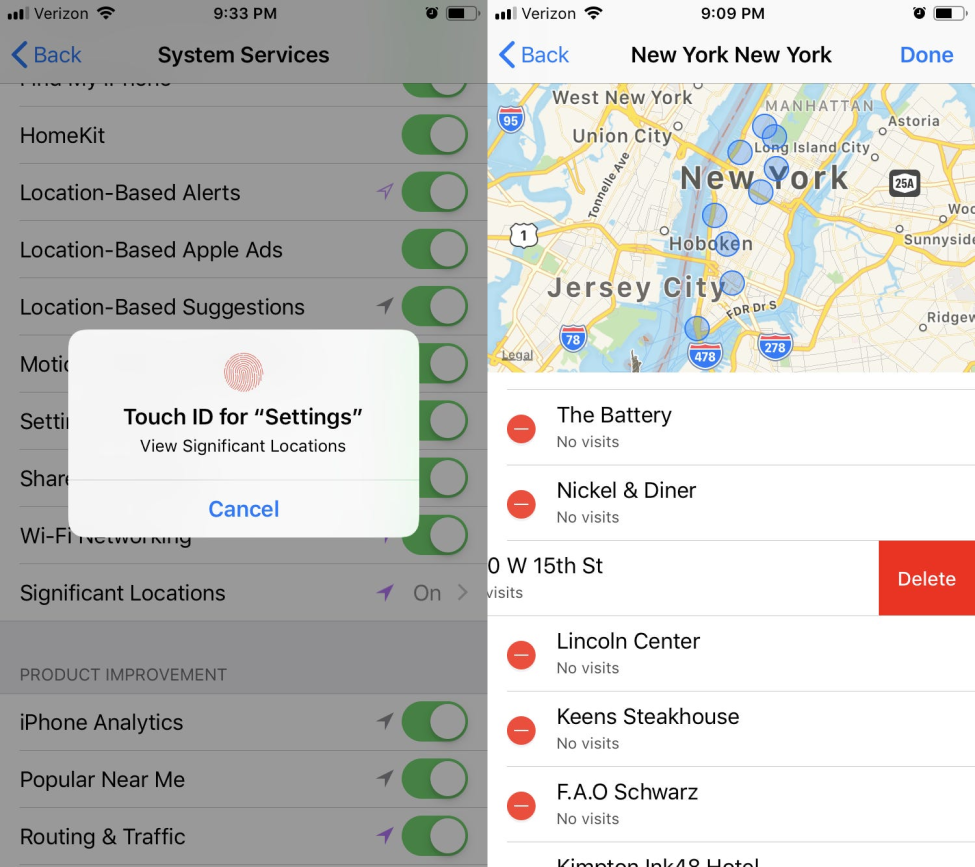 And now you are all done!
As we end our article, it doesn't matter for what purpose you want to change location on your iPhone permanently or temporarily. All the methods listed above will get your work done quickly and effectively.
But as a colossal iOS fan, I recommend you go for LuckLuckGo as it is one of the most effective ways to virtually visit any place in the world to enjoy GPS-limited services like games or software. You will not face any issue with this third-party app, and I can say this as their permanent and happy user.