It's normal for people to want to hide their location on their iPhones for a variety of reasons. However, many methods of doing this are time-consuming and ineffective. If you're looking for the most effective way to keep your location a secret, this is the article for you.
This article will show you the best ways to hide your location on your iPhone in 2023. By the end, you'll be able to choose the perfect solution for your needs.
What Can People Do With Your iPhone's Location?
Find My is a great way to keep track of family members or friends, but it can also be intrusive. With Find My, people can see your location whenever they want and even set alerts to let them know when you arrive or leave specific locations.
While this can be helpful in some situations, it can also be a bit of a nuisance. If you're concerned about privacy, you may want to disable Find My or only use it with people you trust.
The only way to stop your location sharing in the iPhone's settings is to turn off location sharing services, whether on one app or all location services.
Way 1 Hide Your Current Location With The Location Services Turned On With LuckLuckGo
LuckLuckGo is a simple, easy-to-use app that lets you spoof your location on your iPhone. With LuckLuckGo, you can conceal your real location and choose any fake location you want. You can also fake a location on apps, access geo-specific services, and share a virtual location on social media.
Moreover, LuckLuckGo is compatible with most Location-based games and apps, such as Pokemon GO, Ingress, and more.
Steps
Click Satrt To Use LuckLuckGo

Connect your iPhone to the computer, unlock your iPhone and Trust this computer.
In the top left corner, select the desired mode.
Set a location on the map, adjust the speed and other parameters to your liking, and click "Move."

Two-spot Mode of LuckLuckGo
Application Scenarios
By faking your iPhone's location, you may prevent apps and others from tracking your actual location.
Find a way to hide your actual location so that no one will find out.
You may spoof your iPhone's GPS location to improve your gameplay experience in Location-based games like Pokemon Go.
Change your location on social media (Snapchat, etc.) to converse with people worldwide.
Access geo-restricted (GPS location) worldwide content, including videos, movies, music, and shopping.
Trustpilot
Why Should You Use LuckLuckGo?
High efficiency: It's easy and quick to fake the location, so you don't have to wait long to switch.
Ease of use: The user interface design is intuitive for all users.
High level of adaptability: It is compatible with both Mac and Windows operating systems and can change the iPhone/GPS iPad's location.
Cost-effective: Competitive pricing and hassle-free refunds are offered.
Safe: No jailbreak is necessary, and your iPhone or iPad will not be harmed.
You can spoof the GPS locations of up to five phones simultaneously.
Way 2 Using Another iPhone
To hide your location from the Find My app, you can share your location from another iOS device (like an unused iPhone 7) that is in a stationary location. This method might also make it appear as though you are somewhere else.
For instance, if you're at home and share your location with a friend from your workplace, it will appear as though you are at work. Here's how:
Steps
Open Settings on the other iOS device.
At the top, tap on your name.
Select Find My.
Tap the Use This iPhone as My Location option.
Use This iPhone as My Location
Way 3 Hide Your Precise Location on iPhone
Suppose you don't want your exact address to be known but don't want to turn off Find My location sharing. In that case, you can only choose to share your approximate location, not your precise location.
Once you've turned off Precise Location in both the Find My and Messages apps, others can only see which city you're in, and not your specific address.
For example, if you're in San Francisco, it will only say "San Francisco" and not "San Francisco, CA."
Steps
Open Settings on your iPhone.
Tap on Privacy.
Select Location Services.
Select Find My.
Turn off the Precise Location toggle switch such that the colour is no longer green.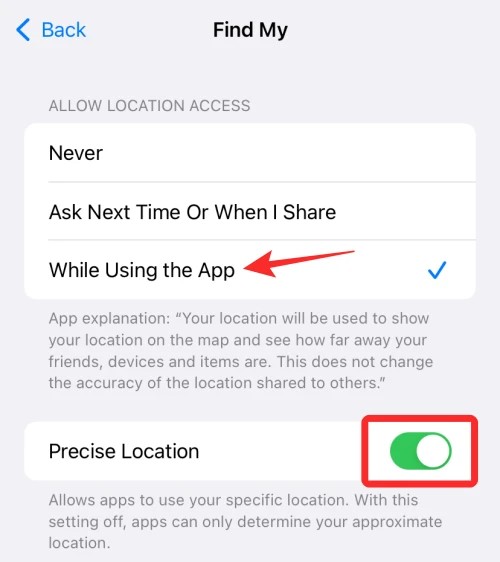 Hide Your Precise Location
Way 4 Hide Your Location on iPhone With a Particular Person
If you don't want a person to see your location in Find My Friends, you can stop sharing your location with them.
Steps
Tap the People tab in the Find My app.
Tap the person you want to stop sharing your location with.
At the bottom of the screen, select Stop Sharing My Location.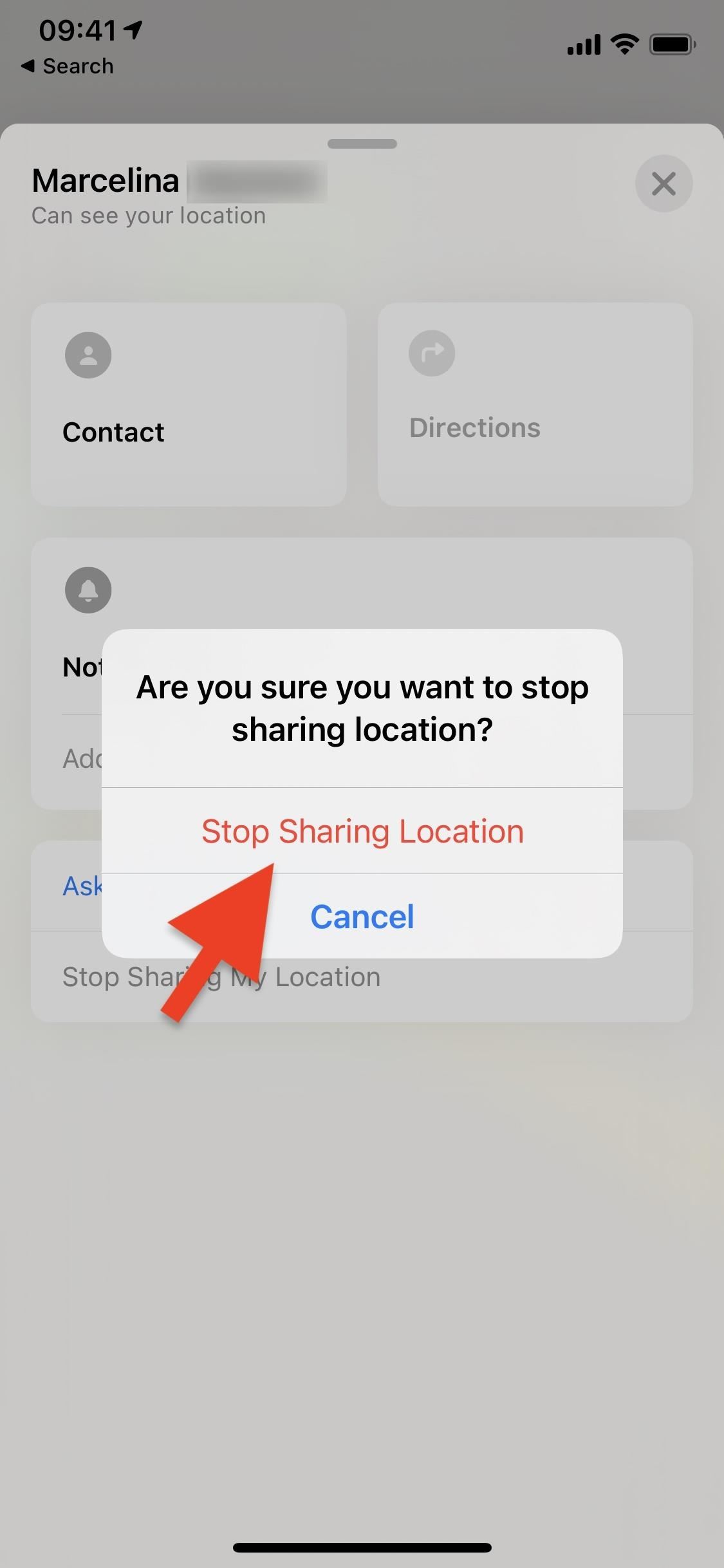 Stop Sharing Your Location With A Specific Person.
Way 5 Hide Your iPhone Location Temporarily
If you want to hide your location for a short period, there are two ways to do this: put your iPhone in Airplane Mode or turn it off completely.
Using Airplane Mode
This method works by using Airplane Mode to temporarily disable all cellular and WiFi connections on your iPhone. Airplane Mode will stop your iPhone from broadcasting its location, making it appear as if it is turned off.
However, because Airplane Mode also disables all incoming and outgoing calls and text messages, it is essential to ensure that you do not need to use your phone for any necessary purposes before activating this mode.
Steps
On your home screen, select Settings to activate Airplane Mode.
Now you must flip the airplane mode icon on.

Turn On Airplane Mode To Hide Location
Another method for activating airplane mode is to swipe up from the bottom of the lock screen to access the Control Panel. On the upper right, there is an airplane icon. You must tap on it to enable it, which will change the colour.
Turn Off Your iPhone
The second way to hide your location is to turn off your iPhone completely. This will prevent it from broadcasting its location and can be useful if you need to hide your location for an extended period.
Steps to Turn off iPhone X, 11, 12, or 13
Hold down the volume and side buttons until the power-off slider displays.

(The volume button is on the left side of the device, while the side button is on the right.)

After dragging the slider, wait 30 seconds for your device to switch off.
Steps to Turn Off iPhone SE (2nd or 3rd generation), 8, 7, or 6
Hold down the side button while pressing it until the power-off slider displays.
Wait 30 seconds after dragging the slider for your smartphone to switch off.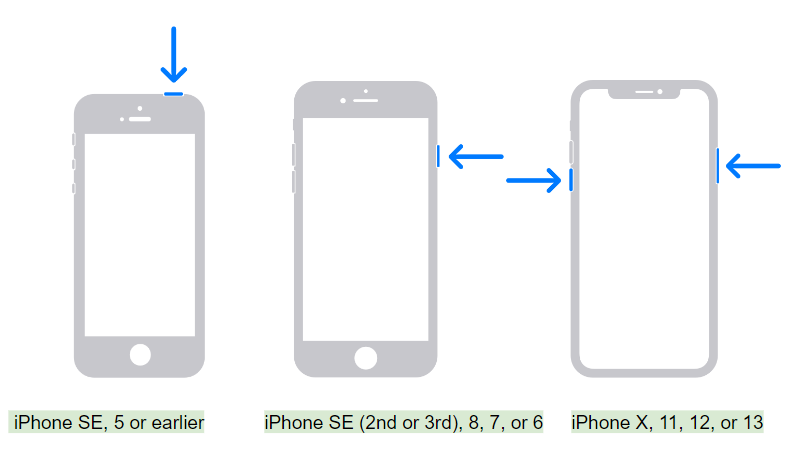 Restart Your iPhone
Steps to Turn Off iPhone SE (1st generation), 5, or earlier
Hold down the top button while pressing it until the power-off slider displays.
Wait 30 seconds after dragging the slider to switch off your device.
Way 6 Stop Sharing Your iPhone Location
If you're not comfortable with the idea of sharing your location with friends and family, you can always stop sharing your iPhone's location. This option makes you invisible to your contacts, who won't get any kind of alert that you've stopped sharing.
Steps
Launch the Settings on your iPhone
At the top, tap on your name.
Click Find My.
Switch off the toggle next to "Share My Location."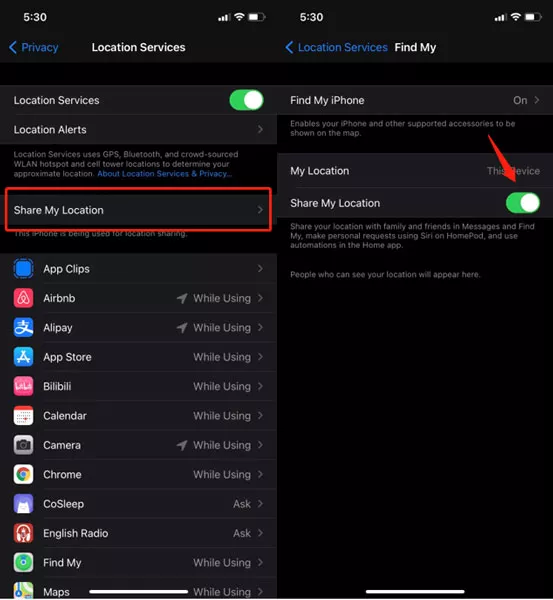 Turn off Location Sharing Services for Find My iPhone
Way 7 Hide Your Location For Specific App On iPhone
While some apps need your location to work correctly, other times they can drain your battery or raise privacy concerns. If you want to stop an app from using your location, here's how:
Steps to Hide Your Location From iMessage Contacts
If you share your location with a contact via the Messages app and later want to hide your location from that person, you can do so with just a few taps. However, your contact will get a notification that you've stopped sharing your location with them.
Launch the Messages App.
Choose a conversation from the Contact with whom you wish to stop sharing your location.
Tap the info "i" icon to the right of your contact's name.
Tap Stop Sharing My Location.
Click Stop Sharing My Location
Steps to Stop Sharing Your Location from Find My App
If you use the Find My app to share your location with friends and family, you can easily stop sharing your location at any time.
On your device, open the Find My app. The app is already available on all iOS 14.1 and newer devices. If your device runs on an older version, you may need to download the app.
Tap "Me" in the bottom right corner, then turn off "Share My Location" by toggling the switch.
You might also need to do the same for all your friends. To do this, tap the "People" tab, pick a person from the list, and then tap "Don't Share."

Click Don't Share
Way 8 Hide iPhone Location For iOS System Database
Whenever you use location services on your iPhone, a log of your location is stored in the iOS system database. This log contains information about everywhere you've been and how long you were there.
If you're concerned about privacy, you can clear this data to prevent anyone from seeing where you've been.
Steps
Navigate to the "Settings" app and select "Privacy."
To access your settings, locate the "Location Services" options and then navigate to "System Services."

Navigate to "System Services."

You'll see a selection of options for customizing your location sharing and ensuring that your precise settings are saved. If you wish to entirely disable access to your location, navigate to "Significant Locations" and toggle it off. You may also erase previously logged-in locations by using the "Clear History" button.
Tap Clear History
Way 9 How To Hide IP Location on iPhone
An IP address is a unique numerical identifier assigned to each device connected to the internet. It can be used to determine your location. As a result, many websites and online services are blocked in certain countries. However, hiding your IP address with a VPN (a virtual private network) is easy.
Download the VPN App
VPNs encrypt your internet traffic and route it through a server in another country, making it appear like you are accessing the internet from that location. This allows you to bypass restrictions and access blocked websites and services.
To hide your IP address on your iPhone, simply follow these steps:
Steps
Select your VPN provider, such as Private Internet Access or Express VPN, and then install the application.
After installing the application, your iOS device will request permissions.
When you click "Allow," the VPN app will be immediately configured. Then, navigate to the "Settings" app on your iPhone.
Click "General" followed by "VPN" to configure the VPN. If you have numerous VPN applications installed on your device, select the one you wish to use from the list.
Now that you've learned so many methods to hide your location on your iPhone, it's time to implement them. Whether you're trying to keep your location private from friends, family, or strangers, there's a method on this list that will work for you.
Remember to try out LuckLuckGo to spoof your location, enjoy privacy on the internet, and unlock geofenced content from around the world.
Thanks for reading!